Now that we've all taken a deep breath from the Landon Donovan news this evening, it's time to look big picture with the squad.
Agree or disagree with Jurgen Klinsmann's omissions, it is what it is, and it's important to look at how things go forward.
Thing is, after what we saw today, it just became that much harder to figure out what's going on in Klinsmann's head when it comes to who he believes is the best at each position.
There are a number of positions that we thought were solidified, but now that we know the skipper's not afraid to shake things up, may not be so easy to call after all.
In addition, given either injury or performance at any of the friendlies the USMNT has scheduled before they make their way to Brazil, things could change then as well.
Nonetheless, we'll do our best to analyze how each position will break down as we see it now, and how the US formation could play out.  First, let's take another look at the roster:
Goalkeepers: Brad Guzan, Tim Howard, Nick Rimando
Defenders: DeAndre Yedlin, Omar Gonzalez, Timmy Chandler, John Anthony Brooks, Matt Besler, DaMarcus Beasley, Geoff Cameron, Fabian Johnson
Midfielders: Michael Bradley, Graham Zusi, Jermaine Jones, Kyle Beckerman, Mix Diskerud, Ale Bedoya, Brad Davis
Forwards: Chris Wondolowski, Aron Johannsson, Jozy Altidore, Clint Dempsey, Julian Green
There are many questions going forward.  For example, who plays on the outside of defense? Who plays next to Besler in the middle? Is Altidore alone up front? Where does Klinsmann use Dempsey? All of those will be discussed here briefly.
But first, for a point of reference, here's how the team lined up in their most recent competitive match that really had something riding on it, a 2-0 win over Jamaica in  World Cup qualifying:
……………………Howard……………………
Evans – Cameron – Besler – Beasley
………………Diskerud – Jones……………..
…Johannsson – Donovan – Bedoya…
…………………..Altidore…………………..
Remember, Michael Bradley was injured at the time.  Now, here's what I believe to be the best lineup from this 23-man roster:
…………………..Howard…………………..
..Johnson – Cameron – Besler – Beasley..
………………Bradley – Jones……………..
……Johannsson – Dempsey – Zusi……
…………………..Altidore…………………..
There are plenty of questions that I keep asking myself with this roster. Here they are: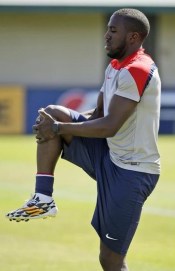 1) Leaving Altidore isolated at the top is dangerous, is it really the right choice?
It's been shown before that with Altidore as a lone striker, he will get much too isolated if the opposing midfield pegs the US back in possession.  If he doesn't get service at the top, he's on an island, and will get disheartened quickly.
However, I still don't think Clint Dempsey's best position is at the front of the attack, and with Johannsson pushing up the right and feeding the middle, the attack shouldn't be too starved at the front.
2) Who is the best option at RB?
The question on many US fans' minds is, who is the best person to cover Ronaldo against Portugal? He will likely be on the left wing, which means the right-back is going to be tasked with covering the winner of the Ballon d'Or.
Let's start by saying this: nobody can cover Ronaldo. Flat out, end of, stop.  Therefore, the question may not be at RB, but at LB.
Both Fabian Johnson and Timmy Chandler are right backs by trade, and Beasley plays on the left. It follows then that to start both Chandler and Johnson, one of them (Fabian) would have to move to the left, and I don't think Chandler is anywhere close to being able to cover a star left winger.  Therefore, I went with Beasley on the left and Fabian on the right.
Judging by how Chandler fared in the heat against Mexico (hint: not so well), I personally hope Klinsmann doesn't pick him in the jungle climate against Cristiano Ronaldo.
3) Is it possible to find room in the midfield for Kyle Beckerman?
I still can't get out of my mind how well Michael Bradley and Kyle Beckerman paired up in the match against Mexico. Having Beckerman at the back end of the diamond allowed Bradley to get forward and make things happen in the 18-yard box.
However, Bradley's a lock obviously, and at this point Jermaine Jones still ranks above Beckerman in the midfield pecking order.  It's possible Klinsmann could spot-start Beckerman in one of the matches if he chooses to play a possession game and get Bradley farther forward, but at this point Jones is the penciled-in starter. Also, ask Landon Donovan what Klinsmann thinks of pecking orders…
4) Where the heck is Clint Dempsey's best position?
As someone who has watched Clint for years at Fulham as well as with the USMNT, I still have not figured out where he slots in best.  Clint's put in wonderful performances from striker, from the attacking midfield, and from the left wing.
However, in my experience watching Clint, at striker he feasts mostly upon lesser talent, and in a stacked group, there will be no lesser talent to feast upon.  He's a great feeder on the wing, but often you lose his goalscoring ability sticking him on the touchline.  Therefore, I think sitting behind Altidore is the best spot for him, where he can both dish to Jozy/Aron/Bradley, and also take feeds from those men if he wishes to have a go himself.
As the captain of this team, Dempsey needs to take charge, and slotted just behind the striker is the best spot to do that.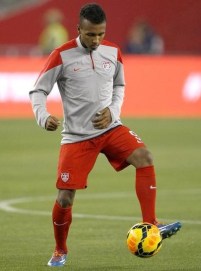 5) Who comes off the bench?
As something not addressed above, it's also prudent to see who is first off the bench in certain situations.
When the team needs a spark, Wondolowski appears to be first off the bench in crunch time when the team needs a goal. As one of the two lone strikers on the roster, this one is pretty obvious.
But is there game time for the others?
-Mix Diskerud and Kyle Beckerman would be first in line for central midfield legs when someone needs relief.
-Brad Davis and Ale Bedoya would appear to be the wing relievers/sparks. Hard to see Julian Green getting much time, unless Klinsmann sees something we don't (which, admittedly, is very likely).-Gonzalez is the third CB, unless Klinsmann chooses him over Cameron to start.
-On the edge of the back line, it's tough to see time for Yedlin or Brooks, but they've both made it this far, so who knows. One would imagine that whoever doesn't start of Beasley/Chandler/F. Johnson will still see the field a decent amount, but the rest are on the outside looking in.
6) Does the diamond work with this group?
Jurgen Klinsmann's trademark in his tenure with the United States has been the diamond midfield formation.  As you can see, the formation I put up above does not exactly follow that tactical choice, instead going with a conventional 4-2-3-1.
Things would be drastically different with a diamond.  The biggest difference would probably be figuring out what to do with Clint Dempsey.  If he moves up front alongside Altidore, then Bradley or Jones would slide into the space behind the strikers as an advanced center-mid.  If Dempsey moved to the wing, Zusi would likely sit and Wondolowski would come in as a second striker, although that is not ideal because Zusi is a winger built on possession, perfect for the diamond.
That formation complicates things a little, and he very well may decide to employ that tactic.  But for right now, there are too many unknowns involved in that decision.
How can you see the US lining up? Will Klinsmann go back to the Beckerman/Bradley diamond that worked so well against a struggling Mexico? How will he deal with Cristiano Ronaldo? Is it ok to leave Jozy Altidore by himself up front after struggling so badly at Sunderland?f
These are all questions that must be answered by the skipper, and for the time being, they're ours to try and answer as well.