There is an image of Landon Donovan that comes to mind. He was talking a bit about the dark times. You might know that the soccer career of Landon Donovan has been a particularly stark blend of shadow and light, brilliantly bright moments like his earth-shattering goal against Algeria in the World Cup four years ago and gray days when he was not even sure he wanted to keep playing.
The image comes from one of one of those colorless and bleak days when Donovan could not make sense of why he was even playing soccer. He has always been the most introspective of athletes, more artist than jock, and at various times in his life has wondered if this was what he was meant to do. He only started playing soccer because he was such a hyper child that his mother thought running around might tire him out. He scored seven goals in his first game, and the future was laid out.
Well, he was a natural. Donovan was faster than just about anybody — with or without the ball — had a special talent for finding open spaces and he would score more goals on the world stage than any American player ever. He would be a key player — maybe even the key player — in changing the way America viewed the world's game.
Sometimes, though, he felt this lifelessness on the pitch, as if he had chosen the wrong path in life.
"I used to be on the field," he said, "and think, 'Maybe I'll hear a song that will remind me of my family or where I came from or my wife. Maybe the crowd will get really loud … and that will lift me up."
Thursday, the U.S. World Cup coach Jurgen Klinsmann left Landon Donovan off his 23-man roster for the Rio. It was one of those singular sports moves that made absolutely perfect sense to some fans and absolutely no sense at all to others.  There was no middle ground.
MORE ON US ROSTER ANNOUNCEMENT
On the one hand, Donovan is 32 years old, has been off form lately and a year ago he took a soccer sabbatical that clearly left Klinsmann and others wondering about his motivation and commitment to the sport.
On the other, Donovan is the greatest goal-scorer in American history, was pretty fantastic on the U.S. Gold Cup team just one year ago and, in the words of the London Daily Mail "has more World Cup goals than Cristiano Ronaldo, Lionel Messi and Wayne Rooney combined." Also the sabbatical clearly energized him.
On one hand, the U.S. is stuck in what people are calling the World Cup group of death — with Ghana, Portugal and Germany — and so are unlikely to advance anyway. Klinsmann seems to believe this is the right time, the perfect time, to break from America's wobbly soccer past — a past Donovan represents. Klinsmann also might very be looking to make the statement that this is HIS team (with several German countrymen to prove it), and Donovan simply wasn't his kind of player. He has not hidden his distaste for how the American media still celebrates him.*
*It would be tough to not see some personal animosity involved here after Klinsmann's son Jonathan — a goalkeeper on the U.S. development team — wrote a mocking tweet to celebrate Donovan's exit finished off with a blunt, "HAHA." Jonathan deleted the Tweet and gave one of those pseudo "my sincerest apologies to anyone who was offended" apologies. But the point was not lost.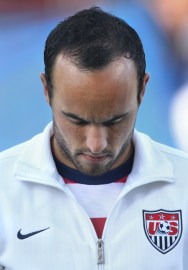 On the other hand, Donovan was in position to play in his fourth World Cup — putting him in that stratosphere with Pele and Diego Maradona — and he's the most famous soccer player in the United States, and several of his teammates have been very vocal in their opinion that he belonged on the team. Bruce Arena, the 2006 national team coach and Dovovan's coach now for the LA Galaxy, was blunt to the San Jose paper one day before the decision: "If there are 23 players better than Landon," he said, "then we have a chance to win the World Cup."
When Klinsmann cut Donovan, he made one of those rare decisions that people RABIDLY agree or disagree with — to the point of not even understanding the other side — which made it a perfect Twitter moment. And Twitter, predictably, exploded with soccer fans alternately hammering Klinsmann, defending him and yelling, "You just don't know anything about soccer" at each other (as soccer fans are inclined to do).
The most fascinating part of this whole story, to me at least, is Donovan himself. He saw this coming, or at least the possibility of it coming, even when others did not. Just two days before the decision he talked about how making the team was no sure thing; he could sense Klinsmann's wariness. Still, thinking you might get cut and actually getting cut are two different things. There is no doubt that Donovan was crushed by the choice; he did briefly mention his disappointment in a classy thank you note he wrote to fans on his Facebook page.
But, knowing Donovan a little bit, I know his feelings go much deeper than simple disappointment or anger or sadness. Frank Sinatra used to say that a big reason that his singing so deeply touched people was that he had "an acute capacity for sadness and elation." That's Donovan too.
At his athletic best, he was a little bit faster, a little bit bolder, a little bit more driven. If you look at his U.S. National team 57 goals, by far a record, what you often see is a young man blazing on the counterattack, sprinting past defenders who look as stationary as trees on the highway, pulling away and putting away the goal and then taking off his shirt and going to his knees to soak in the cheers. That's Donovan at his boldest and, perhaps, his happiest.
The other times, when he was listening for music or searching for a memory to inspire him, the game was more than just challenging. He developed a reputation among some as soft, but that was never the right word. He was more like a great novelist with writer's block. His breathtaking sprints would not yield chances. His uncanny sense of anticipation would feel blocked. He would start to think too much. Donovan admits that there are always a million thoughts buzzing around in his head, many of them about what he should be doing with his life. It's no more surprising that he took a sabbatical from soccer than it is that he came back afterward. Unlike so many great athletes who know one destiny, Donovan was often conflicted.
And I imagine he's conflicted now — hurt, no doubt, angry perhaps, but also contemplative. He has spent a lot of time considering his talent, his career, his life and what comes after. He has played such a big role in the how our country now consumes soccer, such a big role in making the world sport just a little bit more American. He says he wants to continue doing that; it will be interesting to see what's next for him.
As for the team, it's all speculation and the opinions are all over the map, but I'm guessing this would have been a better team with Landon Donovan on it. His form may be off, he may be a step slower, and he might not fit Klinsmann's vision for this team. But he's still the most accomplished player in the country, the best-known player in the country, he's still capable of raising his level, and he has developed as a leader and a teammate.
Klinsmann has a plan, and as coach he should follow that plan, sentimentality aside. Still, when playing in the group of death, Klinsmann might just find that he is short a player who can score goals when he hears the music.
MORE ON US ROSTER ANNOUNCEMENT