By the fifth time, even winning the European Cup can get to be a little routine.
That's what Real Madrid manager Carlo Ancelotti did yesterday by defeating Atletico Madrid in the Champions League final yesterday, cementing himself at the very top of not just managerial history, but soccer history altogether.
However, it seemed that in the waning hours of Madrid's victory night, as the dust settled on his third Champions League title as a manager, this could be Ancelotti's most important of them all.
The 54-year-old Italian won two European Cup titles as a player, captaining a legendary AC Milan team in the late 1980's that destroyed the competition.  He's used to domination.
So once he left his comfort zone after managing AC Milan to two more titles, it was clear he was headed for greatness. But even Ancelotti isn't immune to bumps in the road.
Roman Abramovich hired Ancelotti in 2009 still trying to replace the gaping hole he had created after his falling out with Jose Mourinho, a void that Avram Grant, Luis Felipe Scolari, and Guus Hiddink all failed trying to plug.
But Ancelotti was the man for the job, leading Chelsea to the Premier League title in 2010 in his first season on the job, becoming the first Italian manager to win the Premier League and proving he wasn't just a one-team band.
Winning outside a comfort zone is a difficult thing to do, and after a total of 13 years at AC Milan, he proved his worth at not just another club but another league altogether, the mark of a man at the top of his profession.
He won the FA Cup as well, making him only the second-ever non-British manager alongside Arsene Wenger to lead an English team to the domestic double.
The next year Chelsea struggled somewhat, falling to fifth place after a poor run of form. He engineered a remarkable turnaround, as Chelsea finished second in the Premier League, but once again Abramovich couldn't help himself.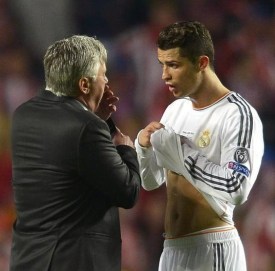 The Russian hammer came down again, and Ancelotti was left out in the cold, brutally sacked for the second time in his managerial career.
It harkened back to his short time at the helm of Juventus, when word of his firing came down at halftime of their final Serie A game of the year while he still had an outside shot at winning the title.
But the Italian, just like his club last night, didn't wallow in his misery, but immediately began laying the groundwork for building himself back up.
"Sometimes I make mistakes," Ancelotti admitted following last night's game. "The team bounced back and we have been able to do what we set out to do at the start of the season.  This feels like something even bigger than winning the World Cup."
After last night's managerial masterpiece, one must sit and wonder if Chelsea, who haven't exactly done poorly since he left, would be sitting atop the European landscape had he remained.
Instead, Real Madrid are instead the ones benefiting from his genius, as he struck oil thrice with his substitutions.  The true stroke of brilliance came on his first two, bringing on Isco and Marcelo for the ineffective pair of Fabio Coentrao and Sami Khedira.  The double change came with a half-hour yet to play, and against a team that had neutralized so many of Real's threats all season long, they had time to settle in.
Marcelo was brilliant down the left, key because Cristiano Ronaldo had been silenced. Isco brought instant life to the midfield in an area where Khedira had become a black hole. The German holding midfielder looked uncomfortable going forward, completing a horrid 68% of his passes, giving away nearly half of the 28 he attempted. His replacement, in half the time, connected on 43 of his 48 pass attempts and created two chances.
His third substitution of Alviro Morata for Karim Benzema was less hailed, as Morata didn't exactly have an obvious impact on the game, but the physicality he brought was an unheralded addition.  At a time in the game when Atletico's legs looked ready to fall off, Morata committed five fouls in his short time on the pitch, creating space for his brethren on the ball.
But Ancelotti's most genius move of all came in the form of a player he didn't substitute. Having been chopped down by analysts for his atrocious finishing, Gareth Bale had actually been one of Real's best players aside from in front of goal. He was slicing up defenders both on the ball and off it, and it was only a matter of time before the world's most expensive player found the back of the net.
Ancelotti's refusal to remove Bale in a match where Atletico focused much of their energy on their hack-a-Ronaldo strategy paid off tenfold.  While he flubbed three brilliant chances in regulation, it took extra time before a bit of luck plopped him in the perfect position to finish Di Maria's deflected shot.
Real Madrid have themselves a gem at the helm.  His calm demeanor and ability to adjust to any given situation was evident during his time quarterbacking AC Milan's midfield, and now again proves vital on the Champions League stage.
Ancelotti still has plenty of work to do, still without a La Liga title in his two years at the Bernabeu, an especially painful void after essentially throwing away the table's top spot down the stretch this year.  But it was obvious the Champions League – not the domestic titles – was the club's top priority this season.
And while Chelsea aren't dead in the water without the Italian leading the way – they themselves won Champions League glory in 2012 after his departure – let me finish by handing you this little nugget to chew on. Real Madrid brought in seven new players last summer, and it showed early.  The club took a bit of time to settle in.
However, it's those that left Madrid that tell the story.  Each of the four players that left won a trophy with their new club – Mesut Ozil at Arsenal, and Gonzalo Higuain, Jose Callejon, and Raul Albiol at Napoli.  The only one who failed to win a trophy after leaving Real Madrid last summer: Jose Mourinho.
And that, my friends, is revenge served up cold, the only way Carlo Ancelotti likes it.