Landon Donovan sunk to his knees just after scoring his 135th goal in Major League Soccer.
He had just become the all-time leading goalscorer in the top-flight of North American club soccer after acting as the face of the league, the USMNT and soccer in the United States for well over a decade. Donovan had just etched his name into the record books.
It took the Californian native 311 games to claim the sole leadership of the MLS scoring record, 54 fewer games than Jeff Cunningham, the man he held the record with since last October. Immediately after creating history by scoring against Philadelphia, the expression on Donovan's face was one of delight and ecstasy, however you could see the strain of the last few days in his eyes as he lifted his head towards the sky.
MORE: Donovan breaks MLS scoring record, ends rollercoaster week on a high
On Thursday afternoon Donovan was omitted from Jurgen Klinsmann's final 23-man roster heading to the World Cup in Brazil this summer.  Shock. Anger. Devastation. Denial… those were just the emotions from vast swathes of the U.S. soccer community. Imagine how Donovan felt.
Donovan admitted that he didn't agree with Klinsmann's decision to leave him at home and to not allow him a chance to compete at his fourth-straight World Cup and help the USA in Brazil. Donovan then stated he would not speak about the topic again.
It seems as though the 32-year-old is hell bent on letting his boots do the talking and proving his doubters, notably Klinsmann, wrong. Setting up Leonardo to score the opener after 115 seconds with a sumptuous free kick, scoring LA's second and fourth goals himself, Donovan put in a sensational display on Sunday against Philadelphia and proved that timing is everything.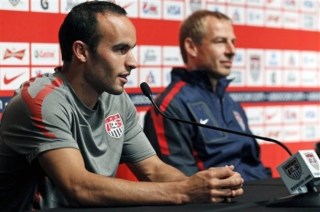 Just when everyone was writing Donovan off, he gave everybody a reminder exactly what he is capable of and exactly what the USMNT will be missing this summer.
When Donovan left the pitch just after his second goal against the Union to a standing ovation, with the entire stadium chanting his name, my mind couldn't help but switch to what Klinsmann had made of all this. The USMNT head coach was likely sitting in a hotel room in Northern California watching the match on TV. Is he regretting his decision to leave Donovan, the USA's all-time leading scorer and go-to man for over a decade, at home and off his World Cup roster?
MORE: Donovan talks U.S. omission, says he won't speak about it anymore
Klinsmann will probably never admit it if he does have regrets. Yet with Donovan putting on a clinic of ruthless finishing and clever set up play just days after being deemed surplus to requirements by the USA's head coach, it's hard to imagine that he couldn't contribute for the U.S. in Brazil this summer.
We don't know what went on behind the scenes in camp, how much of Klinsmann's decision is personal and what difference Donovan would've made this summer. We also don't know how capable Landon was to succeed on the world stage and help the U.S. when it mattered, as scoring against the Union in MLS is a slightly different proposition to scoring vs. Germany or Portugal at the World Cup. What we do know, Sunday's record-breaking moment was a timely reminder that Donovan can see passes others cannot, he can do things others can only dream of. At the flip of the switch he can change a game. Players like those come along once every so often and you can't afford to overlook them.
I spoke to a well-respected coach within the game about the Donovan situation over the past few days. Here is what he had to say about Donovan being left out:
"A fit, motivated Landon would help for sure. He still can see things and make plays others can't."
No matter what happens in Brazil this summer, I'd bet there will be at least one or two moments in games where chances may be missed in the attacking third and USMNT fans will turn to each other and say "if Donovan was around we would have scored then."
Let's hope, for Klinsmann's sake, that those moments aren't plentiful and meaningful. If they are, he will have plenty of regrets about leaving Landon at home.