It's a good time to be among i Lupi.
AS Roma is back into the UEFA Champions League with ambitions to climb to its pinnacle, with the club's on- and off-field affairs in order under president James Pallotta, an American.
PST had the chance to talk with AS Roma's direttore generale, Mauro Baldissoni, as well as its CEO, Italo Zanzi, on the club's recent tour of the United States. We chatted about the club's aim to be the world champion, the challenges in restoring its lofty stature in Italy and the status of the American game and market.
And while Roma's lone trip to the Cup final was 1984's loss to Liverpool in penalty kicks and the world has watched as major money has bankrolled more European title competitors than ever before, neither Zanzi nor Baldissoni played it safe in the club's ambitions.
"The goal is to be the best in the world," Zanzi said.
The club is backing up its words despite a multi-year absence from European competition. Roma has spent wisely to propel Rudi Garcia's unit forward while getting its business affairs in order.
And now Roma is among three Pot IV clubs no European giant wants to see in next year's group stage.
"Apart from the last three seasons, Roma was consistently playing Champions League," Baldissoni said. "We think that Roma must be a Champions League team. We've been successful in taking the club back to the top of the championship in Italy and we think that we'll be able to compete at the European level.
"The US ownership group took over the club in, let's say 'not bright financial shape.' We are trying to complete the turnaround while investing in new players and new talents. Due to the skill and value of the management team, we think that we've completed the mission to remain a Champions League team."
Zanzi stressed the club's acumen in spending wisely.
"We're very fortunate but also savvy to have what we consider to be the best football management team that has demonstrated its ability to find special talent at terms that make sense," he said.
All this from an American ownership group with Pallotta that caused some consternation in Italy. Could outsiders respectfully run this club? Zanzi admits that, as an American, they had to be extra sensitive.
"When you come into a new environment, a new country — particularly a city like Rome which is so storied — you have to be mindful to sensitivities," Zanzi said. "What we found was definitely the most passionate fan base in the world who really just want to win. When you focus on the basics, winning on the field and off the field, it makes it easier to gain people's confidence.
"We're very mindful of always being respectful. We've never come in and said the American way is the best way or the Italian way is a bad way. On the contrary, we just want to be the best."
And as a Roman, Baldissoni spoke of the concerns at the arrival of foreign administration.
"Actually being born and raised in Rome, a unique city with a story of thousands of years, of course there was some skepticism for the new owner coming from abroad," Zanzi said. "It was to be expected and a natural reaction. It turned out to be a way to increase the expectations. Fortunately, we think we've met the expectation by now. We're planning on doing better and better every day."
So it brings them to America again. Roma has had a good relationship with Major League Soccer, playing the role of opposition in last year's All-Star Game, and employed American superstar Michael Bradley for a long period of time.
In the case of the latter, Baldissoni admitted he had no thought to let Bradley leave Rome when the Toronto FC opportunity arose.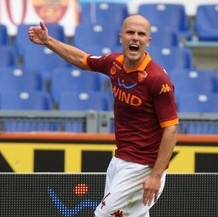 "Michael was a great professional and also a wonderful football player," he said. "We were not even planning to let him go. He wanted to be back in the United States. We were happy to keep him as a player."
Zanzi was also sad to see him go, but it was a business move.
"Michael is a consummate professional and a player that any team or coach or ownership would want to have," he said. "He had a very positive experience in Rome and we found a situation that worked out mutually in Toronto. Only positive things to say about Michael."
And Zanzi also admits that the club would have no qualms taking on more Americans, but that the European rules make it very difficult. This troubles him a bit, as the success of his homeland is often on his mind.
"For me it's very close to my heart," he said. "The US on the whole continues to produce fantastic football players that are getting more experience sooner. It's a shame that many teams in Europe have a limitation on the amount of non-European players that creates a challenge for American players. The ones that do come are successful, the represent their country well and they add value to their clubs.
"We look at the US as a growth market, not only from an economic perspective and a marketing perspective but also as a football one."
With a stability in tow and a brand new stadium in the works, not to mention new partnerships with Disney and Nike, Roma is confident it can take its next steps to awakening its status as a European giant. The second-place club in Italy will lure better players to its home, threaten the existing holders and give Garcia what he needs to succeed domestically and abroad.
"Given all of the attention and hard work that we have put forward, and a very hard working style, we're finding that players want to come to Roma now," Zanzi said. "It's an attractive place to be."