Rumors of Southampton manager Mauricio Pochettino leaving Saints and taking over at Tottenham are rife, with reports suggesting the Argentine boss could be in charge at White Hart Lane as soon as this week.
Tottenham have remained tight-lipped throughout the entire process, yet Pochettino's silence on his future since the end of the season, has been deafening. Particularly for Southampton's fans.
After stating he wanted to speak with the owners to see which direction Saints will be heading in, Pochettino has yet to confirm his future. Southampton's boss has one year left on his deal and has been dismissive about future contract negotiations for months, hence this interest and reported talks with Tottenham Hotspur not coming as a surprise to many.
MORE: Report – Pochettino to be named Spurs boss this week
Personally, having been around Saints' camp on multiple occasions this season, Pochettino's body language alone suggests a move was always in the offing. Failing to look beyond this season when repeatedly asked about his and the clubs future, you could the patience of the 42-year-old wearing thin as more and more journalists lined up to try and trick him into revealing his plans.
However this shakes out, Pochettino is one of the best managers in the Premier League. No doubt about it.
When he took over Southampton in January 2013 they were flirting with relegation after just being promoted from the Championship. Pochettino secured safety and then kicked his team on during the 2014-15 season. Blending teenagers with talented veterans, the soccer Saints have played has been sublime and admired across the Premier League. They finished eighth, their highest-ever position in the PL and recorded a records points tally. Pochettino kicked on the careers of Saints' inspirational players and helped the likes of Adam Lallana, Rickie Lambert, Luke Shaw and Jay Rodriguez get called up to the English national team. He has built a squad of talented internationals yet the core is built of academy products such as Lallana, Shaw, James Ward-Prowse, Callum Chambers, Harrison Reed, Sam Gallagher and others. That quality is hugely valuable to any club, as producing your own talent, rather than spending millions to buy players elsewhere is hugely beneficial even for a big club like Spurs.
They have the spending power to buy big but they didn't work out well for Andre Villas-Boas when he plundered the $120 million Spurs received for Gareth Bale last summer. When you look at Tottenham, they have produced the likes of Tom Carroll, Harry Kane, Nabil Bentaleb, Danny Rose and Andros Townsend through their academy. If Pochettino can bring through several other youngsters into the first team it will save them millions and also allows the coach to instill his beliefs in the players from a young age.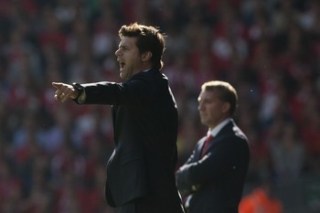 Working with talented teenagers is his forte and Pochettino's ability to deliver a team playing attractive soccer with substance is well known in England. After his exploits this season, it is no surprise other clubs are courting his expertise as Saints are fun to watch, work incredibly hard, have integrated teenagers into their lineup seamlessly and pin other teams back by deploying a high-pressure approach few opponents can match.
He will bring all of that to Spurs as the North London club will get an innovative and hard-working manager who spends the entire day at the training ground with his large staff who tirelessly analyze every single aspect of the team. Having witnessed Pochettino's work up close and personal, if he's allowed to stamp his own mark on Spurs, just like he did with Saints, then he will only succeed at White Hart Lane.
That's right. Tottenham may actually get a managerial decision correct for the first time in a long time. He is, of course, unproven at the very top level but after managing Espanyol in La Liga and now Southampton in the PL, it seems as though Pochettino's career path is leading him towards Tottenham and masterminding their quest for Champions League soccer.