Pro Soccer Talk asked each of our writers to submit a list of the 50 top players heading to the 2014 World Cup in Brazil, which would then be combined to make our Top 100 players for the tournament. The rationale was to be pretty broad, with neither limitation nor minimums placed on number of representatives per country or position. After the submitted lists, players were given weighted points for their position on individual lists. A bonus was given if a player was named by each of our writers.
Surely there will be some awful omissions, players placed higher or lower than expected and a bevy of other issues with the list… but that's why we do lists. There's much to be discussed. How does player No. 77, for instance, sit that low (or high) on the list? Are English and American players being overvalued (probably and maybe)?
MORE: Pro Soccer Talk's Top 100 World Cup Players: 100-76 | 75-51 | 50-26 | 25-1
In the meantime, we promise not to make you click "next" 100 times. Just check back every day for the next 25 until we arrive at Friday's thrilling finale.
100-91
100. Joe Hart, England
99. Rafa Marquez, Mexico
98. Diego Benaglio, Switzerland
97. Antonio Valencia, Ecuador
96. Bryan Ruiz, Costa Rica
95. Ashkan Dejagah, Iran
94. Sokratis Papastathopoulos, Greece
93. Aleksandr Kokorin, Russia
92. Madjid Bougherra, Algeria
91. Emmanuel Emenike, Nigeria
Analysis: Some of the best players from World Cup "outliers" make their appearances here, with Valencia (Manchester United), Bryan Ruiz (PSV Eindhoven) and Ashkan Dejagah (Fulham) familiar to those who follow English football. Old MLS nemesis Marquez makes his way to the list, while Hart clearly shows that England gets a lot of love from our voters.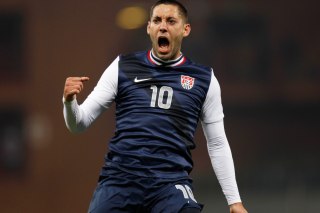 90-81
90. Clint Dempsey, United States
89. Ezekial Lavezzi, Argentina
88. Xherdan Shaqiri, Switzerland
87. Wilfried Bony, Ivory Coast
86. John Obi Mikel, Nigeria
85. Jack Wilshere, England
84. Gervinho, Ivory Coast
83. Aleksandr Kerzhakov, Russia
82. Shinji Kagawa, Japan
81. Fabio Coentrao, Portugal
Analysis: Did you have Dempsey anywhere near your Top 100 (assuming, of course, that you've done a Top 100)? The former Fulham and Tottenham player is in fine form for Seattle and will be counted on for leadership in Brazil. Names like Coentrao and Kerzhakov being in the 80s certainly say a lot for just how much talent is headed to the tournament.
80-76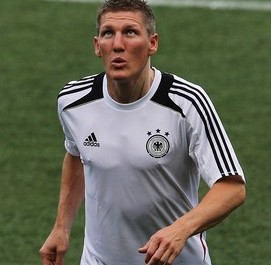 80. Thomas Muller, Germany
79. Diego Forlan, Uruguay
78. Asmir Begovic, Bosnia and Herzegovina
77. Bastian Schweinsteiger, Germany
76. Diego Godin, Uruguay
Analysis: Yup. Look at these final five. Wow. Godin may have raised his profile in his final two matches of Atletico Madrid's season, while Schweinsteiger at No. 77 is a head scratcher. As for Begovic, the World Cup could take his profile to new heights.