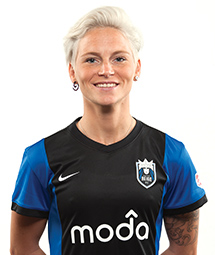 Player of the Week
Here's how evil it is that Kim Little and Jessica Fishlock — two of the best midfielders in the world, let alone the NWSL — are on the same team: Even if you have teams with midfielders who can contain the Little problem, Fishlock can just surge out of her shuttler's role, exploit the areas you've exposed, and flash the talents that made her one of the league's best players last season. With two such dangerous, complete players in the same team, your reward for containing with one is ceding room for the other.
Consider Fishlock's goal on Sunday against Western New York. With her team having more trouble than usual creating chances, Fishlock took advantage of the attention Western New York gave Little to get into the Flash's penalty area. Queue Stephanie Cox's pinpoint cross, a deceptively good finish, and Seattle had its early equalizer.
It was the high point of Fishlock's week, but it also showcased why the Seattle midfield has the league's defining force. So much of the threesome's success is about Little, Fishlock, and Winters reading each other, knowing that Little is the attacking tip while Winters is the defensive anchor. Fishlock is the more malleable part, bridging that gap. As opponents adjust, she does, too.
On Sunday in Seattle, that meant an opportunity to get onto the scoresheet. Midweek against Kansas City, that meant helping Winters and looking for spots to even out the numbers game Little was fighting higher up. They type of play may not produce league-leading numbers, but without Fishlock's play over the last seven days, Seattle would not have preserved the "0" in its loss column.
Results
May 21, 2014
Washington Spirit 3, Sky Blue FC 3 – Some soft hands from Jillian Loyden and a disputed penalty called against Jonelle Filigno saw Sky Blue's late 3-1 late disappear, with Washington salvaging a point from a match they were expected to win.
FC Kansas City 1, Seattle Reign FC 1 – Seattle came into the game with a perfect record but fell behind when Hope Solo couldn't prevent Amy Rodriguez's seventh goal of the season. Kim Little equalized from the spot two minutes later, pulling her even with Rodriguez at the top of the league's scoring chart, but the Reign still dropped their first points of 2014.
Portland Thorns FC 2, Western New York Flash 1 – The Thorns' best performance of the season saw goals from Allie Long and Jessica McDonald put the team up two just after halftime. McCall Zerboni's response and a late Flash surge briefly put the match in doubt, but missing Angela Salem, Western New York couldn't salvage a result in Portland.
May 23, 2014
Houston Dash 1, Chicago Red Stars 3 – Ella Masar scored the first Dash goal at BBVA Compass Stadium, but quick answers from Alyssa Mautz and Jen Hoy ensured the Red Stars would stay in second place come the end of the weekend.
May 24, 2014
Portland Thorns FC 0, Sky Blue FC 1 – For the second year in a row, Sky Blue executes a smash-and-grab in Portland, with Kelley O'Hara's late header giving the visitors the upset at Providence Park.
May 25, 2014
Boston Breakers 0, FC Kansas City 2 – Rodriguez continued the duel she's taken up with Little, complementing Nikki Phillips' opener to help deliver the team's fourth win of the season.
Seattle Reign FC 2, Western New York Flash 2 – Two New York leads, two Seattle equalizers kept the Reign unbeaten, but as head coach Laura Harvey confessed after the match, the Flash made her team work harder than it has against its previous opponents.
May 26, 2014
Washington Spirit 3, Houston Dash 2 – A dramatic late winner from Christine Nairn left Houston with too little time to find a third equalizer, with a rare multi-goal performance from the goal-shy Dash going for naught in Maryland.
Team of the Week
Forwards
Midfielders
Defenders
Goalkeeper
Amy Rodriguez, Kansas City
Jessica Fishlock, Seattle
Kim Little, Seattle
Diana Matheson, Washington
Jen Buczkowski, Kansas City
Kelley O'Hara, Sky Blue
Merritt Mathias, Kansas City
Becky Sauerbrunn, Kansas City
Christie Rampone, Sky Blue
Stephanie Cox, Seattle
Karina LeBlanc, Chicago
Standings
| | | | | | | | | | | |
| --- | --- | --- | --- | --- | --- | --- | --- | --- | --- | --- |
| | | Pts | GP | W | L | T | GF | GA | GD | Pts/GM |
| 1 | Seattle Reign FC | 23 | 9 | 7 | 0 | 2 | 19 | 7 | 12 | 2.56 |
| 2 | Chicago Red Stars | 16 | 8 | 5 | 2 | 1 | 13 | 6 | 7 | 2.00 |
| 3 | FC Kansas City | 15 | 11 | 4 | 4 | 3 | 18 | 16 | 2 | 1.36 |
| 4 | Portland Thorns FC | 14 | 8 | 4 | 2 | 2 | 9 | 6 | 3 | 1.75 |
| 5 | Washington Spirit | 13 | 9 | 4 | 4 | 1 | 17 | 18 | -1 | 1.44 |
| 6 | Western New York Flash | 11 | 8 | 3 | 3 | 2 | 13 | 11 | 2 | 1.38 |
| 7 | Sky Blue FC | 10 | 9 | 2 | 3 | 4 | 10 | 13 | -3 | 1.11 |
| 8 | Houston Dash | 4 | 9 | 1 | 7 | 1 | 8 | 19 | -11 | 0.44 |
| 9 | Boston Breakers | 3 | 7 | 1 | 6 | 0 | 7 | 18 | -11 | 0.43 |
Quick thoughts, after week seven
1. The NWSL is back on television – Six regular season games and all three postseason matches make up the league's new package with ESPN, only unlike last year's pact with FOX that distributed games to a number of different venues, ESPN is focusing on a few, select places: Houston, Portland, Western New York. Though three games will be on ESPN3, the other matches, including the playoff games, will be on ESPN2. The league's convinced a new partner of the product's value.
2. Tyresö's coming – The Swedish club's stars made thin amends for last Thursday's loss with a weekend win over Damallsvenskan-leading Rosengård – a game that served as the send off for the likes of Christen Press, Whitney Engen, Meghan Klingenberg, and Veronica Boquete (among others). Those stars have now departed the fledgling club for their NWSL destinations: Chicago (Press); Houston (Engen, Klingenberg); and Portland (Boquete).
Paul Riley has eagerly awaited his reunion with Boquete since acquiring her rights from the Flash, while Rory Dames gets the biggest goal-scoring threat he's had during his time with the Red Stars.
3. Two holders slow up Seattle – Both FC Kansas City and Western New York made Seattle look vulnerable, a quality they'd rarely flashed through their first seven games. The commonalities between those opponents: Talented midfields that play two holders.
If teams start bracing against the influence of Little and Fishlock, the performance of Sydney Leroux and Beverly Goebel becomes more important. As do the returns of Nahomi Kawasumi and Megan Rapinoe.
4. Western New York knows what they're up against – The Flash's Cascadia road trip wouldn't look so bad had they beat Washington before their West Coast excursion. With that loss to the Spirit, however, Western New York has one point from its last three games.
Results on the field, however, weren't that bad. The Flash were within minutes of handing Seattle its first loss of the season, while in Portland, a down performance without one of the team's key players (Salem) still nearly produced a result.
Western New York is in sixth place, but there's no reason to think they're the league's sixth-best team. As Sunday showed, they're much better than that.
5. The Alex Morgan tease –
[tweet https://twitter.com/MerrittPaulson/status/470003007917010944%5D
Technically Morgan, yet to play a minute this year, was available to play, dressing in Paul Riley's 18 to face visiting Sky Blue. When she didn't come on late as the Thorns chased a 1-0 lead, it was clear she was never meant to play. Whether Paulson, Portland's owner, knew that or not is unclear. Some fans felt trolled.
It's more likely Paulson, 24 hours before the game, thought his star might play and sent out an honest, unintentional mistake. That the team came was coming off a low, Wednesday night crowd (by their standards: 10,920) aroused suspicions, as did a Timbers kickoff time in New York that could have kept some soccer fans in bars (4:00 p.m. PT, three hours before the Thorns game).
Regardless, whereas at one time she was out indefinitely, Morgan is inching closer toward a Portland return, one that should open the tap on the team's incoming talent. The next time Paulson tweets about his biggest star, she'll likely be on the field.
League Leaders
Goals
RANK
PLAYER
TEAM
GP
GOALS
1
Amy Rodriguez
KC
10
8
2
Kim Little
SEA
9
8
3
Diana Matheson
WAS
9
5
4
Jessica McDonald
POR
8
5
5
Abby Wambach
WNY
5
4
6
Allie Long
POR
7
4
7
Jen Hoy
CHI
8
4

Assists
RANK
PLAYER
TEAM
GP
ASSISTS
1
Jen Buczkowski
KC
11
3
2
Crystal Dunn
WAS
9
3
3
Lauren Holiday
KC
10
3
4
Beverly Goebel
SEA
9
3
5
Jessica Fishlock
SEA
9
3
6
Vanessa DiBernardo
CHI
8
3
7
Jenna Richmond
KC
11
3
8
Vicky Losada
WNY
7
3
Power Rankings
RANKING


Up/Down

1
–

Seattle Reign FC

: As good as the Reign are, Sunday showed the team can still be so much better. With Naho Kawasumi at Asian Cup, the team's front three stopped creating chances. At some point, Leroux and Goebel may have to produce.  (7-0-2)

2
–


Western New York Flash:

 We didn't drop them after losing in Maryland, so we're not going to drop them after two close results on the road against contenders. The record doesn't look great, but the quality Western New York showed on Sunday was clear. They'll eventually make up the points they've lost. (3-3-2)
3
–
Portland Thorns FC: One step forward, one step back. As impressive as Portland was in its win over Western New York, the team was equally disappointing in losing to Sky Blue. With 16, Christine Sinclair is third in the league in shots on target, but the Thorns captain still doesn't have a goal. (4-2-2)

4
–
Chicago Red Stars: Chicago's won four in a row, but each win has come against Boston or Houston. Until they can knock off one of the top five teams on this list, it's difficult to move then much higher than four. (5-2-1)
5
–
FC Kansas City: Amy Rodriguez continues to score, Erika Tymrak is coming around, but for this team to reach its potential, 2014 Lauren Holiday needs to find the form of 2013 Lauren Cheney. She's still one of the league's best players, if not its best No. 10, but she's not playing at an MVP-level. If she can get back to that standard, FC Kansas City will contend at the top of the table. (4-4-3)

6
UP 1
Sky Blue FC: A four-point week for Sky Blue reminds the rest of the league: Although this group may not return to the postseason, they can beat anybody. Portland, coming off its win over Western New York, may have taken Jim Gabarra's crew for granted. (2-3-4)
7
DOWN 1

Washington Spirit:

 Last week we talked about the difference between playing as an upstart and performing as a favorite. In two games at home last week, the Spirit drew mixed results, coming from behind to draw Sky Blue while cutting it close against Houston. They still have to adjust to their newfound, relative success. (4-4-1)
8
–
Houston Dash: Midfielder Jordan Jackson, a fourth round draft pick, had been one of the Dash's best players over the last two weeks, but after taking a corner kick to the head while covering short, the former Cornhusker is out indefinitely. Even with Whitey Engen and Meghan Klingenberg arriving, Houston is one team that can't afford to lose a quality player. (1-7-1)
9
–
Boston Breakers: We're quickly running out of ways to explain why Boston is not good. For a team that has players like Heather O'Reilly, Lianne Sanderson, and Joanna Lohman, it shouldn't be so easy to dismiss this team's performances. (1-6-0)
Week Eight
Wednesday, May 28
Sky Blue FC vs. Chicago Red Stars – With Kelley O'Hara seemingly liberated from her defensive responsibilities, Sky Blue has a scorer that can help Monica Ocampo. That probably doesn't put them on Chicago's level, but it will present a greater challenge than Boston or Houston.
Boston Breakers vs. Portland Thorns FC – Portland's eighth game in three days will give Boston a chance to claim rare points, particularly given the Thorns' struggles converting chances into goals. Boston's defense, however, well give Portland an opportunity to find somebody to beyond Allie Long and Jessica McDonald to score goals.
Saturday, May 31
Western New York vs. Houston Dash – The way to make a tough stretch of games into a bonafide slump: Play down to your competition. Coming off a good but disappointing game against Seattle, Western New York needs to take care of business against the Dash.
Sunday, June 1
Sky Blue FC vs. Seattle Reign – Seattle's first trip to New Jersey produced a 2-0 win, but with a month's improvement and 90 minutes of experience, Sky Blue prove tougher in game two. Usually electing to play one holder, Jim Gabarra may need to tweak his approach to handle Seattle's midfield.
Boston Breakers vs. Washington Spirit – On the road for the first time since May 11, Washington will again assume the favorite's mantle that troubled them slightly last week. Witd a full week's rest against a Breakers' team that played mid-week, the normally fast Diana Matheson and Crystal Dunn may seem that much quicker on that hard Harvard surface.