One of the most incredible stories of any player in the Premier League continues to get better.
Southampton and England striker Rickie Lambert is about to be signed by his hometown club Liverpool at the age of 32. According to reports from the Press Association, a fee believed to be around $6 million plus other add ons has been agreed between the two clubs and Lambert will have a medical on Saturday.
After Mauricio Pochettino left Saints earlier this week to take over as Tottenham Hotspur boss, Lambert is set to follow in his footsteps to join the team he has supported his entire life. Dreams, it seems, do come true.
This is  truly a remarkable story as Lambert was released by Liverpool as a schoolboy and is still an avid supporter of his hometown team. A few months ago I asked Lambert a few questions in a press conference and his love for Liverpool was brought up. It is clear he holds the Reds close to his heart. Since Liverpool snubbed him as a teenager, Lambert then worked his way out from the lower tiers of English soccer (which also included a stint of working in a beetroot factory on the side) before joining Southampton at the age of 27 when they were a third-tier club.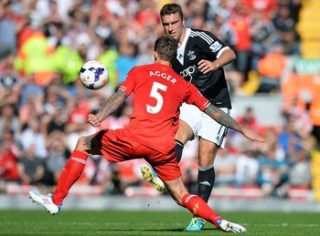 The last five years have been a dream ride for the Liverpudlian who has scored 117 goals in 235 games since joining Saints in 2009. In that time he has steered Southampton to two-straight promotions to the Premier League and has scored 28 goals in 75 appearances in the top flight over the last two seasons.
His ability from the penalty spot is also superb as he has never missed a penalty for Saints after scoring 34 straight PKs. However what will have most likely impressed Brendan Rodgers is that Lambert is not just a goalscorer but also a creator as last season he has 10 assists to his name, only Wayne Rooney, Luis Suarez and Steven Gerrard had more last season in the PL. Having Lambert come off the bench to help tee up Suarez and Daniel Sturridge would work wonderfully as Lambert isn't just a target forward, he has a wonderful soccer brain.
In the last 18 months Lambert has gone from a journeyman in the lower leagues of English soccer to a regular goalscorer in the PL who is also going to the World Cup with England.
Now his rags to riches career is set to have the cherry on the top as he will sign for his hometown club Liverpool and see out his playing days in front of the Kop trying to help the Reds win the PL and succeed in the Champions League. Not bad for a lad who used to work in a beetroot factory. Not bad at all.