The 13th weekend of the MLS season begins on Saturday at 4:00 p.m. Eastern with in the Pacific Northwest and ends its nine-match round Sunday night in … the Pacific Northwest? With symmetry at our side, here's our quick look at what's on top this weekend in Major League Soccer.
Note: All rankings reflect PST's weekly MLS Power Rankings.
TOO IMPORTANT TO BE PLAYED WITHOUT ITS STARS
a.k.a., The game you really should still watch
#3 Seattle Sounders vs. #2 Real Salt Lake, Saturday, 4:00 p.m. Eastern
Last week: Seattle drew in Vancouver, 2-2; Real Salt Lake was held at home by FC Dallas, 0-0
Somewhere, long ago, when the pros and cons of this issue were first discussed, somebody had to make a list of reasons why MLS shouldn't play through the World Cup. And hopefully, high on that list, they wrote "Unrepresentative product." A league that's trying to convince the public of its quality has to worry about a below-standard product, particularly around the World Cup.
Saturday's game in Seattle is the latest example. In the big picture, the Sounders and RSL are two of the teams most likely to represent the West at MLS Cup, but in the narrow, microscopic, comically irrelevant view of Saturday's 90 minutes, it's a game that will be played without Seattle's Clint Dempsey and DeAndre Yedlin. Nick Rimando, Kyle Beckerman, and Álvaro Saborío will also be missing for RSL.
In fairness to MLS, it would have been difficult to anticipate such a sharp increase in players going to Brazil this summer. Whereas the league barely lost any talent to South Africa, this time teams like Sporting, Houston, Columbus and San Jose have been hamstrung. Real Salt Lake and Seattle are in that group, too, though the player that is RSL's Clint Dempsey (in terms of significance) is still with the team. He doesn't get as much publicity, and he doesn't even play the same role, but Javier Morales can have Dempsey's influence over a given 90 minutes. He'll be in Seattle on Saturday, as will center backs Nat Borchers and Chris Schuler.
That's not enough to say Jeff Cassar's team will win this game, because Seattle has enough talent to manager its absences. It's just a shame that this game, one which on another date would otherwise be a great showcase for what Major League Soccer can offer, will be played without many of its stars. Even if RSL's unbeaten record falls, we'll wonder what how these matchup at full strength.
Prediction: The weekend's best game.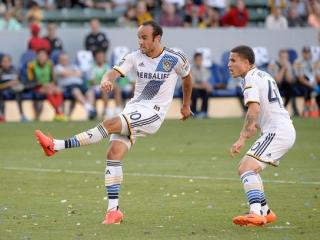 PACKAGING MAY BE DECEIVING
#15 Chicago Fire vs. #5 LA Galaxy, Sunday, 4:00 p.m. Eastern
Last week: Chicago lost at Columbus, 2-0; LA beat FC Dallas and Philadelphia, (2-1, 4-1).
Little known fact: A Bruce Arena team leads its conference in ball possession. Real Salt Lake's number (53.9%) is practically identical, but that revamped, diamond-esque formation the league's most successful coach is using? It's holding more of the ball than The Diamond Masters Of Utah, not exactly what we would have predicted from an Arena side.
Frank Yallop, in his first season in Chicago, is defying expectations, too. After building his last San Jose team around a modest midfield of Rafael Baca and Sam Cronin, the Fire has proven surprisingly adroit in the middle. While that hasn't translated to a great possession number (45), it has translated to chances. The Fire's fourth in the league in shots per game, with Harry Shipp's 2.6 key passes (passes ahead of shots) leading the charge.
Arena and Yallop are two of the league's more successful coaches, but the ways they achieve their success change. The duo's 2014 squads are showing some of their newer tricks.
Prediction: More Landon Donovan goals.
TAKING ADVANTAGE OF WHAT'S IN FRONT OF YOU
#7 D.C. United vs. #4 Sporting Kansas City, Saturday, 7:00 p.m. Eastern
Last week: D.C. lost at New England, 2-1; Sporting drew with visiting Toronto, 2-2
By now it's clear that absences and injuries have made Sporting KC a completely different team, but that's not D.C. United's problem. Instead, it's an opportunity. Though United had problems two weeks ago playing the favorite against Montréal, they have a chance to take advantage of a Kansas City team that's given up seven goals in its last four games.
Prediction: Benny Feilhaber challenges the 100-pass mark for the second game in a row.
(Note: Eddie Johnson, right, had his red card appeal accepted and will play on Saturday.)
OH, NO. NOT YOU AGAIN
#8 Toronto FC vs. #11 Columbus Crew, Saturday, 5:00 p.m. Eastern
Last week: Toronto drew at Sporting Kansas City, 2-2; the Crew defeated Chicago, 2-0
When Toronto visited Columbus at the beginning of April, and early goal from Michael Bradley sparked a performance that handed the Crew its first blemish. For the rematch, however, Bradley will be with the U.S. national team while Federico Higuaín, playing as well as anybody in Major League Soccer, remains at the wheel for Columbus.
Bradley's presence would normally drive Higuaín deep to pick up the ball. Without him, Kyle Bekker may have to come up big.
Prediction: A Ryan Nelsen special – early goal; sit on the lead.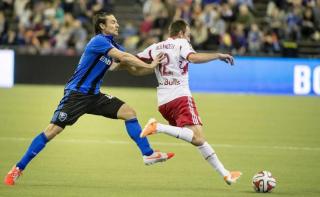 DEAD TEAM WALKING?
#19 Montréal Impact vs. #1 New England Revolution, Saturday, 7:00 p.m. Eastern
Last week: The Impact lost 4-1 at Colorado; New England defeated D.C. United, 2-1
A visit from the league's hottest team may only highlight what's become a demoralizing situation in Montréal. Having already expressed disappointment with general manager Nick De Santis, Impact fans may not let the team's poor performance in Colorado go unnoticed. Even after a midweek draw at Toronto (Canadian Championship), an increasingly disillusioned fan base will want to see improvement.
Prediction: Protest banners in two languages.
11-ON-11? TAKE TWO
#9 San Jose Earthquakes vs. #13 FC Dallas, Saturday, 8:30 p.m. Eastern
Last week: San Jose beat Houston, 3-0; FC Dallas lost at LA (2-1) beat drawing at RSL (0-0)
When Dallas visited Santa Clara three weeks ago, Shea Salinas got himself sent off just before halftime, giving way to an extravaganza of Clarence Goodson and Víctor Bernárdez clearances. If all 22 players manage to stay on the field this weekend, the game should be decided in an increasingly Dallas kind of way: See if Fabian Castillo create more goals than the defense eventually allows. For all Castillo's speed and talent, that answer's been "no."
Prediction: Fans remember how much calmer things were when Steven Lenhart was out.
PARENTAL DISCRETION ADVISED
#17 Chivas USA vs. #18 Philadelphia Union, Saturday, 10:30 p.m. Eastern
Last week: Chivas lost on Wednesday to Portland, 2-0; Philadelphia also lost at StubHub Center (to the Galaxy), 4-1
Between actual attendance, television audience, MLS Live viewers, this may end up being one least-consumed games of the year. Maybe Philadelphia's large fan base will prove that wrong, but on paper, this looks like one of the least desirable matchups of the season.
One team (Chivas USA) has a scorer but can never get him the ball. The other can keep the ball but has no scorers. Enjoy?
Prediction: The ability to take over the #CHVvPHI hashtag.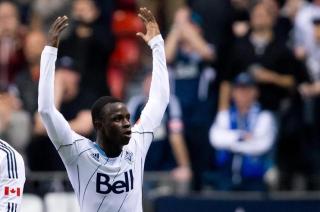 TESTING THE REBOUND …
#16 Portland Timbers vs. #6 Vancouver Whitecaps, Sunday, 9:00 p.m. Eastern
Last week: Vancouver was drawn by Seattle, while Portland's won consecutive matches at New York and Chivas USA.
Portland's won two in a row, but what an interesting two they were. It's 2-1 win in New York saw the losing team create the better chances, and during the midweek win at Chivas, an almost entirely changed team played a lackluster first half before Fanendo Adi scored his first two MLS goals.
That momentum's probably not enough to overcome Vancouver's advantages. The Whitecaps are the form side, on full rest and, depending on who you ask, have the better players.
That Portland defense that's been struggling all year? Against Kekuta Manneh, Erik Hurtado, Pedro Morales, and potentially Darren Mattocks, they'll need to give one of their season's best performances.
Prediction: Both goalkeepers stay in the general vicinity of their goals.
… AND LET THE REBOUND CONTINUE
#14 Colorado Rapids vs. #12 Houston Dynamo, Sunday, 6:00 p.m. Eastern
Last week: Colorado downed Montréal, 4-1; Houston lost at D.C. United at San Jose by a combined 5-0.
So let me just get this straight: One team is at full strength, having lost none of its players to World Cup duty, while the other is missing its two best players? No, I understand Houston knew this was coming. It's just weird, that's all. Too bad Rico Clark and Mark Sherrod aren't around to help.
Prediction: Fewer Shane O'Neill goals.