Already this weekend Portugal struggled with Greece, Russia drew Norway, Italy finished scoreless with Ireland, Colombia drew Senegal, and Chile needed a miraculous comeback to beat Egypt.
For many countries expecting to make serious noise at the World Cup, not everything is going as planned in the run-up to the competition.
Today, more teams faltered as Germany drew with Cameroon and France was held by Paraguay.
Here's a roundup of all the international friendlies today:
Germany 2-2 Cameroon
Young Erik Durm received glowing reports with Joachim Löw still to name his final 23 for Germany, but the rest of the squad left much to be desired as their central midfield has suddenly become a huge problem for the European powerhouses.
Bastian Schweinsteiger and Sami Khedira are both below 100% physically, and it showed as those two struggled to cover for defenders. In addition, it's affecting their attack. "We seem to need a lot of chances to score," Löw said after the match.
Mesut Ozil was also not effective in the attack, and was replaced by Lukas Podolski for the second half.
Samuel Eto'o scored and poked fun at Jose Mourinho with his celebration, while Thomas Mueller and Andre Schurrle bagged goals for Germany. All the goals came in the second half within 16 minutes of one another, as Cameroon's Eric Maxim Chupo-Moting rounded out the scoring.
This result, alongside their last match – a 0-0 draw with Poland – should give Germany fans some cause for worry heading into Brazil.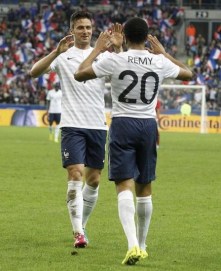 France 1-1 Paraguay
A pair of goals in the final 10 minutes proved the only goals as France dominated Paraguay but could only muster the draw. Olivier Giroud and Loic Remy were bright in combination, setting each other up and proving reason for Group E to fear their pairing.
However, despite Real Sociedad striker Antoine Griezmann breaking through for his first international goal on just his third cap, the hosts conceded late Victor Cacares equalized with a set-piece header to send the French home disappointed.
France were rocked before the match by news that Franck Ribery could potentially miss the World Cup with a back injury, but Didier Deschamps looked to ease those fears saying the injury is not as serious as the media made it out to be.
Griezmann has taken Ribery's place on the wing and performed well, so if it turns out Bayern Munich's star is unable to go, France shouldn't be too downtrodden.
Belgium 2-0 Sweden
One team that did take care of business was Belgium, who picked up goals from expected sources Romelu Lukaku and Eden Hazard en route to a 2-0 victory over an Ibrahimovic-less Sweden.
Lukaku bagged a howitzer into the top corner, a beauty of a goal, while Hazard's was of a lower degree of difficulty after a beautiful flick by Kevin de Bruyne.unlocked the Sweden defense, and Hazard finished the chance in space.
Chelsea's Lukaku is in outstanding form, coming off a brilliant season with Everton and scoring a hat trick against Luxembourg last Monday.
Honduras 2-4 Israel
Yet another World Cup team with a sub-par performance, Honduras found themselves fighting from behind all match, and a cracking goal from Roger Espinoza wasn't enough to help Honduras feel any better about giving up four to Israel.
Eran Zehavi started things out for Israel, and they also got goals from Gil Vermouth, Omer Damari, and an own goal from Maynor Figueroa. Carlos Costly rounded things out for Honduras.