Jozy Altidore has not scored for club or country since December 4th. No matter how you slice it, that's not good.
With the World Cup fast approaching, Jozy Altidore is working hard to put his sub-par club season behind him and move forward with the international squad.
After a statue-like performance against Azerbaijan, today's match against Turkey was a promising step, but there's still one thing missing:
His finishing.
The man who scored one single Premier League goal for Sunderland is in the lineup to just that, and putting himself in great positions or making solid runs won't matter if he can't shoot past a goalkeeper.
Today, Fabian Johnson's score – a finish by a defender scoring his first-ever international goal – easily found the back of the net for a one-on-one finish, while Jozy fired straight at the keeper at least three times.
He appears timid, unsure of himself, and afraid.
His play is excellent.  He's using his big frame to body down defenders, he's streaking past those attempting to mark him, and he's passing the ball unselfishly when he finds teammates in better positions than he. Klinsmann recognized that he was a positive for the US attack today.
Jozy's more than just a goalscorer, and that's what makes him valuable over, say, Chris Wondolowski. But when it comes to shooting the ball into the net, he suddenly becomes fearful, almost like he's expecting it to be saved.
We all know Jozy's a streaky player whose confidence can be his greatest asset or his worst enemy.  And when he's not scoring, it slowly eats away at his confidence like a flesh-eating bacteria, until there's no skin left for him to fill.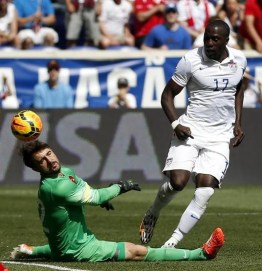 That's the most worrying thing about this drought; eventually, it's going to affect the rest of his game, like it did against Azerbaijan, on a more regular basis.  Altidore played very well against Turkey, and deserves to be commended, but he has to start scoring if the United States is going to have any chance of making it past Group G.
Jurgen Klinsmann has other goalscorers in the squad, that's not the issue.  The potential problem is that if he devolves into the sulking, lump of an Altidore that detracts from the attack rather than helps it, the US is doomed.
He's not getting any help either, let that be clear.  The referee in today's match with Turkey was poor, and the US should have been given a penalty at least once, and at this point, US fans will take a goal any way Jozy can get it.
And remember, if Klinsmann benches him at any time, it's over for Jozy.  That would be the bug in his head that would leave his World Cup confidence in tatters, an unrecoverable situation for the 24-year-old.
They say in baseball that once a pitcher stops pitching and starts aiming, his control is all but lost – the same goes for a striker.  When Jozy attempts to tuck shots past a goalkeeper, they end up in the netminder's arms. When he shoots, instead of thinking "I can't wait for this to hit the back of the net" he's thinking, "I hope this goes in the back of the net" and therein lies the problem.
Just shoot Jozy, please. Just shoot like we know you're capable of, and the ball will find the back of the net.  The US's chances at Brazil are riding on it.