HARRISON, NEW JERSEY —
There were a lot of questions. So many, in fact, it was hard not to feel, at least a little, like the US Soccer public might be going a bit batty.
Then again, it is just under two weeks until the 2014 World Cup in Brazil.
This is what we do. We fret. We over-analyze. We find narratives in every dusty corner of the room and we convince ourselves, masochistically at times, that they all matter.
Because they do. Going into Sunday afternoon's match with Turkey, the 39th ranked team in the world, the US Soccer public was abuzz with everything from chatter about Julian Green's (realistic) value in Brazil to who should start at left-back.
And, of course, diamond midfields. We love to talk us some diamond midfield.
Most of the time the questions nearly stockpile with international friendlies. Too many elements – two teams with very different motives, trying out different shapes, formations, and many times blooding new players.
It wasn't perfect. The defense still needs work. Our outside mids remain unsettled. And Turkey was one notch above crap. But on this picture perfect 75 degree day at Red Bull Arena, a number of issues were resolved.
Michael Bradley and Fabian Johnson were fantastic
Michael Bradley proved to everyone in the building, once again, why he is The General. The lifeblood of this Yanks squad, the Toronto FC midfielder was box-to-box with ease. Creating going forward, ripping tackles on the back-track. An inspiring performance all around, highlighted by a Barcelona-esque link-up with Fabian Johnson to snatch a 1-0 lead in the 26th minute.
The goal was simply sublime. Dare I say, world class.
From his position at right-back, Johnson stopped the ball on the right side of midfield and looked up at his options. Bradley's dome was unmistakable, unmarked in the center of the park. With pace, Johnson put in a low, driven pass to the feet of Bradley, and then took off, blazing up the right side of the pitch. Bradley, with an uncanny understanding of Johnson's idea, did well to flick the ball inside the box, directly into the on-rushing path of the Monchengladbach defender. With one touch, Johnson hammered a left-footed into the left corner.
Red Bull Arena exploded. From journalist's row five rows up on the midfield, it was impossible not to stand and applaud. A fantastic strike.
Bradley may have been the Man of the Match but it was a tough call given the performance of Johnson, who proved he'll be just fine as the US team's right-back. Or left-back. Or right midfielder. Or left midfielder.
Fact is, along with Bradley, Tim Howard and Clint Dempsey, Fabian Johnson is one of the best players on this squad. It's about time people start recognizing that.
Cameron-Besler is, hands down, the best US center-back partnership
To the left of Johnson was Geoff Cameron and Matt Besler, both of whom put in strong shifts at center-back. For me, there is no center-back dilemma. Cameron and Besler is the partnership for Brazil.Apologies to Omar Gonzalez, but this became abundantly obvious on Sunday.
Cameron is a born leader and he spent the day keeping the back four in line, barking out instructions, making sure everyone was on the same page. After the match I spoke to the Stoke defender about his role as a leader on the Yanks and he admitted it was one he coveted but was quick to note that every member of the back four needed to lead.
I'm huge on Cameron. The kid is hungry. He's willing. And he's got the goods to be a very, very good center-back.
In his 45 minutes on the pitch, Besler was his typical trusty self. Positionally secure. Crunching in the tackle. Focused. Determined.
He was removed at half-time in favor of John Anthony Brooks, who enjoyed his best performance every in a Yanks kit. At 6'4″, the 21-year-old is a massive presence in the back but was impressively mobile against Turkey's pesky front line. In a two minute span between the 75th and 77th minutes, two superbly timed sliding challenges by Brooks denied Ahmet Ozek and Mustafa Pektemek dangerous crosses into the box.
Not sure if Brooks will see a minute in Brazil but he's certainly one for the future.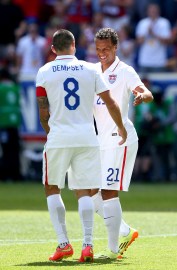 Chandler struggles, Dempsey impresses, and US strong up the spine
Timmy Chandler struggled.
Deployed as a left-back, he was caught out on a number of occasions and gave the ball easily, almost foolishly, at times. And of course, he was to blame on Turkey's goal.
With Chandler, however, US fans shouldn't worry too much over Sunday's performance. He's a quality player who simply had a bad day. He needs to simplify his game, let it come to him. Stop trying to do too much and listen better to Besler and Cameron.
Of course, it wasn't all bad for Chandler, whose probing cross in the 52nd minute had Turkish center-back, Hakan Balta, all bent out of shape and led to Dempsey's toe-poke goal. It was promising stuff from Deuce, who looked particularly lively early on, dancing on the ball, showing the Turks that quintessential Nacogdoches swagger. At one point in the first half the Sounders striker even managed to pull a full Maradona in the box, leaving his Turkish defender in a heap.
Pushed high up the pitch, Dempsey and strike-partner Jozy Altidore exerted some impressive pressure on the Turkish defense. Throwing defenders aside with ease, Altidore battled hard up top and showed some flash and grit throughout. Promising stuff despite his failure to score.
Behind Jozy and Deuce were Bradley and Jermaine Jones, who put out a rather unremarkable performance. While the Besiktas man didn't do anything to solidify his starting role at the fulcrum of the midfield, he didn't do anything to lose it, either. Jones did well to keep his discipline and his presence alongside Bradley afforded him more freedom moving up the pitch.
At half-time Kyle Beckerman came on for Jones and provided his typical dirtdog outing. The jury is out as to who Bradley works better with – Jones or Beckerman – but when the latter is on the pitch the diamond shape flattens out a bit. Which is perfectly fine.
In his post-match presser, Jurgen Klinsmann enlightened everyone with a simple explanation to his desired midfield: a diamond going forward and a flat four dropping back. Simple. Smart. But it certainly asks a heck-of-a-lot from Bradley. Thankfully, the 26-year-old has a third lung and is more than happy to oblige.
Between the sticks Howard and Guzan split time, both registering a few good saves and looking all the part like a top keeper. Turkey's goal, a smashed penalty by Selcuk Inan in the 90th minute, was unstoppable. The referee pointed to the spot after Chandler coughed the ball up to Pektemek, who was in clear on Guzan, and hit his shot off the arm of Cameron. Nothing you can do about that.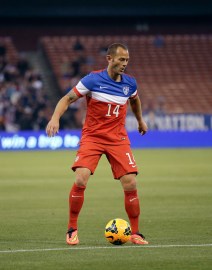 Might Brad Davis be poised for a World Cup breakout?
Another place where the competition for starting spots remains red hot is on the outside midfield. On Sunday, Klinsmann opted to start Brad Davis on the left and Graham Zusi on the right.
Zusi put in a decent performance. He and Johnson seem form an interesting partnership with the former cutting inside to allow the latter to scurry up the wings. Zusi played some good early balls in to the forwards and came close to scoring, hammering a 54th minute opportunity wide and into the side netting. Mix Diskerud spelled Zusi for the final 20 minutes and did quite well, playing some brilliant balls into space for the strikers to run on to. For now, Zusi and his tenacious style has him feeling like the starter but the creativity of Mix is unmistakable and could be quite useful against a more technical side like Portugal.
Davis – who played 64 minutes before ceding to a tentative, somewhat detached Julian Green – was very impressive and feels to me like a potential breakout star in this World Cup. Sounds a bit crazy, I know, but the Dynamo winger brings a brazen approach to his game: running at defenders, getting them their heels, opening them up, causing problems.
After the match I asked the 32-year-old about whether he's thought using Brazil as a platform for an international breakout. "Of course, it's something I've thought of…" Davis said with a smile before turning pragmatic, "but more than anything I concentrate on doing the simple things well every time I play. I take that mentality to Brazil, and yeah, if things go well, then maybe I get that international breakout and the European clubs come calling."
Not that Davis has any interest in moving across seas. From all indications Davis is incredibly happy at Houston, where he's played since 2006. But seeing that twinkle in his eye, it's hard not to route for Davis. Like the rest of his teammates, when it comes to the 2014 World Cup in Brazil, he has nothing to lose. And everything to gain.