When Julian Green made the United States final 23-man roster, presumably over US legend Landon Donovan, headlines were made and decisions were second-guessed.
But Green isn't even close to the only youngster – or even the only teenager – who will be making the trip to this summer's World Cup.
You probably know the big name youngsters – Germany's Julian Draxler (20 years old), Belgium's Adnan Januzaj (19), and France's Paul Pogba (21),  just to name a few.  Those players have been around for a while and have made a name for themselves already, including possibly breaking into their country's starting lineup.
Here, we will focus more on the young players who aren't such household names, and could be players who not only get a chance to break onto the big stage, but could be fixtures for years to come in their country's squad.
Let's get a brief overview of some players who not only represent the future for their country, but could even have an impact this year.
1) Josip Drmic and Granit Xhaka – Switzerland, 21 years old
With Switzerland coming into Brazil with forward bunch bursting with youth, this Bundesliga pair could very well make a major impact.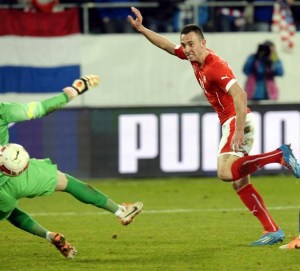 Drmic didn't do much during Switzerland's qualification, but has bagged three goals in their last two friendlies, and with Switzerland's inexperienced forward group, the young striker could find himself with ample opportunities during Group E play and beyond.
Xhaka is actually the Swiss's most-capped forward according to FIFA.com, with 22 appearances for his country, although he is actuality is more of an attacking midfielder, even finding himself located quite centrally under manager Ottmar Hitzfeld.
Dating back to the last match of European qualification against Slovenia, the pair have scored four of Switzerland's last five goals, and will be a driving force going forward if the Swiss are going to live up to their Pot 1 designation.
Along with Xherdan Shaqiri, Fabian Schar, and Ricardo Rodriguez, Hitzfeld selected five players 22 years old or younger, so no matter what happens this year for Switzerland, the country is set up for the future.
2) Kenneth Omeruo – Nigeria, 20 years old
A young, Chelsea-owned center-back, Omeruo impressed on loan at ADO Den Haag two years ago before staying in the country and spending time at Middlesbrough this past season.  With the Championship side in the hunt for a promotion playoff spot, Omeruo logged valuable minutes in the center of the Boro's defense next to England youngster Ben Gibson, leading the way to a number of quality results, including a 1-0 win over nearly-promoted Derby County and a 2-0 victory over playoff participants Brighton.
Omeruo has already made a spot for himself in the Nigerian squad, leading the way for his country's African Cup of Nations victory in which the Super Eagles conceded just four goals in their six tournament matches, including a shutout of Burkina Faso in the finals.
With his sights set on impressing Jose Mourinho, this World Cup could be a springboard for bigger things from Omeruo.  He has a tall task in front of him at Stamford Bridge, considering the current center-back pair is one of the best in Europe, and fellow loanee Kurt Zouma is also looking to do the same, but Omeruo has something Zouma does not: a chance to play on the world's biggest stage.
3) Stephan de Vrij – Netherlands, 22 years old
One of the fastest-rising stocks in the European game, the Dutch defender was mentored at Feyenoord by the vastly experienced Joris Mathijsen.  At 19 years old, de Vrij's name was on the tip of every scout's mouth.  He took a serious regression two years ago as Mathijsen declined due to old age and Feyenoord's defense temporarily slumped, but the youngster is back to his old level and ready for a move to a top-tier team.
However, he has a chance to showcase his skills at the World Cup, and Feyenoord has recognized the opportunity he has to boost his stock farther by reportedly putting all transfer talks for the 22-year-old on hold until after the event.
Surrounded by Mathijsen at Feyenoord plus Ron Vlaar and Bruno Martins Indi on the international level, de Vrij has had a wealth of experience to draw from and develop.  He's started the Netherland's last three matches at CB, and it would appear that the struggles he faced towards the end of World Cup qualifying have passed and he is back into Louis van Gaal's graces for good.
4) Sead Kolasinac – Bosnia & Herzegovina, 20 years old
Schalke's third-place finish this Bundesliga season was thanks in part to the young left-back's breakout year.  After making a name for himself down the stretch two seasons ago as a 19-year-old, he again found himself on the bench to start the year thanks to an injury.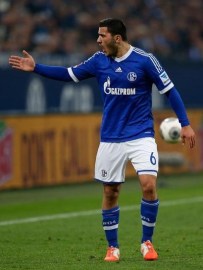 But once recovered, the kid returned to the starting lineup and logged a run of 17 matches where he missed just six total minutes (during that span, Schalke lost just three matches – and it would have been just 1 had they not dropped the final pair of the long run).
Now in the national team fold, Kolasinac has featured in multiple matches for Bosnia since his return from injury in October, and that's unlikely to change this summer.
Luke Shaw has received constant headlines in England with his explosion onto the international stage and likely transfer to Manchester United.  But Kolasinac has been rumored to also have been recently pursued by the Red Devils, and with reports of Shaw's potential deal coming to a screeching halt, you could hear this kid's name crop up more in the coming weeks, especially if he performs at the World Cup. He's not as skilled as Shaw going forward, but is solid at the back and an accurate defender, earning the nickname "Zerstörer" or "The Destroyer."
One storyline to keep an eye on: Kolasinac was born in Germany and only turned down the German national team only last year despite time for the German U-20 team.  There's a serious possibility that Bosnia & Herzegovina could match up with Germany in the quarterfinals if things play out, and there could be some harsh sentiments towards Kolasinac from his country of birth.
5) Marco Verratti – Italy, 21 years old
Riccardo Montolivo's World Cup dreams shattered just about the same time his left leg did just eight minutes into their recent 0-0 draw with the Republic of Ireland.  A massive blow for Italy losing one of its most experienced players and emotional leaders, Cesare Prandelli must now reach deeper into the player pool to replace him.
In Prandelli's squad over the likes of Giuseppe Rossi and Mattia Destro, Verratti looks primed to take Montolivo's place in the midfield, and the Paris Saint-Germain youngster fully deserves it.  A masterful passer, his 91% pass accuracy in Ligue 1 play ranks second in the entire league of players who have at least 25 appearances, second only to his PSG and Italy teammate and central midfield partner Thiago Motta.
With Italy's downfall often a disconnect between their defense and creative options, it would behoove Prandelli to take Verratti as someone who can take some of the creative weight off Andrea Pirlo's shoulders and work on spreading around the ball.
6) Santiago Arias – Colombia, 22 years old

Manager Jose Pekerman has constantly been reminded how his back four are Colombia's weak point.  Enter the 22-year-old PSV right-back, and things have eased up a bit for the man in charge.
Arias provides not just defensive solidity on the wing – his 60% tackle success rate at PSV this year is stellar considering the tough angles and isolation defenders face near the touchline – but also a burst of speed that enables Arias to take on defenders himself and create chances for his teammates. Arias's 21 chances created ranks 16th among Eredivisie defenders, but he collected his in less minutes than all but one of those in the top 20.
With Pekerman clearly still tinkering with his defense throughout the recent friendlies, it's hard to tell if Arias – or anyone, for that matter – will be a consistent starter in Brazil at the back for Colombia. One thing is for sure, if Arias can make the most of his minutes, he can use the World Cup as a springboard for later success at both club and country.
7) Diego Reyes – Mexico, 21 years old
It's been a crazy year for Reyes, and one he won't soon forget.  Having signed for European giants FC Porto last summer, he's now going to his first World Cup under Miguel Herrera, and is hoping not just to go but to play.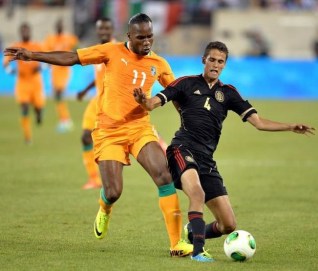 Reyes is the cream of Mexico's talented youth system, as he was the only member of the Olympic gold medal-winning team to start the country's opening fourth-round CONCACAF qualification match against Jamaica.
Already standing 6-foot-4, Reyes is a beast in the air, but doesn't lose any agility on his feet as tall defenders often do, using his large strides as part of his technical strength rather than a detriment to his game.
While the Mexican team isn't light on defenders this summer, an injury of unknown severity to captain Rafa Marquez could give Reyes a chance to play serious time in Brazil.
8) Stefanos Kapino  – Greece, 20 years old
Panathinaikos goalkeeper Kapino isn't the number one choice at the moment for Fernando Santos's squad, but it's not exactly a position of security for current favorite Orestis Karnezis, so it's possible Kapino could make a late push for the spot. Karnezis was the man through Greece's impressive qualification run, but he's not even Granada's first-choice keeper, making just six La Liga appearances last year.
If Karnezis – he of just 18 international caps – were to for whatever reason lose his place, it's possible Kapino could beat out PAOK starter Panagiotis Glykos for the opening and make a play during his time at Brazil. But either way, Kapino appears to be a man for the future in Greece, and starting for a big club at just 20 years old could open the eyes of bigger fish, paving the way for a club upgrade as well.
9) Alireza Jahanbakhsh – Iran, 20 years old
Just a substitute off the bench for Eredivisie side N.E.C. this season, Jahanbakhsh hasn't reached a breakout for his club just yet.  However, the World Cup would do nicely, and the big stage could do nicely as well.
Having earned Iran's Young Footballer of the Year in 2012, Jahanbakhsh has developed a wonderful wing partnership with Fulham's Ashkan Dejagah, and the two electrified the Asian qualifying tournament, scoring plenty of goals including Jahanbakhsh's first-ever for the national team against Thailand.
Iran may not last long in Brazil, but they have some talents that could make noise on the European stage in the coming years, and Jahanbakhsh is at the head of that pack.
10) Pavel Mogilevets – Russia, 21 years old
Having just earned his first cap five days ago against Slovakia, the baby-faced midfielder from Zenit St. Petersburg is hoping to make an impression in Brazil this summer. He hasn't made the squad yet, but is about as close as you can get.
Fabio Cappello has made some head-scratching decisions with his World Cup squad (such as dropping striker Pavel Pogrebnyak in favor of the injured Denis Cheryshev) but including Mogilevets could be a view into the future.  With the Italian's squad down to 25 players, he has gone on record saying he already knows which players will be left out, but isn't going to tell them until the June 2nd deadline.
The two eventually cut very well could be the pair of youngsters on the roster, Mogilevets and Andrey Semenov, but if he makes it to Brazil, he will have gone for a reason, and the kid who scored twice on loan to Rubin Kazan this past season could get a chance to see the pitch.
11) Julian Green – USA, 19 years old
It would be impossible to write a piece on youth at Brazil without mentioning the German-American teenager who was at the receiving end of Landon Donovan's international demise.
Green has obvious talent, or he wouldn't be in the Bayern Munich youth ranks.  However, he's a pretty major unknown for the United States fan base, and to most of the soccer world as well.  He has barely been sighted in the senior squad at Bayern, mostly impressing at the U-21 level.
But Jurgen Klinsmann obviously loves what he sees, and Green is likely going to be a household name in America if he comes anywhere close to living up to the now-lofty expectations that come with taking a legend's place.