From the outside, it's difficult to be too critical of call ups, cuts, or omissions from national team squads. That goes for both the women and the men. We can (and do) complain all we want about situations like Landon Donovan's, but ultimately, Jurgen Klinsmann and his staff know much more about the player than we do. All a reasonable person can do is sit back and say, "based on everything I know …"
It's the universal caveat. That's the assumed stance whenever anybody criticizes their national team. Given nobody will confuse an internet writer, commenter, or tweeter for a national team boss, it's something that should also go unsaid. When it comes to the national team, few has the knowledge or authority of Jurgen Klinsamnn or Jill Ellis, even if they may, in fact, be wrong.
That doesn't mean there aren't questions to ask about today's 26-woman squad, named for upcoming friendlies against France (June 14, 19). For example:
Goalkeepers: Nicole Barnhart, Ashlyn Harris , Hope Solo
Nicole Barnhart is back in the team after missing the last two call ups, taking the place of Sky Blue FC's Jill Loyden. While Loyden's club performance has made it clear she's not among the U.S.'s best keepers, why is Barnhart back over, say, Boston's Alyssa Naeher?
More importantly: Why was she ever out in the first place? Last year's NWSL Goalkeeper of the Year is generally recognized as the second-best keeper in the pool, yet we still don't have a clear explanation as to why, after being a regular call up for years, she was suddenly dropped this spring.
Defenders: Stephanie Cox, Crystal Dunn, Whitney Engen, Meghan Klingenberg, Ali Krieger, Christie Rampone, Becky Sauerbrunn
No surprises here, though it's important to note three players listed at other positions (Julie Johnston, Kristie Mewis, and Kelley O'Hara) are also part of picture, one that continues to be murky after two-plus years of competition.
For instance, who are the center backs? With Rachel Van Hollebeke still out, this looks like a three-woman race, though it's unclear if captain Christie Rampone really is behind Whitney Engen and Becky Sauerbrunn. Julie Johnston is playing in the middle for Chicago, but is she seen as a defender by a national team that may be newly willing to play a real defensive midfielder.
At fullback, Ali Krieger looks like a given at right back (even though she's been playing in the middle for her club), but the left back position is still wide open. Kelley O'Hara, a starter at the end of the last cycle, is healthy and playing in attack for Sky Blue. Kristie Mewis has just returned for Boston. Crystal Dunn has been used on the left before but has stockpiled minutes elsewhere for Washington. Ultimately, Stephanie Cox may be the best pure left back in the squad.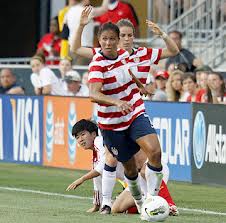 Midfielders: Shannon Boxx, Morgan Brian, Tobin Heath, Lauren Holiday, Julie Johnston, Carli Lloyd, Allie Long, Kristie Mewis, Heather O'Reilly
There are so many angles here, we have to go bullet point:
As expected, Shannon Boxx (right) is given a look post-pregnancy. Too bad she has zero NWSL minutes to her credit. Though another look in the national team may be obligatory, it's still a small slap in the face to players like Keelin Winters, Becky Edwards, and Jen Buczkowski who've been excelling in defensive midfield.
Further to that point, Morgan Brian, an attacking midfielder at the University of Virginia, will presumably get another look out of position in deep midfield. Johnston may, too, even though she's played almost exclusively in defense for Chicago. Allie Long has improved for Portland this year, but she's not one of the U.S.'s nine best midfielders, let alone a go candidate for a holding role. Mewis has yet to have an impact at senior level despite 15 caps, yet she continues to get this call. It's becoming evermore clear that club-level soccer, where players get most of their minutes, is not given the weight it should.
Having finished her season with Champions League-qualifying Paris Saint-Germain, Tobin Heath is back. Where she plays in a team that's experimenting with a 4-3-3 is the question. Whether in the middle or on the flank, Heath has the talent to start. A formation change, however, may make it more difficult to claim a first XI role.
Megan Rapinoe continues to struggle with a foot injury for Seattle. Like Heath, it's unclear whether she's a starter or a super sub, at this point. Unlike Heath, she won't get a chance to fight for her place this camp.
Forwards: Sarah Hagen, Sydney Leroux, Alex Morgan, Kelley O'Hara, Christen Press, Amy Rodriguez, Abby Wambach
I've long stopped worrying about sounding naive while pointing these things out, but my stubbornness won't let me delete it: Alex Morgan has zero minutes for Portland this season. Stugglining with a foot injury all season, she seems unlikely to play against France. But who knows? National team play is clearly the priority, and while that make sense, it also make sense to use potential minutes as club-level to work back into shape. If players know they'll go straight back into the national team, however, club duty presents more risks than rewards.
A bigger surprise than Morgan's inclusion is the sure number of players listed a the position. O'Hara is here, not in defense. Hagen, just showing up for FC Kansas City, is getting another look. Rodriguez continues to show she's the form striker in the pool. At a position where the U.S. already had Leroux, Morgan, Press and, Wambach, does the senior team need to keep calling in forwards? Particularly when Rodriguez may actually be capable of challenging for a spot?
Overall
There's a lot of room to nitpick, but ultimately, there were no real surprises in the squad. Boxx's return is the biggest one, but another shot in the team was always inevitable. With Ellis calling in all the healthy, big-time players, we're arguing at the fringes of a successful core.
Though it would be nice to see the U.S. start recognizing the development that's happening in the league it's funding, the program's preference for more familiar faces is nothing new. And there's no indication that will change this cycle.
From U.S. Soccer:
U.S. Women's National Team Roster by Position
GOALKEEPERS (3): Nicole Barnhart (FC Kansas City), Ashlyn Harris (Washington Spirit), Hope Solo (Seattle Reign FC)
DEFENDERS (7): Stephanie Cox (Seattle Reign FC), Crystal Dunn (Washington Spirit), Whitney Engen (Houston Dash), Meghan Klingenberg (Houston Dash), Ali Krieger (Washington Spirit), Christie Rampone (Sky Blue FC), Becky Sauerbrunn (FC Kansas City)
MIDFIELDERS (9): Shannon Boxx (Chicago Red Stars), Morgan Brian (Virginia), Tobin Heath (Portland Thorns FC), Lauren Holiday (FC Kansas City), Julie Johnston (Chicago Red Stars), Carli Lloyd (WNY Flash), Allie Long (Portland Thorns FC), Kristie Mewis (Boston Breakers), Heather O'Reilly (Boston Breakers)
FORWARDS (7): Sarah Hagen (FC Kansas City), Sydney Leroux (Seattle Reign FC), Alex Morgan (Portland Thorns FC), Kelley O'Hara (Sky Blue FC), Christen Press (Chicago Red Stars), Amy Rodriguez (FC Kansas City), Abby Wambach (WNY Flash)