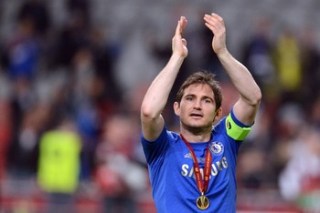 English midfielder Frank Lampard is either retiring or finding a new club after 13 years with Chelsea.
Linked with New York City FC in recent days, the BBC is reporting that Lampard has "offers from 16 clubs."
He won't decide anything until after the World Cup, however.
The 35-year-old England international, Chelsea's all-time leading scorer with 211 goals, was out of contract.

Since joining from West Ham, Lampard had helped the club to three Premier League titles and the Champions League in 2012.

Lampard has yet to decide if he will retire, but has had offers from 16 other clubs.
New York City FC unveiled former Atletico Madrid, Barcelona and Valencia forward David Villa as its first signing earlier Monday. A start of Lampard and Villa, age aside, would be a heck of a beginning to NYCFC's player history.
It would also usher in more questions about whether MLS will be able to hold up its parity in the face of huge money owners like Manchester City, the New York Yankees and David Beckham's Miami supergroup. Yes, the pair would be just two Designated Players, but can you see NYCFC being happy to stop there?