Getting to know… Switzerland: Mainstays in and around the World Cup, Switzerland made the last 16 in 2006 but lost in a penalty shootout to Ukraine after not conceding a goal the entire tournament. In 2010 they went out in the group stages despite beating eventual champions Spain 1-0 in their opening game. Switzerland have now qualified for six-straight major tournaments and with a young squad brimming with confidence, this World Cup has the potential to be a breakout tournament for the No. 8 team in the world. The furthest the Swiss have gone at the World Cup is making the quarterfinals three times in the opening six tournaments, the last time being in 1954 when they hosted the showpiece event.
Record in qualifying: Switzerland breezed through qualifying and were unbeaten in 10 games, keeping an impressive seven clean sheets. They weren't in a strong group but you can only beat what's in front of you. Seven wins from 10 and there only competition being Iceland and Slovenia means that their World Cup warm up games over the past six months have been hugely important in preparing them for this summer.
What group are they in? They are in Group E alongside France, Honduras and Ecuador. Switzerland are the top seed and will be expecting to make it through to the last 16. Ultimately the French and Swiss will battle it out for top spot but they will have intense competition from their Central and South American opponents.
Game schedule:
15 June, 12:00, Brasilia – Switzerland vs. Ecuador
19 June, 16:00, Salvador – Switzerland vs. France
25 June, 16:00, Manaus – Honduras vs. Switzerland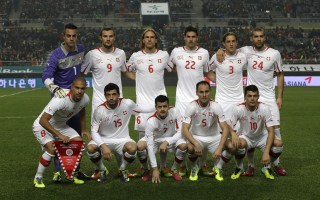 Star player: Gokhan Inler
Captain of Switzerland and the heart and soul of the team, Inler played a pivotal role at the last two major tournaments for the Swiss. He sits in front of the back four and break up the play superbly, which allows the speedy wingers to pile forward and gives Switzerland a solid foundation to build off. Inler's pedigree at Napoli and Udinese in Serie A is proven and his experience will be vital.
Manager: Ottmar Hitzfeld
The Bayern Munich legend will step down after the tournament after doing a wonderful job with the Swiss. Hitzfeld has been in charge since 2008 and his tactical nous has turned Switzerland into a well organized team who are extremely hard to break down. Clean sheets galore and an astute tactical acumen are his trademark and make no doubt about it, the Swiss side is a lot better than everybody thinks. That is down to Hitzfeld.
Secret weapon: Xherdan Shaqiri
A tricky winger who has great pace and does the unexpected, Shaqiri has had a frustrating season at club level. The Bayern Munich man is behind Arjen Robben and Franck Ribery in the pecking order after his big money move from Basel. Shaqiri is Switzerland's main attacking threat and a real live wire in and around the box. The 22-year-old has scored eight goals in 32 appearances and is alongside Switzerland's young attacking core (none of the five strikers are over the age of 24) Shaqiri will show plenty of defenders a clean set of heels this summer.
Prediction: The Swiss have been surprised packages towards the top of the FIFA World rankings for a number of years now. Many would suggest that is no fluke. Well organized and extremely hard to beat, Hitzfeld has introduced plenty of exciting youngsters into his side and they could cause a few shocks in Brazil after their impressive qualifying campaign. Expect them to battle it out with Ecuador for the second spot behind France in Group E.