JACKSONVILLE, Fla. — Much has been made of how the United States is going to line up in Brazil with the players Jurgen Klinsmann has selected.
Will they play a 4-2-3-1 or a 4-4-2? Will he use a diamond or a flat midfield? How far will the outside backs venture? Will there be cover?
Jurgen hears plenty of this noise in the background, and to him, it's all just that – noise.
"All these discussions about the systems are actually not up to speed anymore," Klinsmann told reporters at a press conference at EverBank Field Friday. "The systems are not the key like they were 10 or 15 years ago."
Parading Spain's charge to Euro success two years ago as an example, Klinsmann argued that every system on the field now-a-days is meant not only to have strengths and weaknesses, but to cover up said weaknesses by being flexible enough to adapt minute by minute during a match, and the players must now have the ability to play in multiple areas.
"It changed with the best teams in the world, led by Spain," Klinsmann said. "They made every system look stupid because they came up with a 4-6-0 and everybody said 'how can you do that? Not even Torres is out there!' Well, they beat everybody because three or four midfielders became strikers, and then they go back and the other ones became strikers, and it confused everybody.  So I think the trend is definitely going to go away from the system discussion, and you have a whole team that knows how to support each other and how to create going forward."
Focusing back on the United States, there has been plenty of speculation about which players will start in Brazil, and much of the discussion for or against individuals has been backed by how well they play in certain formations.  But as Klinsmann puts it, the formation isn't as important as the teamwork the players display.
"There are pro and cons [to the diamond midfield] like with every system.  It doesn't really matter what shape we have or what system we have, it matters how we connect with each other on the field."
And in that department, the team has a long way to go, despite how close we've come to the start of the World Cup.
"We're still in the building phase.  We still have 10 days to go [until the US opens with Ghana], so we're not done now with all the work we have to put into their legs, and into their minds…and it will still go on until after our little Belgium scrimmage in São Paolo.  And the players know that, and they know we still have to work work work until they are ready to go."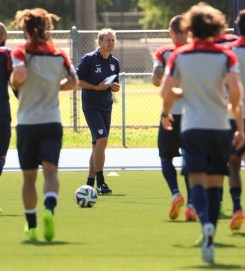 Part of that teamwork Klinsmann wants to see involves defending.  The back line was suspect against Turkey a week ago, and had the Turks taken advantage (which they didn't), the scoreline could have been a lot worse.
But instead of saying the defensive unit must improve, or the center backs need to communicate more, he pointed the finger at everyone – literally – saying the communication and the coordination must be there, not just on the attacking end.
"We are still in the middle of the process to defend as a whole team. That's the whole team, starting with Jozy up front, and then the next one in line, and that's what we're trying to do tomorrow."
Midfielder Kyle Beckerman echoed that sentiment without being prompted, saying a formation is more for what happens at the back than working forward.
"When you're in a formation, it's mainly a defensive starting point," Beckerman said. "It's just a point of reference for when you need to get back into a shape and back on the ball.  But obviously you have to be able to adapt on the field."
So whether you prefer Beckerman or Jermaine Jones in the midfield, whether you prefer Alejandro Bedoya or Brad Davis on the wing, whether you prefer Fabian Johnson in the midfield or defense…all of these are based on formation. And if you take what the US coach said to heart, throw all that out the window, because he'll take on-the-field chemistry over a good formation any day.
And while that's definitely an over-simplification of the journey the US faces in Brazil, there's certainly something to be made of that. With a mountain ahead of the Stars and Stripes, a mountain fraught with danger in the shape of Ghana, Portugal, and Germany, chemistry is something we've seen over the last two weeks as something that without a doubt needs improvement.
Let's hope all the tinkering Klinsmann has done with the squad just weeks ahead of the big dance won't prove him a hypocrite.
RELATED: World Cup news, analysis from Soccerly