One game, 100 words or less: Without Chris Wondolowski in the team, San Jose couldn't afford to give up an opening goal to a TFC that relishes the opportunity to revert to it shell. While that's not exactly what happened in the wake of Jermain Defoe's opening goal, the Earthquakes were still made to pay for Alan Gordon's early foul, one that struck Nick Hagglund and drew the attention of Fatis Bazakos. Defoe's 26th minute conversation into the left of goal was all TFC needed to win its third in four.
Three moments that mattered:
1. 23′ – Are we sure he isn't a right back? – In his first season out of Xavier, Hagglund has impressed in the middle when called up to replace Steven Caldwell or Doneil Henry. He's made casual fans forget Toronto has Gale Agbossoumonde. On Saturday, however, the 21-year-old was called on to play right back. Twenty-three minutes in, he almost came good with his first Major League Soccer goal, trapping a ball swung to his side before volleying a 17-yard shot toward Jon Busch. The San Jose keeper kept the ball out, but very early on, Hagglung showed he wasn't miscast in his new role.
2. 26′ – Gordon gives Toronto its shot – TFC's corner from the left would have been innocuous enough had Gordon kept Hagglund on his back. Or not flailed his right arm toward the rookie's face. Or just stood there and did nothing while the ball floated over this head. Instead, the forward's arm gave Bazakos no reasonable choice. Ultimately, it cost his team the game.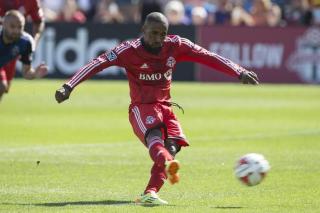 3. 66′ – Did Goodson get lucky? – In the 66th minute, a long ball seemingly headed over the San Jose defense was batted down by the recovering Clarence Goodson, who received a yellow card for his troubles. The question is, with nobody but the goalkeeper behind him, whether the San Jose center back prevented an obvious goal scoring opportunity. Ryan Nelsen argued the point to the fourth official, but the counter point: The foul seemed to play into the "last man" fallacy rather than reflect an actual chance. To the extent it was an opportunity, it wasn't an obvious one.
Three lessons going forward:
1. Toronto can get points without Bradley – This lesson didn't start tonight. It started when Michael Bradley left for U.S. men's national team camp. Since his departure, Toronto has 10 points in four games. The team had nine point in its previous seven.
2. The Reds may not need Gilberto – TFC fans are split. Some espouse the Brazilian Designated Players' all-around virtues. Others focus on that goals column: 0. Today the 25-year-old injured his left thigh in warm ups and had to be pulled from the starting lineup. To the extent that TFC's attack has beats, it didn't miss one.
3. Sam Cronin still doesn't fit in San Jose's midfield – It's sad to say this about a player who's been so influential int eh past, but Sam Cronin just doesn't fit with this year's team. The hypothesis was played out after Khari Stephenson and Jean-Baptiste Pierazzi became the team's regular starters, and it was verified when Cronin looked redundant to the Frenchman for much of Saturday's game. The sooner Stephenson returns to health, the better for Mark Watson.
Where that leaves them
Toronto: 6-4-1, fourth the the East, unbeaten in four
San Jose: 4-5-4, two points our of fifth in the West, 3-2-0 in its last five