[youtube https://www.youtube.com/watch?v=JwsPK6pmykU]
One game, 100 words or less: Obafemi Martins' early dominance was derailed by his own mistake, with a hands to the face ejection sending him to the locker room after 41 minutes and two goals. By that time, former Sounder Jhon Kennedy Hurtado had seen red, too, leaving the teams to play the second half 10-on-10. A Lamar Neagle ball into the right side of goal in the 78th minute gave the Sounders a two-goal lead, providing insurance against Harry Shipp's second – a late blast from 17 yards into Stefan Frei's upper-right hand corner.
Three moments that mattered:
1. 37′ – Hurtado gets sent off – The Fire defender, who had played every minute this season, had to be restrained by partner Bakary Soumaré when Chris Penso show him a second yellow card. Perhaps the Colombian defender was going to argue he didn't make contact with Martins, but attempting a two-footed tackle in the penalty area (with Martins adroitly avoiding contact), Hurtado left himself no leg to stand on. After Martins converted from the spot, making it 2-0, Chicago seemed beaten.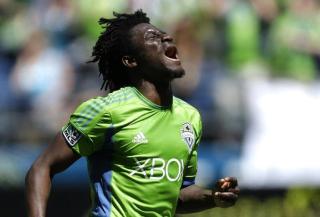 2. 42′ – Martins evens the scales – Shipp's clinical finish from the left of the box inside Frei's far post restored some hope for the hosts, but it was the aftermath of the goal that truly brought Chicago back into the game. During a fracas near the center line ahead of the ensuing kickoff, Martins was deemed to have made contact with Benji Joya's face, earning a straight red card. All of a sudden Chicago had not only halved the lead, they'd even the scales.
3. 78′ – Lamar Neagle, Insurance Agent – A beautiful finish from the right side of Seattle's penalty area in the 82nd minute gave Shipp his second multi-goal game of the season, further bolstering his place as this season's Rookie of the Year. By that time, however, the Sounders had put the match away. Four minutes earlier, open in the left of the box as Seattle moved in from the other flank, Neagle calmly put a ball out of Sean Johnson's reach and into the right side of Chicago's goal, sealing Seattle's win.
Three lessons going forward:
1. Neagle, Pappa continue to make wide midfield spots their own – The discussion around the wide midfield spots in Seattle's 4-4-2 is starting to die down. Both Lamar Neagle, previously a constant source of debate, and Marco Pappa, who had a slow start to his Sounder career, have started to nail down the left and right flanks. Where that would leave Brad Evans when DeAndre Yedlin returns remains to be seen, but between Osvaldo Alonso and Gonzalo Pineda centrally and the strong performances Sigi Schmid's getting out wide, Seattle's midfield four is looking less and less like something you'd want to disrupt.
2. Obafemi Martins will go the way of Clint Dempsey – If his violent conduct red card is upheld, Martins will miss the team's first two games after the World Cup break, matches at D.C. United and Vancouver. As important as the Nigerian has been to the team, it will be difficult playing any games without him. If Clint Dempsey can't be integrated quickly after the World Cup (or, if the U.S. advances from its group), Seattle may be without both of its key attackers for at least one match.
3. Stop if you've heard this before: Chicago's defense might not be good – Soumaré allowed Martins to turn onto goal one. Hurtado's penalty conceded goal number two. All defenses seem to have moments like those, but Chicago has collecting them at a disturbing rate. It's not that the Fire's allowing such a remarkable number of goals. It's that the goals they're allowing are so preventable.
Where that leaves them:
Chicago: 2-4-8, ninth place in the East, four points out of fifth place
Seattle: 10-3-2, seven points clear of second place Real Salt Lake in the Western Conference