[youtube https://www.youtube.com/watch?v=Wqy2cwgKJqQ]
One game, 100 words or less: Columbus's second visit to D.C. United proved less successful than its opening day route. Again playing without Federico Higuaín (hamstring), Gregg Berhaltter's team was shut out for the fifth time this season, putting only two shots on target at FedEx Field. D.C. United did Columbus only one shot better but still had a chance to take all three points when Fabian Espíndola stood over a stoppage time penalty kick. Steve Clark guessed correctly on his paneka, easily catching what could have been the game's winning goal.
Three moments that mattered:
1. -90′ – Spain in control against El Salvador – Taking advantage of a visit from Spain, D.C. United and Columbus played the second match of a doubleheader. The turf, however, proved better for American football than MLS's game. Spain went on to beat the Salvadorans, 2-0, but after his team's scoreless finale, D.C. United head coach Ben Olsen complained "[The field] was slow, thick, it's not built for soccer … It's built for big boys that run around and tackle each other."
2. 83′ – Bedell fails to convert –  Seven minutes from time, after a match of half-chances left neither keeper significantly stressed, Columbus was given a chance to take another three points from United. Unfortunately for the Crew, the team's chance fell to the wrong man. Having replaced Ben Speas six minutes earlier, Adam Bedell, a third round pick in this winter's draft, hit his nine-yard shot straight at Bill Hamid, assuring Columbus would need a clean sheet to claim a point from United.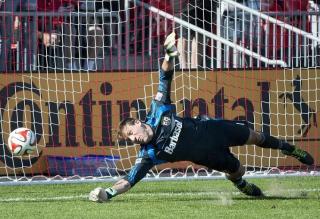 3. 90+6′ – Too cute, Fabi – Espindola will be criticized for trying his paneka, but the numbers don't back the claim his choice was a bad one. A vast majority of the time, goalkeepers leap to one side or the other, leaving the middle of goal open. Unfortunately, something Espindola did in his run up may have tipped off Clark, who didn't move before catching the failed shot.
Three lessons going forward:
1. Doubleheaders may not be worth it – Let's assume Ben Olsen is right and the field greatly inhibited both teams. Is it really worth it for MLS to book these double headers if the conditions may not allow for a representative product? Of course, that assumes D.C. United knew FedEx Field would play so slow.
2. Crew finally missed Higuaín – In its first game without its Argentine maestro, Columbus managed to score twice in Toronto. It was the team's defense, not attack, that failed it at BMO Field. On Saturday, however, chances were too scarce, with Bill Hamid enjoying one of his least active days of the season.
3. Steve Clark continues to be under appreciated – I get it. The first year keeper has no MLS legacy to fall back on. He plays in a small market, and his performances tend to be more solid than spectacular. Nobody cares about Steve Clark., though they should. Strong positioning, decisive reads, and, ultimately, results have defined his first year back in North America. That final save on Espindola wasn't the amazing, diving save we normally laud on from keepers, but something about Espindola told Clark not to move. That he didn't was proved just as valuable as a leaping stop.
Where that leaves them
D.C. United: 6-4-4, one point behind New England in the Eastern Conference
Columbus: 4-5-6, still with on victory since March