[youtube https://www.youtube.com/watch?v=NKBl5ZQN5ek]
One game, 100 words or less: A prolonged slump in the wake of Mauro Díaz's injury finally came to an end thanks to two deflected shots and some rare finishing savvy from Fabian Castillo.
Winless in eight going into the match, FC Dallas saw Colorado's keeper look helpless on a an Andrés Escobar deflection (33′) and a blast from Zach Loyd (45′), allowing the home side to take a 2-1 lead into halftime. With an early second half goal from José Mari, Colorado was back even, but after a left-footed blast that finished his one-man counter, Castillo gave Dallas its first win since April 20.
Three moments that mattered:
1. 33′ – Escobar's deflection throws off Irwin – The three-goal night gives the impression that FC Dallas came to life, but the team only put three shots on target, two off which needed help to beat Clint Irwin. The first of those tries came in the 33rd minute, when a Jair Benítez restart from well outside the penalty area clipped Escobar. A ball headed toward the right side of goal suddenly changed direction, leaving Irwin helpless to prevent Dallas's equalizer.
2. 46′ – Matt Hedges follows Walker Zimmerman – When FC Dallas's best defender didn't come out for the second half, head coach Óscar Pareja lost his second center back of the day. With Zimmerman already subbed out, Hedges's loss looked like a debilitating blow. Yet instead of Deshorn Brown building on his opening goal, Colorado's only score over the last 45 minutes was a corner converted by Mari. Led by Stephen Keel, the replacements held up.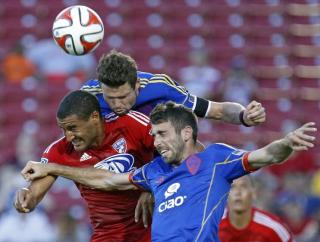 3. 62′ – Castillo puts it all together – Castillo is always one of Dallas's most influential players, but the chances he created with his unmatched speed rarely see that quality duplicated near goal. Against Colorado, however, a turnover over just inside Dallas's attacking half turned into a chance to flash his potential. Beating two players after picking up the ball 45 yards out, Castillo beat Irwin with a shot rifled into the right of goal, giving Dallas three points and fans another glimpse of his tantalizing talent.
Three lessons going forward:
1. Deshorn Brown is living up to clichés – You don't want to succumb into unfounded cliché, but Brown's opening score looked like a confidence goal. On a bouncing ball near the edge of the six-yard box, the Jamaican international arced a teardrop over Raul Fernández and into goal, showing the ease of a player who knows, conversion or not, more goals will come. Scoring three times in his last two starts, Brown is not up to five on the season.
2. Change can be good – Through most of the spring, Colorado and Dallas were locked into set formations despite hints they should change. Colorado had become far too conservative with its diamond midfield, while Dallas had lost the playmaker it needed to play its 4-2-3-1.
On Saturday, however, both teams showed different looks. Colorado, having moved away from its diamond some time ago, has finally reverted to the 4-2-3-1 that was so successful last season. Across the field, Dallas played a 4-4-2 that didn't try to shoehorn a midfielder into a playmaker's role.
Using a set up that suits your personnel. Who knew?
3. The slump may not over yet – FC Dallas ended its eight-match slide, but the keys to the victory should caution fans against thinking a corner's been turned. Deflections are not a reliable plan for production, and through four years of his Major League Soccer career, Castillo's been unreliable around goal. Over 90 minutes on Saturday, those factors produced three points, but they also need to be a stepping stone to a more reliable solution.
Where that leaves them:
FC Dallas: 6-7-3, currently fifth in the Western Conference
Colorado: 6-5-4, third in the West, 10 points back of first place Seattle