The World Cup is TWO days away and counting!
*Jump around, jump around, jump around*
ProSoccerTalk's writers did a roundtable-style Q & A where we grabbed a few big narratives coming to us from Brazil and gave our takes.
From South American powerhouses to the USMNT's position, from specific to open-ended, here's what we think are some major talking points just before kickoff.
1. What are you most looking forward to this World Cup?
Joe Prince-Wright: I am looking forward to a very open World Cup where at least 6-8 teams enter the tournament with realistic ambitions of winning it all. This is, by far, the most competitive World Cup I have witnessed in my lifetime. Usually there are some teams you know are going to get hammered in every single game, that's not the case this time around. Also, the fact it is being played in Brazil, the five-time World Champions and the spiritual home of the game, makes it a little bit more special.
Mike Prindiville: Going to Manaus to see the US take on Portugal in the Amazon. The moment that fixture was announced there was just something mystical about it — playing against Cristiano Ronaldo and 4th ranked team in the world, who the US memorably upset in the 2002 World Cup, in the middle of the jungle?! Too weird and too awesome to miss.
Nicholas Mendola: Seeing how the European teams fare in the Western hemisphere, and how the CONCACAF teams perform at an absolutely crucial time for the confederation.
Kyle Bonn: With so many players injured, the star power of this World Cup has taken a hit for sure. However, with a number of big name players on the sidelines, there is more time to focus on the hidden gems of the world, and those will be on full display in Brazil.  Much of this tournament will be about building new stars, and that's just as fun.

2. Do you think the USA has a chance to make it out of their group? Is so, what will be the key?
Joe Prince-Wright: The first game is so important. If the U.S. beats Ghana in the opener you get the feeling that Klinsmann's side will grow in confidence and give Portugal a run for their money, especially given Cristiano Ronaldo's injury problems. If the USA can bag four points from their opening two games, it may mean Germany will ease up in the final group game and would much rather see the U.S. advance to the last 16 rather than Portugal. The key factor is that the USA beat their bogey team: Ghana.
Mike Prindiville: Of course. Taking three points off either Ghana or Portugal before going into the final match against Germany will be key and for that to happen our attack must capitalize on their opportunities.
Nicholas Mendola: Yes. Beating Ghana and Portugal feeling pressure from a Game One loss to Germany.
Kyle Bonn: Do they have a chance? Sure, especially with news of Cristiano Ronaldo's injury potentially affecting that assuredly fateful match in Manaus. The key to the United States moving on is their manager Jurgen Klinsmann.  With so many surprises on the roster, he better see something much of the country does not, or else the US is doomed. Team chemistry will be essential. Beating Ghana is a MUST.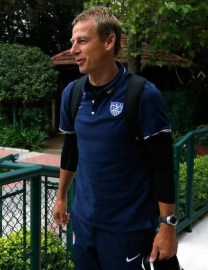 3. Will Jurgen Klinsmann be under pressure if the U.S. don't perform in Brazil?
Joe Prince-Wright: Not so much under pressure, but questions will be raised about how much the U.S. have really improved under his stewardship since 2011. Bob Bradley took the USA to the last 16 in the 2010 World Cup and was a whisker away from getting into the last eight. We all know Klinsmann's men have been drawn into the "Group of Death" this time around, however, there must be a good showing from his players and some of the younger guys really need to step up as Klinsmann seems to be preparing for the 2018 tournament. If the USA lose all three group games, many will say that is what was expected… But it is the manner in which the USA plays that will determine how people assess Klinsmann's managerial prowess. Pressure will arrive but, so far, Klinsmann has negotiated every hurdle thrown in his way.
Mike Prindiville: Depends on what is meant by 'don't perform.' Assuming the absolute worst and the US lose all three games conceding over 12 goals in the process, possibly. Assuming a slightly less painful scenario and the US lose all three matches by a tight margin, I don't think so. Klinsmann has raised the profile of the USMNT, brought in a number of game-changing players and plus, the decision-makers at US Soccer are positively enamored with him.
Nicholas Mendola: Define perform. The US really need to beat Ghana but if they draw Ghana and look adequate and competitive against the other two teams, he's fine.
Kyle Bonn: Absolutely. Klinsmann's bold, potentially reckless decisions with the roster have made this all about him. If he had selected the 23 players many expected and the United States had failed, there would be much less blame heaped on the coach. But with this roster made up of "his" guys, all fingers will be pointed at the guy in charge if the team is axed early.
4. Which group games are you most looking forward to and why?
Joe Prince-Wright: U.S. vs. Portugal, England vs. Uruguay and Spain vs. Netherlands. I am so intrigued to watch Ronaldo, the best player in the world, go up against the USMNT's defense and see how they handle him. As for England vs. Uruguay, there are so many storylines swirling around that one… mostly involving Luis Suarez. It will be a real clash of styles and will showcase why European nations are so different to their South American counterparts. Different flavors of soccer from around the world, that's what the World Cup is all about. Spain vs. Netherlands is a rematch of the 2010 World Cup final and it will be interesting to see how both teams have improved/digressed since they met in South Africa four years ago.
Mike Prindiville: US v. Portugal (see #1), England v. Italy is a classic matchup and Spain v. Netherlands because it's a rematch of the 2010 final.
Nicholas Mendola: Italy/England, USA/Ghana and Spain/Chile. For the first, because of history and it's a Soccernomics nightmare. The second, because yep. And the third because I think Chile can surprise teams.
Kyle Bonn: United States vs. Ghana will be a brilliant way to kick off the US slate, and will be a critical match in that group. Another early one will be Spain/Netherlands, and all of Group D (England, Italy, Uruguay, Costa Rica) will be a ton of fun.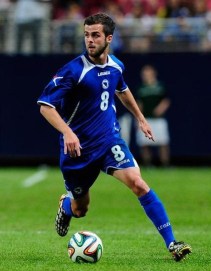 5. If you had to pick one player to shine this summer, who would it be and why?
Joe Prince-Wright: Adam Lallana. Watching him closely all season long in the Premier League, Lallana has got better as the season went on. Form counts for a lot and he is on top of the world right now. His shirt is the # 1 seller in England, fans love to watch him play and Southampton's captain is being courted by some of the biggest clubs in the world. If England do well this summer, Lallana will likely be at the center of it.
Mike Prindiville: Tough one. I'll go with Bosnia & Herzegovina attacking midfielder Miralem Pjanic. It seems the world is always a bit late in recognizing the star status of Eastern European players and this guy is a full-blown stud. So technical. So gifted. He's the ultimate playmaker and one that I foresee bringing his country on a deep run in this tournament.
Nicholas Mendola: Thiago Silva. Playing in France doesn't get him the shine he deserves, and I think he can take his reputation to another level… and that he knows that.
Kyle Bonn: There's the possibility France flops hard and this pick flames out early, but I feel that Paul Pogba is due for a breakout moment on the world's biggest stage. If anyone is in for an upstaging of Neymar (which will be hard to do) Pogba could be the one.
6. Your dark horses for the tournament?
Joe Prince-Wright: I'm not sure if they are dark horses, but the Ivory Coast are certainly stacked with some top class talent. Yaya Toure, Didier Drogba, Kolo Toure, Chieck Tiote, Gervinho, Wilfried Bony and Salomon Kalou stick out as players who possess a vast amount of experience but have yet to grace the World Cup in glorious fashion. In the last two World Cups Cote D'Ivoire have gone out in the knockout stages, now they should advance from Group C and go deep in the tournament. Allez les Elephants!
Mike Prindiville: Croatia, Bosnia & Herzegovina and Chile – any of these sides could make the semi-final. Even bolder, I think France could win the whole thing.
Nicholas Mendola: Chile. The doubts over Arturo Vidal's fitness have people talking about them even less, as if that were possible. Since March 2013, Chile has only lost to Germany and Brazil.
Kyle Bonn: I was going to say France until the Ribery injury came through, but they could still make noise. Everyone's chic pick of Belgium is bogus since they're group favorites and therefore don't qualify as a "dark horse" to me. A true dark horse to me would be Russia, who have been reborn under Fabio Capello. They allowed just five goals in UEFA qualification and beat Portugal to the top spot in their group. They're dangerous.
7. Can you see past the South American powerhouses for the title?
Joe Prince-Wright: Nope. I mean, Spain and Germany are going to be threats and hanging in there right until the end. However, with home support Brazil will be very tough to beat and Argentina's star players are due success on the world's biggest stage. This is Lionel Messi's time to shine.
Mike Prindiville: Absolutely. The weather argument is a tired one, for me. Last time I checked it's 2014 and the best players know how to play in all conditions and are aided by stunning technological innovations. Spain and Germany are close favorites for a reason.
Nicholas Mendola: I think Germany wins the entire thing, so yes. The rest of my final bracket is pretty South American though… and never rule out the Italians!
Kyle Bonn: Not really. Spain and Germany both have legitimate shots, but both also have weaknesses. This tournament is Brazil's for the taking, and if the European giants are to do top them, they'll have to be near-perfect.
8. Sum up the World Cup in three words…
Joe Prince-Wright: Soccer's spiritual home.
Mike Prindiville: Decreased work productivity.
Nicholas Mendola: Best month quadrennially
Kyle Bonn: Who steps up?
Do you agree or disagree with our writers? Have any answers of your own we didn't mention here, like your "dark horse" or a player to shine? Are you able to see this one past the continental hosts? Chime in to our roundtable below!