In the weathered hands of England manager Roy Hodgson rests a seemingly infinite number of combinations and permutations from which to pluck a starting XI for the World Cup opener against Italy on Saturday.
Attack is where the discrepancy lives. Joe Hart will start in goal, Leighton Baines, Gary Cahill, Phil Jagielka and Glen Johnson will be the starting back four, and Steven Gerrard has locked down one of the central midfield spots.
That much we know. But from there on forward, things get sticky.
The general issue is whether Hodgson will go aggressive and deploy a diamond midfield behind two strikers or whether he'll opt for the balance of a 4-2-3-1, utilizing two holding players behind three attacking midfielders and a lone striker. But formation is only one component of Hodgson's prescription. A considerably larger concern is one of personnel and with a number of talented young stallions at his disposal, the England manager has some very difficult decisions to make.
So let's take a look at a few different setups Hodgson has available to roll out against the Azzurri.
THE TASTE OF LIVERPOOL
The most talked about formation for England, the 4-4-2 diamond midfield, happens to be the same shape Liverpool used to claim second place in the past season's Premier League. Brendan Rodgers perfected this setup with a rotating group of midfielders but always present in the bunch was Gerrard, at the fulcrum, and Raheem Sterling, in any one of the three advanced roles. Proving himself capable of opening defenses up from the left or right side, Sterling's game rose to a new level late in the season when Rodgers inserted him into the center of the pitch where his quickness and evasive nature proved too much for stiff-legged central defenders.
Another key to the diamond midfield is balance, which is achieved through utilizing fit outside midfielders who have no issue playing both sides of the ball. And there's no better man for that job than Jordan Henderson, who makes 90 minutes of sprinting look like a walk in the park.
A fellow Liverpool player, Henderson has an intimate understanding of Gerrard and Sterling as well as how to correctly use the diamond shape to his advantage. Henderson's ability to drop deep, at times even alongside Gerrard, allows Hodgson to select a fourth member of the midfield with slightly more aggressive tendencies.
And who better for that role than Adam Lallana, the $34-42M transfer target of Liverpool, who looks primed to join the Reds by the end of July? The 26-year-old excelled on the left side for Southampton this past year, is not opposed to running himself ragged for 70 odd minutes and provides devastating trickery to compliment that of Sterling.
Opting for a four man midfield with Liverpool connections may feel biased but it's a proven commodity that sparks goals. Factor in the Daniel Sturridge connection up top and this feels like a balanced yet aggressive lineup for Hodgson to utilize in the event he truly desires to take the game to Italy.
THE (ROONEY-LESS?) YOUTH BLITZ
If Hodgson really wants to throw a curveball at Italy he'll unleash the youth, likely in a 4-2-3-1, which provides a bit more protection than the diamond. The youth setup would partner 22-year-old Jack Wilshere alongside Gerrard in what would be a clever pivot. Wilshere's love for the tackle compliments that of Gerrard while the Arsenal man's knack for creating off-the-dribble would provide a key link between the attacking midfielders and the striker.
In front of Gerrard and Wilshere would be 19-year-old Sterling on the left wing, 20-year-old Ross Barkley in the central attacking role and, ideally, 20-year-old Alex Oxlade-Chamberlain on the right wing. The obvious issue currently facing this system is that Oxlade-Chamberlain is nursing a knee issue that may keep him out against Italy. While his speed and two directional play would devastate and provide balance to this shape he'd be well deputized by Henderson or Danny Welbeck, who would then swap sides with Sterling.
One downside of a youth blitz in a 4-2-3-1 is that Wayne Rooney may be the odd man out. It's a predicament many pundits believe Hodgson may be inclined to move forward with given the United man's sub-par Premier League season and poor World Cup history. That said, charging forward without Rooney in the starting lineup feels like a titanic miss and one that Hodgson would be wise to avoid risking. Instead, Hodgson could push forward with a youth blitz and Rooney, who could partner with Sturridge in front of a diamond midfield made up of Gerrard, Sterling, Barkley and Ox/Henderson/Welbeck/Wilshere.
Regardless of using a 4-2-3-1 or 4-4-2 diamond, the key to the youth blitz would be giving England fans that which they fiend for the most: Sterling alongside Barkley in what would be a freakishly athletic, skillful and audacious pair that few opposing defenses, including the Italians, would be equipped to handle.
THE RUNNING MAN
As we know by now, heat and humidity will play a large role in this World Cup meaning many a match will come down to a battle of the fittest. And no venue will provide a greater challenge of the conditions than the sweltering jungle of Manaus, where England faces Italy. To hedge against those conditions, don't be surprised if Hodgson opts for an attacking group of running men, which means James Milner becomes a real possibility to start.
The City man is as fit as the come. Inserting him on the right side along with Gerrard in the fulcrum, the inexhaustible Henderson on the left, and Sterling at the point of a diamond midfield could prove a very wise play.
If Hodgson opts for a 4-2-3-1, Rooney could drop into the attacking midfield role, Sterling to the bench and Wilshere alongside Gerrard.
It's a lineup that would allow England to put Italy under pressure and bring veteran leadership into the side. While not the most exciting play, Milner's work rate could break down Italy's left side for a sub like Sterling or Oxlade-Chamberlain to then capitalize.
THE OLD GUARD
The most conservative and downright uninspiring attack Hodgson could play would be to pair Gerrard with Milner and Frank Lampard.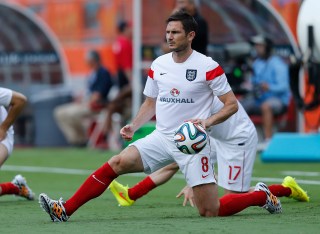 Whether in a 4-2-3-1 or 4-4-2 and regardless of who is played on the left side, such a lineup would reek of a lack of ambition and spell doom for England.
Fortunately, while such a makeup could have been foreseeable under Fabio Capello's tenure as manager, it seems unlikely that Hodgson would revert to such a level of conservative tactics. There is a freshness about this England squad that is just begging to be unleashed on the world.
What better stage to make it happen than to kickoff Brazil 2014?