Soccer's too big to be hurt by one dive, but if there's one thing the sport's marquee event didn't need on day one, it was simulation deciding a match. Perhaps worse: The decision of the game's referee showed how far the sport is from getting a handle on the problem.
Yet that's where we are after Day 1 of the 2014 World Cup — having to reconcile why a Brazilian attacker electing to flop on his back was able to sway the tournament's opening match. Thanks to Fred's antics, a 1-1 match eventually became a 3-1 win over Croatia, with great performances by Neymar and Oscar overshadowed by their teammate's theatrics.
It's part of my job to make sure Neymar and Oscar aren't forgotten. Neymar scored twice in his World Cup debut, and Oscar, after it appeared as if he'd be marginalized on the flank, was one of the match's two most influential players. As a team, Brazil may have failed to meet its own standards, but the flashes of brilliance for the team's two most creative players bodes well for the team's improvement.
Another part of my job is to try to depict the reality of the situation, and no matter how much we want to focus on the stars, it'd be disingenuous to overlook the influence the day's two villains had on the result. If Fred's malice hadn't met Yuishi Nishimura's mistake, we'd be talking about a Brazil draw.
[ MORE: Two Neymar goals, moment of controversy see Brazil start with 3-1 win over Croatia ]
[ MORE: Nerves, Nishimura, Pletikosa: Talking points after Brazil's victory over Croatia ]
The moment came in the 69th minute, when a movement down Brazil's right gave Oscar a chance to find Fred near the spot. As the Selecao striker turned with Croatian defender Dejan Lovran on his back, Fred sensed his opportunity. Unfortunately for too many in this game, that meant trying to deceive the referee, and in this instance, that deception was rewarded. The ensuing penalty kick proved to be Brazil's winning goal.
As terrible as that sounds, it'd be unfair to put too much blame on Fred's shoulders. It's easy to say he should be bound to a higher ethic, but unless a player's safety is involved, the only ethic athletes ascribe to is a competitive one. Until there's some disincentive to diving — something in the way the game is governed that makes it more viable for Fred to try to create a chance than take his luck with the official's perspective — there's only so much we can blame the player.
That leaves us with two culprits: Nishimura and the game itself, both of which deserve blame. Yet whereas one party's mistake was a fault of commission, the other's is a product of neglect.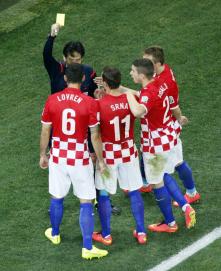 Nishimura surely thought he saw a foul. The question is why. There's no angle of that play that even comes close to depicting a Lovren foul. In real-time, at full speed, or in slow motion, what was happening was so transparent as to be predictable.
We knew Fred would dive. We've seen that play so many times, we know to look for it. Again, the question is why — why didn't Nishimura look for it, too?
With 63 games left in the tournament, FIFA has a chance to correct the problem. Nishimura's World Cup may be done. And for Croatia, while they may have been robbed of a point today, the team has two more games to make up for the slight. If they don't make the knockout round, they'll have themselves to blame, too.
The more important problems come in the bigger picture. As much as we talk about diving, there is no real movement to get it out of the game. In fact, as globalization's exposed us to more styles, more often, there's a tendency to see diving from a different perspective. Augmenting the puritanical and impractical view we hear from England, we're now exposed to more pragmatic justifications of diving. For some, it's just part of the game.
But do we want to leave it as part of the game? If so, let's stop talking about controversial calls and teams being wronged. Instead, let's just accept this world of competitive chaos and embrace a liberal view. Unless something's clearly in conflict with one of the game's laws, let's applaud a player's ingenuity. Let's embrace the limits.
[ MORE: Soccerly cover the World Cup ]
If, however, people don't want more calls like today's, Fred needs a disincentive. There needs to be a bigger crackdown on simulation. There need to be stiffer penalties and more reviews, perhaps in real-time. The game has to start taking the issue seriously.
That it didn't before today's match in Sao Paulo left a lot of fans to wonder how one player, one official, and a lack of urgency were allowed to turn game one. And unfortunately, this won't be the last time we have this conversation.