Several times during a relatively-sleepless night — it all starts today!! — I was reminded of some facts that will behoove American soccer fans during the 2014 World Cup.
Here's a big one: until the USMNT faces a CONCACAF team, the confederation's nations are all rooting for each other.
How teams fare in this massive international competition matters a great deal, and we're not just talking about pride. There's a European swell of bad vibes for any confederation in the world that isn't UEFA, and teams like Sweden are grinding their teeth that their inability to beat Cristiano Ronaldo and Portugal has kept them out of the tournament, while Mexico's playoff was against an "easier" target in New Zealand.
So basically, CONCACAF nations want the bracket to miraculously look like this (with their nation subbed in for the USMNT):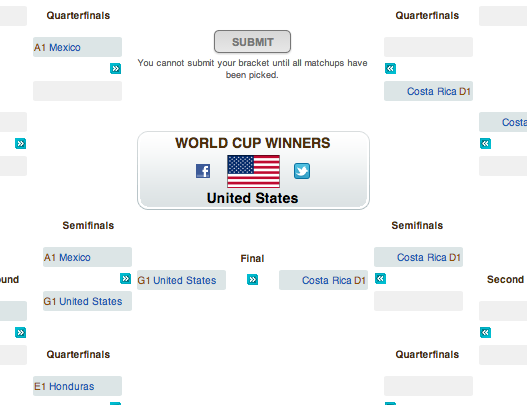 Imagine all CONCACAF teams go out in the group stage; Those losses could be the straw that allows FIFA to move CONCACAF from 3.5 World Cup spots to 2.5, which would make the workload in going to future World Cups a hassle for our entire region.
So root for the U.S., but also root for Mexico, Honduras and Costa Rica all the way through the Yanks inevitable defeat of Ticos in the World Cup final.