[youtube https://www.youtube.com/watch?v=oDOrQq4Y4f4]
One game, 100 words (or less): A first half where the Timbers failed to get a shot on target left Portland own two at intermission, with goals by Fabián Castíllo and Blas Pérez putting FC Dallas on the verge of its second win in a row. By full-time, however, a Will Johnson penalty kick and Pa Modou Kah's stoppage time equalizer salvaged a point for the home side. Thanks to second half red cards to Moises Hernández and Pérez, FCD finished the match with nine men, allowing the Timbers to pile up 30 shots (10 on target).
Three moments that mattered:
1. 77′ – Adi draws the whistle on Watson – Part of what made Dallas's first half performance so remarkable? They were depleted, especially at the back. None of Matt Hedges, Walker Zimmerman, Jair Benítez, Michel, Kellyn Acosta — heck, let's throw George John in, too — were available, leaving fullback Zach Loyd to partner Stephen Keel in the middle while Hernández and Je-Vaughn Watson started wide. On paper, this was a team that should have struggled to contain the Timbers, but it wasn't until FCD's more conservative approach in the second half that the back line became sitting ducks.
Fanendo Adi took advantage in the 77th. Making the most of whatever contact there was between himself and Watson, the reigning MLS Player of the Week drew a crucial penalty in the left of the box. After Johnson and Gastón Fernández bickered over who'd have the honors, the Timbers captain brought his team back into the game, taking advantage of a generous whistle.
2. 90+2′ – Pérez ties Dallas's hands – A dangerous tackle in the 87th minute had already sent Hernández to the locker room, but five minutes later, Pérez's tendency toward gamesmanship got the better for him, drawing a red card when he stepped on a fallen Kah. Two minutes later, against a Dallas team reduced to nine, Kah scored from close range to make FCD pay for its lack of discipline.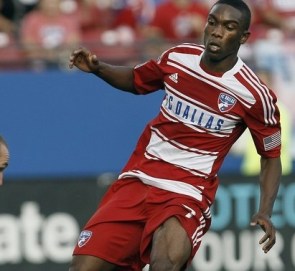 3. 90+6′ – Castillo, Dallas assistant create more problems – It's a shame that a team that played so well over the first 45 minutes was left rueing behavioral problems, but two incidents that happened near the final whistle helped overshadow what would otherwise be a well-earned point:
The first saw assistant coach Josema Bazan sent from Dallas's technical area after an altercation with a fan behind the FCD bench.
Then, seconds after full-time as blown, Castillo made contact with assistant referee Fabio Tovar after spiriting from Dallas's bench to meet him on the field.
Both incidents should draw the attention of the league office.
Three lessons going forward
1. Portland's defense is still bad – Tonight the back line was so bad that Caleb Porter pulled Rashawn McKenzie at halftime, replacing him with the recently signed Danny O'Rourke. With former Birmingham City defender Liam Ridgewell being spotted in Portland, the Timbers may be getting reinforcements soon.
2. Castillo's newfound finishing will be missed – For the second game in a row, Castillo proved reliable when given a chance to finish, with his first half score from the right of the area giving Dallas its first half lead. Has the talented Colombian turned a corner? It may be a while before we know for sure. That post-match bump of Tovar could draw a multi-game suspension.
3. Dallas is running out of bodies – The World Cup break couldn't come at a better time for FCD now. In addition to the team's injured defenders (above), Mauro Díaz and Hendry Thomas are out. Thanks to their Wednesday indiscretions, Hernández, Pérez, and Castíllo will join them. If you ever wanted to play for a Major Leaue Soccer team, go ask @fcdallas now, because they may be operating on a first come, first serve basis.
Where that leaves them
Portland remains in sixth at 4-4-8 but has the seventh-best points rate in the Western Conference.
FC Dallas sits on 22 points through 17 games, tying them for third in the West with Colorado. Unfortunately, FCD has played two more matches than every other team in the West's top five.