An often open battle that continued an early trend of goal-laden matches could have tuned into the 2014 World Cup's first true shootout. Instead, England was left to rue their inability to grasp a second score after full-time was blown in Manaus, Brazil.
With goals from Antonio Candreva and Mario Balotelli sandwiching Daniel Sturridge's first half equalizer, Italy defeated England 2-1 at Arena da Amazônia, giving the Azzurri three points that leave them tied with Costa Rica at the top of Group D. England, handed an early setback, joins Uruguay at the bottom of the group ahead of what becomes a high-stakes match between the two sides on Wednesday.
Italy broke through in the 35th minute after a corner kick played short allowed Claudio Marchisio to put a 26-yard shot inside Joe Hart's right post. Two minutes later, however, England responded, with a Wayne Rooney cross from the left of Italy's penalty area finding Daniel Sturridge for a tap-in from at the far post.
Five minutes into the second half, Antonio Candreva's lofted cross from allowed Mario Balotelli to head home the winner for close range, with a series of England chances over the final half hour going to naught. As the teams tired badly amid 70 percent humidity at Arena da Amazônia, Italy was able to preserve their crucial result.
[ MORE: Colombia downs Greece | Costa Rica shocks Uruguay | Ivory Coast takes on Japan ]
England continues Group D play on Wednesday in São Paulo, where an Uruguay team that were shocked by Costa Rica will be looking for its first points of the tournament. Italy will be the next big name for the upset-minded Ticos, who'll face their early co-leaders Thursday in Recife.
Even play over the game's first 12 minutes eventually saw Italy assume control, with England willing to let the Azzurri maintain possession once they broke past its initial line of defense. The approach allowed the four-time champions to keep 62 percent possession over the first 45 minutes, though thanks to the speed in England's attack, the Three Lions proved just as dangerous going forward.
In the 22nd minute, that speed started to pay off, with Raheem Sterling beating Marco Verratti to the left of goal before failing to connect with Danny Welbeck at the far post. One minute later, Welbeck beat Gabriel Paletta to create a chance from the right, but an Andrea Barzagli lunge barely prevented a Sturridge opener. Identified as a weakness before the match, Italy's lack of speed in defense starting conceding chances in the middle of the first half.
The Italian's control in the other half proved just as dangerous. Slowly, the Azzurri began breaking down the left of England's defense, with Wayne Rooney doing little to prevent Italy right back Matteo Darmian from joining Candreva to outnumber Leighton Baines. In the 33rd minute, that dynamic produced a chance for Balotelli at the near post, foreshadowing the Italians' eventual opener.
[ MORE: Soccerly covers the World Cup ]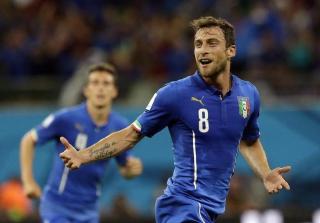 Building down the right again the 35th minute, Italy earned their first corner kick of the match, eventually playing their restart short. Quickly, Verratti rolled a ball just outside the penalty area for Marchisio, whose perfect strike gave Hart no chance to prevent the opener.
Two minutes later, England had their response, with Rooney making amends for his defensive failings by creating the team's equalizing goal. Racing past Darmian and onto a Sterling through ball, Rooney lofted a perfect cross far post for Sturridge, who met the ball in stride to one-time England even, 1-1.
Though Candreva would find the left upright just before halftime, the sides would go into intermission tied at one, with the open play that characterized the half's final 25 minutes making the team's 0-0 Euro 2012 quarterfinal a distant memory. If predictions of a first game draw were going to come good, it would be a drastically different draw than most imagined.
That notion was confirmed five minutes into the second half when Italy retook the lead. Again going down the right despite England's tactical shift (swapping Rooney with Welbeck), Italy was able to create a two-on-one against a passive Baines, one that allowed Candreva to float a cross to the far post. There, Balotelli hammered a header inside the upright before Hart could recover, giving Italy a 2-1 lead.
Moments later, England looked poised for an immediate response. Turning on a ball at the edge of his team's attacking third, Rooney raced away from Daniele De Rossi before bouncing a 22-yard shot outside of Sirigu's right post. Eight minutes later, found alone in the middle of the penalty area, Rooney dragged a right-footed shot wide from 11 yards out, a miss that left commentators asking when the 28-year-old will score his first World Cup goal. Two minutes later, Ross Barkley tied to curl a 14-yard shot inside Sirigu's left post only to see the Paris Saint-Germain goalkeeper punch the shot well clear of his penalty area. While speed was still a problem for the Italians, their lead remained in tact.
By the 70th minute, Italy's control of the ball was gone. The tendency to build through the middle before exploiting England's left? Gone. As the teams starting looking to their benches, the more pragmatic part of Italy's nature has emerged. England would need to break them down.
In the 76th minute, Baines came close, forcing a dive from Sirigu on a 28-yard direct kick, but it would prove England's last good chance. As both teams began to wilt in the Amazonian night, Italy was able to bleed out the result. Though Andrea Pirlo nearly doubled his team's lead with a late free kick off the crossbar, the 2006 champions where left with their 2-1 result.
Whether that final flattered either side is open to debate, but between Italy's ball movement and England's speed, there was little at separated the two sides in Manaus. Unfortunately for England, that failed to produce a point as they opened their 2014 World Cup.
Lineups
England: Hart; Johnson, Cahill, Jagielka, Baines; Gerrard, Henderson (Wilshere 73′); Welbeck (Barkley 61′), Sterling, Rooney; Sturridge (Lallana 80′)
Goals: Sturridge 37′
Italy: Sirigu; Darmian, Paletta, Barzagli, Chiellini; De Rossi, Pirlo, Veratti (Motta 57′), Candreva (Parolo 79′), Marchisio; Balotelli (Immobile 73′)
Goals: Marchisio 35′, Balotelli 50′