One of the most anticipated matches of the World Cup's opening week lived up to expectations, with both Italy and England flashing second round form during the Azzurri's 2-1 win in Manaus, Brazil. Yet despite goals from Claudio Marchisio and Mario Balotelli offsetting Daniel Sturridge's first half equalizer, each side showed enough weaknesses to give future opponents hope. For Italy, that meant reminding the world of its inherent limitations, while England showed a surprising inability to deal with the obvious.
Here are five talking points from today's marquee matchup:
1. This is so Prandelli's Italy – Dominating possession, leveraging the skill of its midfielders, and relying on movement around its core. This is so Cesare Prandelli's Italy, a team that represents the perfect balance of its coaches' philosophy, players' skills, and culture's value.
In that way, there's this brilliant, admirable balance to the Italians, especially considering their dependence on a few singular talents. Built around Andrea Pirlo, relying on Mario Balotelli, and hoping to protect its savvy but slow defense, all of the Azzurri's defying qualities were on display in today's opener.
Compared to the team that flopped four years ago, it's a refreshing if imperfect change. Even against England, the defense's shortcomings and the lack of attacking options was a problem. Just as we saw at Euro 2012 and the Confederations Cup, these issues could be Italy's downfall.
Still, let's not overlook the progress Prandelli's made. Let's not take his journey for granted. In the wake 2010's group stage exit, the former Fiorentina boss had to completely remake this team. Now, as he approaches the end of his journey, we can appreciate the results.
[ MORE: Colombia downs Greece | Costa Rica shocks Uruguay | Ivory Coast takes on Japan ]
2. Pirlo didn't decide the match – Here's a brief synopsis of the English media's expectations for the match: Pirlo, Pirlo, and more Pirlo. At least, that's what I remember. The coverage was so focused on the regista, you'd be forgiven for asking "how's Italy going to win if they play 1-on-11?"
And no mistaking it, Pirlo was good. Organizing, probing, distributing as Italy pushed England in their defensive third, all the sublime greatness we associate with the 35-year-old icon was on display.
Thanks in part of England's approach, he completed 105 passes at a 95 percent clip. England's high man: Steven Gerrard, completing 67 balls. It was an amazingly prolific and efficient day – one that will leave mouths agape as people scan the final numbers.
Pirlo, however, didn't decide the match. He may have dictated it, but it was Claudio Marchisio, Mario Balotelli, and Antonio Candreva that influenced the game's biggest moments. At the final whistle, Pirlo's greatness was clear, but his teammates' contributions were just as important.
[ MORE: Soccerly covers the World Cup ]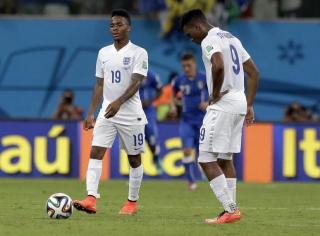 3. England's attackers deserved the hype – Once the game opened up, it was clear Italy wasn't going to be able to keep up. Raheem Sterling, when he dropped to pick up the ball, saw room as he turned toward the defense. Wayne Rooney took advantage of the same space in the second half. Danny Welbeck was able to beat defenders one-on-one, while Italy had problems with Daniel Sturridge's runs. If England finished their chances, they were going to get a result. Unfortunately, their best chance of the second half fell to Rooney, who remains scoreless in World Cup.
Mind you, England did this is against Italy. Yeah, their defenders are slow, but they're good, and we know how organized their midfield can be. The Three Lions may have only scored one goal, but they created enough chances to expect more going forward.
What does that say about Wednesday's game, where England will face and even more stoic Uruguay central defense? Or in the group finale, where Costa Rica won't offer as much resistance in the middle. It says …
4. There's no margin for error, but reason to believe – … that England should still be favored to get out of its group. Perhaps Uruguay will recover from today's loss, and maybe Costa Rica is for real, but based on what we saw today, the Three Lions should be considered favorites in each of their last two games. Even with this loss, Roy Hodgson should maintain his sights on the second round.
5. Hodgson's team failed at the basics – Who would have bet the one big deficiency would be something so fundamental? Especially from a Roy Hodgson team? Nobody got out to meaningfully challenge Claudio Marchisio on the opener, and in the second half, the most basic of movements was able to get Antonio Candreva behind Leighton Baines before he cut back for his cross.
I don't know if Roy needs to break out the ropes, but some back to basics drills might be in order. Or, given that more weak defending down their left led to the first goal, Hodgson may need to make some tough decisions about how to protect Leighton Baines, particularly given how little influence England had in the middle of the park.
Hodgson's not really going to regret passing over Ashley Cole … is he?