WORLD CUP TODAY: SATURDAY, JUNE 14
Can it get any better than Friday's matches? One can only hope.
Things got off to a rather rough start on Day Two, when Mexico had two goals disallowed when the flag went up. The calls were so egregious that even USMNT fans started cheering El Tri, which should give you some idea of the tension charging through the field. But Oribe Peralta broke through around the hour mark, and Mexico came away with a 1-0 win.
Then things got very, very, very fun. Unless you are a Spain fan. Netherlands put not three, not four, but five goals past the defending world champions, leaving the majority of the world either giggling hysterically or wondering if they'd accidentally ingested some questionable substances. By the end, Iker Casillas was in tears, having failed to prevent Spain from falling 5-1.
It all wrapped up with one of the more balanced matches we've seen in the two short days of this tournament. It looked as though Australia were about to go the way of Spain, as Chile scored twice inside two minutes. The Aussies fought back, however, and up until the final minutes they looked good value for a draw. But Jean Beausejour put on in during added time, and Chile came away 3-1 winners.
***
MATCH 5: COLOMBIA vs. GREECE
Location: Estádio Mineirão, Belo Horizonte
Time: 12 noon ET
SOCCERLY PREVIEW | SOCCERLY MATCHCENTER
Cheater's guide:
Colombia, once everyone's darlings, are going to have to prove that they're more than just Radamel Falcao. Which, of course, they are, with los cafeteros set to start the likes of Juan Cuadrado, James Rodríguez and Teófilo Gutiérrez, with Jackson Martínez on the bench. Despite Greece's dogged approach to defending, expect Colombia to be able to break through. Greece may not have conceded many in qualifying, but bear in mind they were drawn with Lithuania, Latvia and Liechtenstein.
What they're saying:
"Since [the Euro 2004 win], the players have felt somehow comfortable playing in a particular pattern," said Greece coach Fernando Santos. "Lately, we've been trying to progress from that pattern, but it's very hard especially at national team level, since there aren't many training sessions. We haven't had much time to work as a group, so it's not easy to change these patterns and the team's habits."
Translation: expect Greece to be their boring, defensive selves.
History:
The two sides have met once before, with Colombia beating Greece 2-0.
Premier League players:
Colombia: None
Greece: Does Kostas Mitroglu of recently relegated Fulham count?
RELATED: World Cup news, analysis from Soccerly
***
MATCH 6: URUGUAY vs. COSTA RICA
Location: Estádio Castelão, Fortaleza
Time: 3pm ET
SOCCERLY PREVIEW | SOCCERLY MATCHCENTER
Cheater's guide:
Uruguay made it to the final four in South Africa, so they've got to be good, right? Except they're more or less the same team, with four years added on. Oh, and Luis Suárez won't be starting. But Costa Rica have been tipped by many to finish dead last, so expect la celeste to get the three points anyway.
What they're saying:
Fernando Muslera, Uruguay's goalkeeper, believes unity will be key: "I've never experienced such a united group. We are all friends, we all have the same objective, we all row in the same direction. We have already won a World Cup in this country and we hope we can do that again."
That's cool, Nando. But as that was over 60 years ago, I'm pretty sure your squad, although admittedly an aging one, has changed a bit.
History:
Uruguay has a definite advantage here, having won six and drawn two, scoring 15 goals to the Ticos' 8.
Premier League players:
Uruguay: Luis Suárez (Liverpool) Gastón Ramírez (Southampton)
MLS Players:
Costa Rica: Giancarlo González, Waylon Francis (Colombus Crew), Roy Miller (New York Red Bulls)
***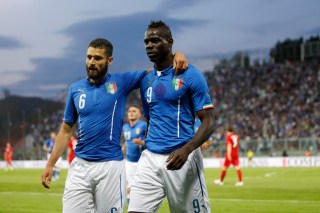 MATCH 7: ENGLAND vs. ITALY
Location: Arena Amazônia, Manaus
Time: 6pm ET
SOCCERLY PREVIEW | SOCCERLY MATCHCENTER
Cheater's guide: The thing about these two sides is there's no way to really imagine what might happen. It could be a dull goalless draw, as happened in Euro 2012. Italy crush England's confidence with slick passing through the midfield and Mario Balotelli's tendency to be in the right place at the right time. Or England could wear down the azzurri, playing patiently until breaking through with a late winner.
Or both sides could go all out and we could get a 4-3 goalfest, but that's probably the one thing we can be confident won't happen.
What they're saying:
Then again, England captain Steven Gerrard seems convinced his side have destiny in their own hands: "It is not sit back and camp out on the edge of our box and see what happens. We have a game plan to go and attack with confidence and belief.
History:
This will be the two sides' 25th meeting. Italy have a slight edge, with 9 wins, 7 draws and 8 losses.
Premier League players:
England: 22 of England's 23 players are on Premier League clubs. The full squad list can be found here.
***
MATCH 8: IVORY COAST vs. JAPAN
Location: Arena Pernambuco, Recife
Time: 9pm ET
SOCCERLY PREVIEW | SOCCERLY MATCHCENTER
Cheater's guide: An attack-minded Japan is going up against a rather aging Ivory Coast squad – one that feels like it has one last chance to impress before the band gets broken up for good.
What they're saying:
Maya Yoshida on how Japan's previous experience in Brazil may help: "Brazil is the host of both the Confederations Cup and the World Cup, and we really got to experience this country, both on and off the pitch. Other than things such as the heat and the environment, we got to experience Brazil in areas outside football such as the food and life inside the hotel. I think the fact that we've experienced this country once already will make a huge difference."
History:
The two sides have met three times, all in friendly conditions. Japan have won twice, Ivory Coast once.
Premier League players:
Ivory Coast: Wilfried Bony (Swansea City), Cheick Tioté (Newcastle), Kolo Touré (Liverpool), Yaya Touré (Manchester City)
Japan: Shinji Kagawa (Manchester United), Maya Yoshida (Southampton)