When Karim Benzema's shot rocketed off the post and into the surprised arms of Noel Valladares, it was too hot to handle for the Honduran goalkeeper.
Or was it?
As the ball trickled into the net, the French striker began to celebrate, confirmation from the referee's watch that the ball had indeed trickled into the net.
It marked the first major use of goal-line technology in World Cup play.  The microchip was only installed this year for the first time.
Replays proved to be inconclusive, but that's what goal-line technology is there for, and the World Cup is clearly better for it. Thanks to the iffy TV replays, some complained on social media that the technology doesn't work, and others (such as BBC's Jonathan Pearce) had trouble reading the outcome.
The only point of controversy may be the advertised margin of error on the use of goal-line technology.  In an article on South Carolina's The State last week, GoalControl head man Dirk Broichhausen said the margin of error is officially +/- 1.5 cm, but is more realistically around +/- 0.5 cm.  The goal surely looked of a slimmer margin than that.
Either way, the French were well on top and deserved the goal, and they continue to rip Honduras apart as the game progresses into the latter stages of the second half.
Here are shots from the replays.  The camera angles aren't perfect, and the thickness of the posts exaggerate the imperfection, proving that cameras aren't nearly as conclusive as the microchip.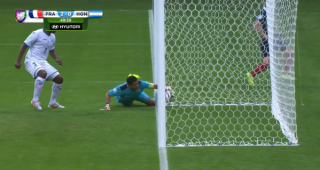 There is one who knows it went in for sure:
<a class="twitter-follow-button" href="https://twitter.com/the_bonnfire">Follow @the_bonnfire</a>