In case you've been living under a rock for the last week, the 2014 World Cup in Brazil began last Thursday, as 32 nations battle it out to become champions of the world.
The U.S. national team are one of those sides, however being drawn in Group G means they have to wait five days into the tournament until they make their bow on the biggest stage in soccer.
[ MORE: 2014 World Cup homepage ]
With that in mind, we caught up with USMNT and Stoke City defender Geoff Cameron on the phone from the U.S.'s hotel in Natal, as the Premier League star — who many believe is a definite starter at the heart of the USA's defense — prepares for the opening game vs. Ghana, which will also be his first-ever World Cup match.
Speaking from a rain-soaked Natal, Cameron talks us through an average day in and around the U.S. camp, his feelings on being at a World Cup, what the experience of being in Brazil has been like so far and loads more juicy pieces of info.
Here's what Cameron had to say, as the USA's long wait to get going in Brazil is almost over…
On what an average day in camp is like…
You wake up, get breakfast with the team, then we have training for a couple of hours. You come back to the hotel, get treatment if you want treatment to get ready for the next day of training or a game. To prepare yourself for the game, we've just been watching videos of your opponent. Just doing what you would normally do. Go back to your room, take naps, get your rest, recover and it's all gearing up to Monday night. Overall, it's a low-key day apart from the intense training sessions, sometimes we do a lifting session later on in the evening. Now we've been tapering it down because the games aren't too far away. One session a day, stretches and it is a really relaxed day besides from training.
On the mood in the camp and if there's anxiety to get things started from the players…
We are all just excited. We just want to play. We don't want to wait anymore. We want to play and get this thing on the road. We are anxious, excited. I'm sure there will be some nerves around before the game but we are confident in our own ability and go out there and turn some heads. If we take care of business the way we know we can, we can put on a real good performance.
On his emotions heading into his first World Cup tournament…
I am super excited. It is surreal. I try not to think about where I am right now, that I am actually part of a World Cup and I'm in this World Cup. It is a dream of mine since I was a little kid. Obviously the nerves kicking in here and there, the best way to deal with that is to distract yourself, keep yourself busy, so watching movies, jamming out to music or being around the guys where you are joking around that always helps. You just want to get on the pitch, start playing and get that first touch underway.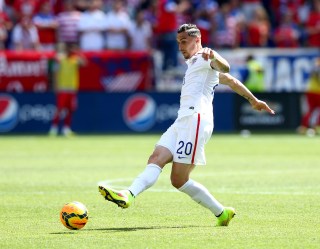 On what the team does in their spare time…
We play table tennis, cards, Playstation 4, factime with friends or whatever. I tend to play ping-pong, hang out with Alejandro Bedoya and Mix Diskerud but we all hang out with each other. The whole team get on really well. We all hang out in the players lounge where there is table tennis, pool, there is always something going on. Whether it is watching the World Cup games altogether or watching movies, we just joke around.
On the USA's training base in Sao Paulo…
The people have been amazing here, the reception from the people in Brazil has been absolutely phenomenal. You can tell how excited they are and how happy they are that we are here, whether they are fans of the U.S. or not. You get some other supporters that aren't too happy… but most of the people are super, super nice and you can tell how much passion and love for the game is here.
On the coolest experience in Brazil so far…
When we actually got off the bus and getting to the hotel (see the photo, top right, for Geoff's reaction when he saw the hotel… we know, priceless) for the first time, the reception we got from all the staff outside who welcomed us into the hotel, that was pretty cool. It you gave you the chills a little bit and made you fell 'wow, we are really here to take care of business.' Plus you get all the Tweets, the Instagram messages and all the support from back home, that means a great deal and is always good to see. The guys are very happy everyone is behind us, supporting us and believes in us. We try and let the fans see what it is like to be here and a part of things, which they are. Going out onto the field knowing the whole country is supporting you gives you such a big boost. All of the players really appreciate the huge amount of support we've been getting.
On seeing plenty of U.S. fans in Brazil…
You see fans from all over the world but you definitely see people wearing the American flags and jerseys. It puts a smile on your face. No doubt. We are hoping that we have a good home crowd rooting for us on Monday night, it puts a smile on your face knowing that people are here supporting you and they made a trip to come out here.
On how he will sleep and feel on the eve of the USA's World Cup opener…
I feel like I have prepared myself, with my friends, family, teammates and coaches, they all have belief in myself and my team and confidence in our ability. I think it is just a matter of controlling your emotions and your anxiety. For me, I just want to vibe out, chill out, relax and not think about it too much. You lose too much energy when you think about things like that too much. Just let it be and be confident. That's what it is all about and I'll be ready when Monday's game against Ghana arrives.