WORLD CUP TODAY: SUNDAY, JUNE 15

Three matches grace our televisions today, and while they all have something to offer, none are as drool-inducing as the last one of the day, when we get to watch Lionel Messi begin his quest for a World Cup title.
All three games today have a clear favorite and a clear underdog, but if we've learned anything so far in this World Cup, it's expect the unexpected.
Yesterday Costa Rica went out and shocked Uruguay, as CONCACAF continues to perform well in Brazil.  Ivory Coast also came back from a 1-0 deficit against Japan after looking lackluster for much of the first half.
The moral of the story is there are no pushovers in the World Cup, something we should have expected coming in, but still our minds tend to offer us doses of expectations such as "team x should run over team y."
That is hardly the case, unless of course you're the defending champions, whose besting by the Netherlands on Friday still resonates in the back of our minds.
Yesterday did its best to write its own story, as the busiest slate of the month-long journey also gave us Italian solidity with a convincing 2-1 win over England that featured a winner from none other than Super Mario.
One game that was never in doubt was yesterday's opener, when Colombia made a statement by thoroughly dominating a defensively solid Greece side 3-0.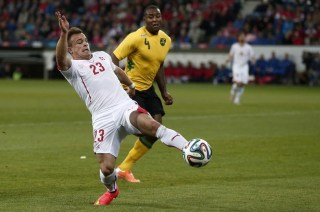 MATCH 9: SWITZERLAND vs ECUADOR
Location: Estadio Nacional, Brasilia
Time: 12:00pm ET
SOCCERLY PREVIEW | SOCCERLY MATCHCENTER
Cheater's guide:
Group E begins with an intriguing matchup between two relative unknowns. Switzerland won its European qualifying group, but the group was nothing to boast about, consisting of such powerhouses as Iceland, Slovenia, Norway, Albania, and Cyprus. This Swiss team has changed much since then, and the world still doesn't know what to make of their young squad. However, they have done what top teams do against inferior competition, and that's amounted to just one loss in their last 18 matches over the past two years. Ecuador knows that they don't have to face group favorites France until the final round, meaning a pair of wins here and against Honduras could send them through before even facing its toughest test.
What they're saying:

"We began the revolution in 2011 when we brought in younger players," Said Swiss coach Ottmar Hitzfeld said at the stadium yesterday. "We have a very strong younger generation and we also have young, yet experienced, players. In that sense we have a better mix and in human terms the team is better suited to each other. We are a bit more creative going forward and in defence we are still well organized."
They're really, really young.
History:
This is the first time the two sides will meet.
Premier League players:
Switzerland – Philippe Senderos (Aston Villa)
Ecuador – Antonio Valencia (Manchester United)
MLS players:
Switzerland – None
Ecuador – Oswaldo Minda (Chivas USA)
RELATED: World Cup news, analysis from Soccerly
MATCH 10: FRANCE vs. HONDURAS
Location: Estadio Beira-Rio, Porto Alegre
Time: 3:00pm ET
SOCCERLY PREVIEW | SOCCERLY MATCHCENTER
Cheater's guide:
The Group E matchup of the day with a more expected outcome, we get our first look at France sans Franck Ribery.  Keep an eye on Antoine Griezmann, who has replaced Ribery in the starting lineup. The highly coveted 23-year old winger has  burst onto the scene since Ribery's exclusion, making the most of his opportunity in the pre-Cup friendlies for France. For Honduras, the 33rd team in FIFA's rankings, they're just looking to make noise.  The hope of advancement may not be entirely there, but crazier things have happened, and in essentially a throwaway game to start, they could look to leave it all on the table with nothing to lose.
What they're saying:
Hondurans felt incredibly disrespected by a TV program played in France called "The Miserables of Honduras." Honduran journalist Copan Alvarez:
"It is true that this story was very badly received in the country. Not for the content, as it is told is a good reflection of the reality of our football and our society, but for the title. The word "miserable" insulted some."
History:
None.
Premier League players:
France – Hugo Lloris (Tottenham Hotspur), Mathieu Debuchy (Newcastle), Bacary Sagna (Manchester City), Mamadou Sakho (Liverpool), Patrice Evra (Manchester United), Laurent Koscielny (Arsenal), Moussa Sissokho (Newcastle), Morgan Schneiderlin (Southampton), Olivier Giroud (Arsenal), Loic Remy (QPR).
Honduras – Maynor Figueroa (Hull City), Wilson Palacios (Stoke City)
MLS players:
France – none
Honduras – Victor Bernardez (San Jose), Boenik Garcia (Houston), Marvin Chavez (Chivas USA), Jerry Bengtson (New England).
MATCH 11: ARGENTINA vs BOSNIA-HERZEGOVINA
Location: Estadio Maracana, Rio de Janeiro
Time: 6:00pm ET
SOCCERLY PREVIEW | SOCCERLY MATCHCENTER
Cheater's guide:
Looking at the power of the Bosnian side, it's easy to forget the country is making its World Cup debut this summer. As a reward? They're handed Argentina in its opener, one of the most storied countries in this event. But even they have plenty of question marks, and many of them surround Lionel Messi. Will Messi, in the prime of his career, finally produce the form he has so often displayed at Barcelona for his country? Can he get over the hump? Will he cement his place alongside Diego Maradona as an Argentinian legend, or will he simply be that guy who was really good in Spain? The journey of Messi, Sergio Aguero, and the star-studded squad begins with about as tough a test as they could have asked for, a Bosnian squad boasting its own set of stars in its first-ever World Cup.
What they're saying:
"It is hard not to feel honoured when important people compare you with Maradona – he's the best there's ever been," said Lionel Messi. "My message, though, is please don't compare me with him yet. He won a World Cup for our nation, and until I've managed to do the same the comparisons are not something I welcome or accept. I know I have a responsibility, especially as captain, to the people of Argentina but I try not to let that pressure get to me. I approach every game – it doesn't matter if it is a Champions League final or a World Cup game – as I did as a child … and that is to have fun."
He's saying all the right things, now can he perform on the field?
History:
They've met twice, with Argentina winning both matchups.
Premier League players:
Argentina – Pablo Zabaleta (Manchester City), Martin Demichelis (Manchester City), Sergio Aguero (Manchester City)
Bosnia-Herzegovina – Asmir Begovic (Stoke City), Edin Dzeko (Manchester City)