One hundred eighty minutes into Mexico's 2014 World Cup, and let there be no doubt: Any allusion to El Tri's qualifying form is now an anachronistic one. The troubles the team had before Miguel Herrera took over? They're irrelevant in the face of what we saw today in Fortaleza.
Drawing the tournament favorites on their home soil, Mexico rekindled memories of 2011, when the team's quality was living up to its golden generation hype. Under Miguel Herrera, the team has finally moved beyond its soul-crushing qualifying cycle, discarding the shackles that paralyzed the team after winning that Gold Cup. Instead of being frozen by the prospect of failure, Mexico's played to its talent.
Granted, it was only a 0-0 draw, and if somebody were inclined to take up the Selecao's case, they could point to Brazil's 6-2 edge in shots on target and argues the host nation was the better side. And they're probably be right, but that's not the point. The point is Mexico, a team that carried huge doubts after its three-year identity crisis, is back. They may not be on Brazil's level, but as they've shown throughout the last decade, they can compete over a give 90 minutes. Though it's one game, Mexico showed it may finally be back on Mexico's level.
That's exactly what El Tri did in Fortaleza. After the team's energetic start, Brazil adjusted, but the underdogs kept competing. In the second half, that tenacity gave them a spell of control, one in which they nearly crafted a winning goal. And in the match's final throes, once Brazil had regained its footing, the team's restored confidence allowed it to withstand the favorites' last push.
[MORE: What do you think this means for Brazil?]
In the process, we saw flashes of that golden generation resurface, and while the team may not be fully back to its 2011 self, again, that's not the point. After today's result, Mexico has discarded the hollow version of itself that nearly slept-walked out of the 2014 World Cup.
Here are some other talking points after today's result in Fortaleza:
1. Guillermo Ochoa made a lot of money  – Go to your social media vacuum of choice and do a quick search. You'll see people marveling at the former Ajaccio goalkeeper, whose six stops included a number of the point-blank variety.
Currently out of contract, the former Club America star is benefiting from some fortuitous timing as well as the injury to José de Jesús Corona, whose absence has allowed the former El Tri number one to resume his place in the team. On Tuesday, Ochoa made the most of his opportunity, likely drawing the attention of a club willing to see if his international form can be replicated during the upcoming European season.
[MORE: Ochoa the talk of Twitter during game]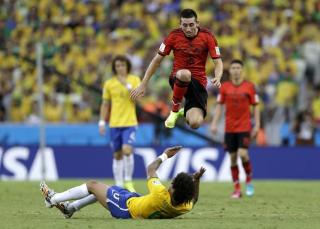 2. Questions and answers in midfield – José Juan Vázquez was a revelation at the base of midfield against Cameroon, but el Gallito was less convincing on Tuesday. Instead, it was Hector Herrera and Andres Guardado picking up the slack in the midfield, particularly in the second half. Though the trio had trouble getting a grip on the game during the first 35 minutes, the team's ball retention and push from the middle improved in the second. Even Vázquez was able to get forward and threaten goal twice, barely missing his target each time.
The trio will never be confused for one of the tournament's best, but given Mexico's injuries in midfield, that's unrealistic standard. Instead, Mexico's goals should be more modest: Can the trio keep Mexico in matches, provide something going forward, and establish a level of cohesion that allows them to make adjustments?
We saw all three of those qualities at various points on Tuesday. It's just a matter of getting those various points to last closer to 90 minutes.
3. Defensive issues, or the quality of Brazil? – Based on what we know about these teams, it's probably a little of each, but both the quality and quantity of chances Brazil created on Tuesday were problematic. "Thank God for Guillermo Ochoa" is something you neither want to or can say after every match.
Perhaps swapping the Selecao for Croatia on Monday will provide a solution, but this isn't the first time Mexico's back line has looked vulnerable. El Tri survived Neymar and Oscar, but against relentless a player like Mario Mandzukic, those deficiencies could again be exposed.