WORLD CUP TODAY: TUESDAY, JUNE 17
Each of the 32 World Cup teams will have played one tournament match by the end of Tuesday, as Group H makes its maiden voyage in Brazil. Meanwhile, Mexico and Brazil will duel in the hopes of securing frontrunner status for the knockout rounds, as each teams won its first match.
Group H is the group that will be paired with the winners of the United States' Group G come the first knockout round.
As for Monday, the United States survived a game test from Ghana thanks to a late John Anthony Brooks header, Germany dominated Portugal, and Nigeria and Iran tested eyelids in a scoreless draw.
***
MATCH 15: BELGIUM VS. ALGERIA
Location: Estádio Mineirão, Belo Horizonte
Time: Noon ET
SOCCERLY PREVIEW | SOCCERLY MATCHCENTER
Cheater's guide: Time to see whether Belgium is the giant many claim. With a wide variety of Premier League stars and plenty of depth at every position, Belgium should be able to handle stingy Algeria. After being shut out at the 2010 World Cup, Algeria seeks its first tournament goal since 1986.
What they're saying:
Belgium head coach Marc Wilmots: "The international press have called us an outsider and a favourite at the same time. It is a great pleasure to be back in the competition with players who are hungry and have a desire to achieve."For Hazard and les Diables Rouges, back on the world stage after too long away, it is time to deliver.
History:
Belgium has beaten Algeria once, and the two nations drew their other encounter but haven't squared off since 2003.
Premier League players:
Belgium: Simon Mignolet (Liverpool), Thomas Vermaelen (Arsenal), Vincent Kompany (Manchester City), Jan Vertonghen (Tottenham Hotspur), Marouane Fellaini (Manchester United), Mousa Dembele (Tottenham Hotspur), Nacer Chadli (Tottenham Hotspur), Romelu Lukaku (Chelsea), Eden Hazard (Chelsea), Kevin Mirallas (Everton), Adnan Januzaj (Manchester United).
Algeria: Riyad Mahrez (Leicester City), Nabil Bentaleb (Tottenham Hotspur)
RELATED: World Cup news, analysis from Soccerly
***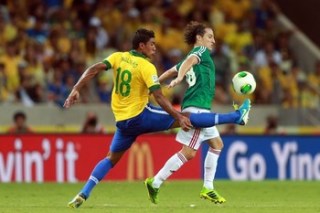 MATCH 17: BRAZIL VS. MEXICO
Location: Estádio Castelão, Fortaleza
Time: 3pm ET
SOCCERLY PREVIEW | SOCCERLY MATCHCENTER
Cheater's guide: The hosts got plenty of officiating breaks in their opening win over Croatia, while Mexico had to overcome brutal linesman work in its victory over Cameroon. This one's for group dominance, most likely, and it remains to be seen whether the hosts will find their form… and if Mexico can keep theirs.
What they're saying:
Brazil head coach Luiz Felipe Scolari on Hulk's fitness: "If there is a problem with Hulk I will have to completely change the system we have used for some time. The way he positions himself, on the right and on the left (makes him a threat). But I have players with different characteristics and qualities who can bolster the team."
History:
Brazil has a 22W-6D-10L record against Mexico, but El Tri triumphed in the 2012 Summer Olympics.
Premier League players:
Brazil: David Luiz (Chelsea), Oscar (Chelsea), Ramires (Chelsea), Willian (Chelsea), Paulinho (Tottenham), Fernandinho (Manchester City)
Mexico: Javier "Chicharito" Hernandez (Manchester United)
***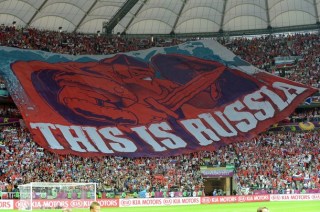 MATCH 16: RUSSIA VS. SOUTH KOREA
Location: Arena Pantanal, Cuiabá
Time: 6pm ET
SOCCERLY PREVIEW | SOCCERLY MATCHCENTER
Cheater's guide: Two teams that bring a bit of mystery to the World Cup, as both clubs have a remarkable amount of home-based club players. Russia actually has zero players plying their trades outside their borders. This could be a great prime time match-up for neutrals.
What they're saying:
Korean captain Koo Ja-Cheol on their height disadvantage: "The Russians are a lot taller than we are.We've taken that into consideration. If it happens on the pitch we know what to do, how to defend ourselves against it – the main thing is to focus on our concentration."
History:
The two nations paired up in November, with host Russia winning 2-1.
Premier League players:
Russia: None
South Korea: Yun Suk-Young (Queens Park Rangers), Park Chu-Young (Arsenal).