When Jozy Altidore's hamstring became the World Cup's first victim of the invisible sniper, it forced Jurgen Klinsmann to completely reshuffle the deck he had spent weeks organizing perfectly for play in Brazil.
The USMNT version of 52 pickup is happening as we speak.
Believe it or not, for all the talk of midfield diamonds and center-back pairings leading up to the World Cup, the formation Klinsmann unveiled for the match against Ghana was largely built around its target man Jozy Altidore.
As Everton manager and current ESPN analyst Roberto Martinez said, there is nobody on this team who can replace Jozy Altidore, because he possesses such a rare skill set.  He's a big, physical body that draws defenders and creates space for his teammates, yet is skillful on the ball and can both body down a defender and take a man on one-on-one.
WIth that in mind, Klinsmann must figure out how to restructure the attack.  There are two men who are the most likely candidates for Altidore's replacement at the head of the attack: Aron Johannsson, and Chris Wondolowski.  This is the argument for Wondo.
[ MORE: Missing Altidore: The case for Aron Johannsson ]
[ MORE: Coy but positive, Klinsmann leaves us in the dark on Altidore ]
[ RELATED: World Cup news, analysis from Soccerly ]
The United States squad has found itself in a fantastic position.  With a chance to clinch against a beat up Portugal side, there is every reason for Klinsmann to go for the jugular.
And with that in mind, he has Chris Wondolowski on the bench. Either choice to replace Jozy is a risk because, well, it's not Jozy.  But it's certainly arguable that putting Johannsson up top against Portugal is more of a risk simply because he's much more of an unknown.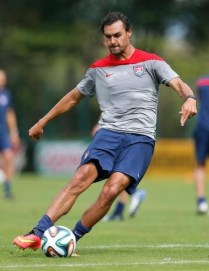 Wondo has been in fantastic form the past six months for the United States despite often starting on the bench, and at 31 years old, he's much more experienced. Seemingly cropping up with a goal at the perfect time, Wondo provides a solid option up top for the USMNT.
Unfortunately, there are drawbacks.  A true target man and poacher, Wondo at the front means Klinsmann needs to build the formation around him, and everyone else is support staff.  Unlike Altidore, Wondolowski can't be counted on to help in build-up play.  With just two assists in MLS play since the start of the 2013 season, he's solely there to score goals.
With a solid midfield behind him, Klinsmann would likely put true service on the wings, with Alejandro Bedoya and Graham Zusi both solid options to send the ball in accurately and in dangerous locations.  Both are also able to help defend, which wingers will need to do on a regular basis with Cristiano Ronaldo sure to be seen in all areas of Portugal's attack.
However, his age does provide a problem. In the heat of Manaus, will he be able to hold up much longer than the first half? We've never seen any serious issues with his fitness before, but the Amazon rainforest is also something we've never seen before.
With that in mind, no matter who starts, it's certainly possible we end up with a combination of the two players. Klinsmann may plan to start one and relieve with the other, giving us a chance to see how the two provide different options for the US up front.
Who do you think should start in Jozy's place?