After 180 minutes, England's knockout round fate is in Italy's hands, with the Three Lions' 2-1 loss to Uruguay meaning anything but an Azzurri win on Friday will send the former champions out. Even if the Italians stumble against Costa Rica, there are very few scenarios for Tuesday's Group D finale that will put England into the knockout round. If bottom lines are your thing, Brazil 2014's will be an indictment for Roy Hodgson's squad.
In context, however, the conclusions are so clear. A tough Group D meant one knockout round hopeful was going home early regardless, while two close matches against strong teams meant England's record only partially reflected its quality on the field. If you're making a list of things to blame for England's poor result, put "FIFA ping-pong balls" at the top. Drawn into a number of other groups, England would be going through.
Regardless, after today's loss, England's probably down to 90 minutes at this year's World Cup, and while that will draw the ire of some, there's no reason to cast too much gloom on mixed if disappointing results. Our three talking points.
[ RELATED: World Cup news, analysis from Soccerly ]
1. Two days, two groups of death … – Maybe we're going about this Group of Death-thing all wrong. I've harped on the U.S. side of this enough, so no use recycling those thoughts, but given what we've seen from Group B (Spain: out) and Group D (England: almost out), we should rethink how we go about this label. Whereas we've to slap it on the toughest group, we should start playing to what the term actually means.
There are groups which, because of their draw, will provide a renown team a quick, potentially unfair (in light of the other groups) exit; a death, if you will. On Wednesday, we saw it with Spain, and now we've seen it with England, a team that has the quality to get out of five other groups. Two ex-champions, among the world's most popular teams, are probably going home before the knockout round, given a premature departure because of the depth of their groups.
Instead of acknowledging a single Group of Death, maybe we need to be more liberal with the label. With Chile, the Netherlands, and Spain, Group B was a Group of Death, ending the reign of one of international soccer's most dominant teams. And Group D, featuring three teams that have final eight quality, will likely send England home before the tournament's first cut.
As much as England's tournament is about its shortcomings, it's also about an extremely tough draw.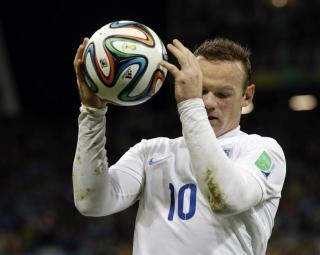 2. … so let's not be too brazen about England's failings – What have we learned over the Three Lions' 180 minutes in Brazil? That they're not as good as Italy? We already suspected that. Italy showed its quality at Euro 2012. To the extent England can compete against Italy, it's more about matchups (fast attackers against a slow defense) than the overall quality of the squads.
Did we learn that England's not as good as Uruguay? Before the tournament started, that was less certain, but La Celeste are reigning South American champions. They also made the semifinals on at South Africa 2010, a depth England hasn't reached in 24 years. If England's not up to Uruguay's standard, it's certainly nothing to worry about.
Alas, England fans will worry, and it's hard to blame them. The final result just wasn't good enough, but when you consider the strength of the Three Lions' group and the stage this team's at in its development, the result's nothing to worry about.
Not only was England competitive against good squads, but better days are ahead for a still maturing core.
3. Can't say enough about Suárez – Rightfully, people are criticizing the English defense. When a team gives up four goals in two games, some post-mortem is required. Maybe Hodgson should have brought John Terry out of retirement, picked Ashley Cole, and sided with cohesion by playing a mostly Chelsea back line?
To the extent England's defense failed, it was in moments, not spans. Perhaps the familiarity of three Chelsea players would have solved the problem (even though it didn't seem to help Phil Jagielka and Leighton Baines).
There is, however, another way to look at what happened. After all Uruguay only got two shots on target. Italy, for that matter only had four. It's not like the Three Lions were giving up a slew of chances. Their failings were isolated, made more dangerous by striking talent few teams have in their squads.
For Italy, it was Mario Balotelli, who put himself in a position that was nearly impossible for Cahill to defend. Against Uruguay, it was Suárez, who showed his Liverpool teammates what it's like to be on the other side of a match-winning kind of performance. While teams like the Netherlands do have similarly talented strikers, most teams at the World Cup don't. Again, England's draw came back to haunt them.
Though England could have done better on Uruguay's first goal, Suárez deserves credit for pulling off a finish that few would have had the sense or technique convert, and while the second goal was a less forgivable failing, players like Suárez make you pay.
We're seen plenty of other players blow those types of chances. Suárez did not. As a result, England's on the brink of going out.