During what's sure to be a difficult period of soul-searching, I'd like to offer this open letter to my friends in England:
Dear Friends:
You're already doing it. Just calm down. It's just not that bad.
Sincerely,
-rf
What's this all about? Consider these headlines, all based on England head coach Roy Hodgson's reaction after today's match against Italy.
You get the picture. At some point today, after Luis Suárez's late goal sent England to a second straight 2-1 loss, Hodgson was asked if he would step down. He said "no," and with good reason.
England is not one of the most talented nations in the world, yet as implied by the question (and reaction after today's result), expectations are unreasonably high. Regardless of their group's depth or the performances of transcendent talents like Andrea Pirlo and Luis Suárez, England fans expect their team to get out of the group. Never mind England only gave up six shots on target over 180 minutes, and forget about the transitional state of a team that will be stronger at Euro 2016 than it was in Brazil. England hadn't been eliminated in a group stage since 1958, until now.
All of which is a very narrow view of the Three Lions. Having only lost two competitive matches since Cesare Prandelli took over four years ago, Italy is a proven commodity, one that again showed their quality on Saturday in Manaus. And while Uruguay struggled in World Cup qualifying, the team is a 2010 World Cup semifinalist and the reigning South American champions, achievements that speak to La Celeste's quality in major tournaments.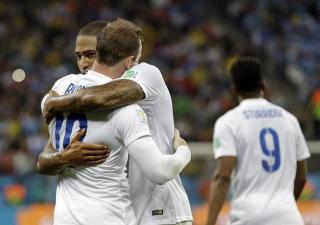 What about Hodgson's team suggests England should necessarily overcome these foes? They're certainly capable of beating either team, but closes losses shouldn't be surprising, either. How are Hodgson's results so unreasonable?
That's not to say Hodgson is beyond scrutiny, because there are a series of small decisions which may have made the difference. Why is this Steven Gerrard guaranteed a spot? Or, seemingly, Danny Welbeck, for that matter? Why was Adam Lallana dropped when it was unclear whether Wayne Rooney or Raheem Sterling was the player to use wide? And ultimately, why is England probably going home after the opening round?
Ultimately, it all comes down to that last question, one that's as frustratingly presumptuous as it straight-forward. England can play with Italy, but over a given 90 minutes, a 2-1 loss is a reasonable outcome. Same with Uruguay, especially on a day when Luis Suárez scores on both of his team's shots on target. If Andrea Barzagli mistimes his lunge, or Joe Hart stays big on Suárez's late shot, things turn out different. That's not to say England deserved those results (they don't), but it highlights the thin margins in Group D.
Ultimately, Hodgson needs to figure out ways for his team to create and prevent chances. His selection influences how those plans play out, but even in that regard, Hodgson has limited options.
So when people see England had five shots on target to Italy's four, and six shots on target to Uruguay's two, how can people justify implying he should resign? Hodgson didn't head the ball off the post in today's first half, but be did draw up the play that gave Wayne Rooney the opportunity to do so. And while he didn't create those first half counterattacking chances against Italy, he did select the attackers that put those plays into motion.
Granted, Hodgson could have recognized the limits of his players and put in a different plan. He could have recognized that a player like Rooney was not going to be as efficient as Suárez. Still, in both of his team's games, Hodgson put his players in a position to win. They just didn't take advantage of their opportunities.
Hodgson played a part in England's exit, no doubt, but so did Italy. So did Suárez. So did a tough draw, and so did his attacker's missed chances.
But should Hodgson fall on the sword because of things beyond his control? In England, that becomes the demand, but it's one that's built from unreasonable expectations. If England can keep calm and carry on, this team should be fine going forward.