It's not so much that people hate Spain, though based on the reaction Wednesday's result, you could come to that conclusion. More likely, the reaction's about success, and how the sports world reacts to it. Through Spain's triumph at Euro 2008 was adored, their elimination from Brazil 2014 was met with a backlash. After six years of being sold the Spaniards' virtues, the world is done with la Roja.
Given how sports cycles work, it's be natural to assume Spain need to reset, and to a certain extent, that's obviously true. Carles Puyol is gone, Iker Casillas and Xavi Hernández are past their primes, and the opposition has had time to adjust. Tiki-taka's not dead, in the face of waning talent, it's no longer enough.
But as Sid Lowe reminded us today at The Guardian, it may not be long before the emperor has new clothes. There's a generation of new talent which, having already made an impact at club-level, is ready to step in, and if results at UEFA's U-level competitions are any indication, this generation will again prove superior to their European peers. Opportunity seems to be their biggest problem.
That's why Spain's Brazil 2014 can turn into a blessing, of sorts. For too long, Vicente Del Bosque has had to consider whether to fix something that wasn't broken, but one-sided matches against the Netherlands and Chile left no doubt. The team's beyond broken. It's shattered, giving Del Bosque license to not only tweak but completely rebuild.
But consider the collection of talent that will be part of that rebuild: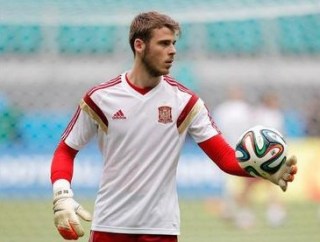 David de Gea, G, Manchester United – It's now clear the 23-year-old is the best keeper in Spain's pool. Though an injury has kept him from contributing in Brazil, he'll represent an upgrade if (or, when) he takes the one-shirt during qualifying for 2016. Having established himself a Manchester United, de Gea's a tough call Del Bosque should have made before Brazil 2014.
Iñigo Martínez, CB, Real Sociedad – The lack of depth in central defense was one of Spain's major problems in Brazil, but if Martínez (23) had been integrated into the team sooner, Del Bosque would have had more options when his central pair failed so spectacularly against the Dutch. After making the all tournament team at last year's Euro U-21 championship. Martínez got his first senior team cap, but Del Bosque has since remained loyal to more established stars.
Koke, M, Atlético Madrid (above)
Thiago Alcantara, M, Bayern Munich – Out injured for Brazil, Alcantara (23) captained the team that won last year's U-21s, while Koke's (22) performance at Atlético Madrid earned him time on Wednesday. If Xabi Alonso's starting spot is also reconsidered (as it should be), these two could join Sergio Busquets as the new core of Spain's team; at least, in midfield.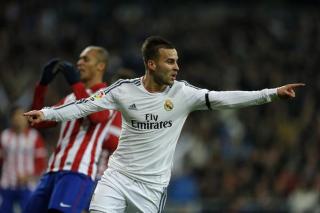 Isco, M/F, Real Madrid
Jesé Rodríguez, F, Real Madrid (right)
Álvaro Morata, F, Real Madrid
Daniel Carvajal, RB, Real Madrid
Asier Illarramendi, M, Real Madrid – Particularly with its three young attackers, Real Madrid has an enviable collection of up-and-coming talent, one that will threaten to from a gap between the Merengues and Barcelona. On the international level, the means a Roja side that won so much with a Barcelona core will turn to Spain's other titans to prolong its success. The style of play may not shift dramatically, but it will change, proving more versatile in the future.
Marc Bartra, Barcelona
Martín Montoya, Barcelona – Not that the Catalan giants won't be represented in the next generation, too, thanks to these two defenders. Unfortunately, neither of these prospects have gotten a prolonged chance at Barcelona. If they perform as they did at last summer's U-21s (both making the team of the tournament), Spain will a have new generation to augment Sergio Ramos, Gerard Piqué, Jordi Alba, and Cesar Azpilicueta, none of whom are over 28 years old. Sevilla left back Alberto Moreno (21) will be an option, too.
Iker Muniaín, Athletic Bilbao
Ander Herrera, Athletic Bilbao – Muniaín has been contributing to Athletic's first team for so long, it's had to believe he's only 21 years old. Yet between him and Herrera (24), another enviable central midfield talent, the Lions have two more talents that can join Javi Martínez as contributors to La Roja.
And then there's all the older players who, as Spain tweaks its approach, could become more valuable. Manchester City winger Jesus Navas was desperately missed over the last two games, and while Fernando Llorente is redundant to Diego Costa, redundancy isn't necessarily a bad thing in a 23-man squad.
What will that look like on the field? Something like:
G – David de Gea
LB – Jordi Alba
CB – Sergio Ramos
CB – Gerard Piqué
RB – Daniel Carvajal
DM – Sergio Busquets
CM – Thiago Alcantara
CM – Koke
AM – Andrés Iniesta
F – Jesé Rodríguez
F – Diego Costa
Perhaps Isco's in there instead of Jesé. Perhaps one or two other spots are different, but while some are critical of that central defense, when healthy, that duo has won titles. Regardless, Spain's not going anywhere. In fact, la Roja may improve.
No longer worried about disrupting a proven formula, Spain's coach can look at the team's talent with a open mind. The right combination could help reclaim a spot on top of the soccer world.