WORLD CUP TODAY: THURSDAY, JUNE 19
A pair of elimination games feature on Thursday's World Cup docket after Wednesday saw reigning champions Spain bounced, Chile and the Netherlands punch tickets to the knockout rounds and Croatia cruise past Cameroon.
***
MATCH 21: COLOMBIA VS. IVORY COAST
Location: Estádio Nacional Mané Garrincha, Brasília
Time: Noon ET
SOCCERLY PREVIEW | SOCCERLY MATCHCENTER
Cheater's guide: Ivory Coast is a win away from exorcising the demons of consecutive group stage exits at World Cup, while Colombia was impressive in absolutely demolishing a reputable Greek defense. Certainly both teams would appreciate the comfort of a win.
What they're saying:
Ivory Coast head coach Sabri Lamouchi on their opener: ""We didn't start the game very well by conceding through a lapse in concentration. After that, we got into a lot of good positions. For us it was really important to start well this tournament. To have a player like Didier Drogba in your squad, as a starter or a sub, changes a game. The players are very happy with the victory, but we are not yet qualified."
History:
First meeting.
Premier League players:
Colombia: None.
Ivory Coast: Wilfried Bony (Swansea City), Cheick Tioté (Newcastle), Kolo Touré (Liverpool), Yaya Touré (Manchester City)
RELATED: World Cup news, analysis from Soccerly
***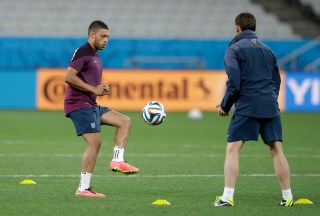 MATCH 23: URUGUAY VS. ENGLAND
Location: Arena de São Paulo, São Paulo
Time: 3pm ET
SOCCERLY PREVIEW | SOCCERLY MATCHCENTER
Cheater's guide: Another "elimination" game, will one of these clubs join the ranks of Spain as perceived giants to go out after just two matches. Uruguay gets Luis Suarez back but will be without Maxi Pereira and Diego Lugano, while England will be missing Alex Oxlade-Chamberlain.
What they're saying:
England's Steven Gerrard on his message to the team: " I have had that feeling of going out of a major tournament. I know what that feeling is about and that is the feeling I don't want come Friday morning… There is no hiding place for a player when you go out of a tournament. You go home earlier than you expect. It can be tough as a player and it can take an awful long time to get over it."
History:
This will be the 11th meeting between the two nations, with England holding a 4-3-3 edge.
Premier League players:
Uruguay: Luis Suárez (Liverpool), Gastón Ramírez (Southampton)
England: 22 of England's 23 players are on Premier League clubs. The full squad list can be found here.
***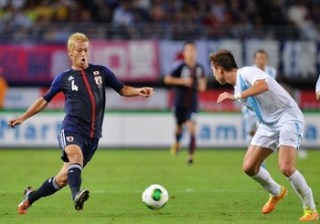 MATCH 22: JAPAN VS. GREECE
Location: Arena das Dunas, Natal
Time: 6pm ET
SOCCERLY PREVIEW | SOCCERLY MATCHCENTER
Cheater's guide: The loser of this match is out of the World Cup, and a draw would hurt both teams' chances dramatically considering both lost their openers. Greece's normally-stingy D was humbled by Colombia 3-0, while Japan was "Drogba'd" in blowing a 1-0 lead to the Ivory Coast.
What they're saying:
Japan star Keisuke Honda on their 0-1 start: "Nobody feels good about losing and obviously it was a shock. But it's not a shock that we lost, the thing that shocks me is we lost because we could not play to our strengths. We gave our opponents' front line too much respect. Mentally we were weak but that is not a problem that can't be fixed. A little bit more spirit can turn things around … of course we still have an opportunity to get through the group phase."
History:
Japan won the only meeting, 1-0, at the 2005 Confederations Cup.
Premier League players:
Japan: Shinji Kagawa (Manchester United), Maya Yoshida (Southampton)
Greece: None