The beauty of knockout tournaments is that conventional wisdom goes out the window and storylines build themselves.
It's often evident in environments such as the NCAA Tournament and professional sports playoffs, where teams built for long-term seasonal success face one-and-done situations that become their demise.
North and Central American teams from the CONCACAF federation are raising plenty of eyebrows this World Cup, giving fans of countries along the corridor plenty to smile about, and validation that their region is no laughing matter.
It's also doing more than giving people notice – it's earning them points, valuable points as they push towards unlikely knockout round positions.
Costa Rica was drawn into the "Group of Champions" alongside Uruguay, Italy, and England. They're already into the next round.  The United States was apprehended into the "Group of Death" with Germany, Portugal, and Ghana.
Often dismissed as inferior by those following European and South American teams, the likes of Costa Rica, Mexico, and the United States at this point are…at risk of horrific jinx consequences…undefeated against the likes of Italy, Uruguay, Brazil, Ghana, and Cameroon.
That means 28th-ranked Costa Rica has beaten the 7th- and 9th-ranked teams, 20th-ranked Mexico held 2nd-ranked Brazil, and the 13th-ranked US exorcised awful demons against 37th-ranked Ghana and has the chance to make noise Sunday vs. 4th-ranked Portugal.
Only Honduras remains without a win, but even Los Catrachos showed signs of life in their 2-1 loss to Ecuador.
For more (current before the Honduras loss to Ecuador):
https://twitter.com/GrantWahl/status/480086997391122432/
The real noise is made during the knockout rounds of course, but with Costa Rica already through, Mexico in a very solid position, and the United States has an opportunity to continue CONCACAF's shocking run.
Costa Rica proved tactically superior to both Italy and Uruguay, as the genius of Jorge Luis Pinto befuddled Uruguay with a dangerous counter-attack and shackled the Italian stars with a structurally sound back five.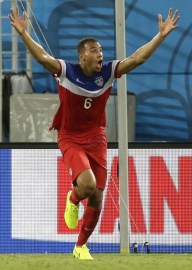 If the US can at least pull out a draw against Portugal, something which is not considered a long-shot but is by no means an expected result, CONCACAF teams will have secured at least eight points of a possible 12 against top-10 FIFA ranked teams, and as many as 10 of 12, an incredible result.
And if we've learned anything from Costa Rica's pair of wins, it's that superior tactics can often outweigh superior talent, something the United States will likely lean heavily on against both Portugal and Germany.
But will this be enough to have an impact on future FIFA rulings involving World Cup qualifications? A lot has been made of talk that Asia and Africa could be given another guaranteed spot, taking one from Europe. And that makes no sense – but would be very FIFA.
However, CONCACAF has not been quiet about its desire to earn its fourth qualification spot as guaranteed rather than stuck in the playoff with Oceania as it stands now. They lobbied for a fourth guaranteed spot back in 2011 but were denied the spot for this summer's Cup.
While Oceania has never provided a challenge – a struggling Mexico side dominated New Zealand 9-3 over two legs – there is a certain pedigree about owning four guaranteed spots, the same amount that South America currently has.
There's plenty more to be played, and two or three surprise performances don't justify a jump in qualifying procedures, but if the federation continues to produce points and results, there could certainly be discussions for future tournaments.
CONCACAF is on the rise, there's no question about it, but is the federation here to stay? The United States and Mexico both have chances to stake their claim to that question.