Ghana's draw against Germany has given the United States a chance to move first in Group G, but with Cristiano Ronaldo and a desperate Portugal next in line, qualifying for the next round is far from certain. The U.S. needs two points over its next two games to clinch a spot in the final 16, though in the eyes of some, Jurgen Klinsmann's team will be underdogs against both the Seleccao and the attack-heavy Germans.
But to the extent there is a talent gap between the U.S. and Portugal, a slew of absences that will help. Goalkeeper Rui Patricio, left back Fabio Coentrão, and forward Hugo Almeida are all injured, while central defender Pepe will be suspended after drawing a red card in game one. As questions about Ronaldo's left knee persist, it's unclear how strong FIFA's fourth-ranked team will be at kickoff.
That leaves the U.S. with a chance to make history. The team's never won two group stage games, let alone their first two, but if the team can summon the spirit of 2002 to help send another Portuguese team home, they'll make history 180 minutes into their 2014 World Cup.
[ POSNANSKI: Confidence and the unconventional Klinsmann ]
Here are three areas of focus ahead of tomorrow's 6:00 p.m. Eastern kickoff:
1. Where moving Fabian Johnson could pay off – Johnson's switch from the left side to right back late in club season is paying off for the U.S., though given Klinsmann's liberal view of positions, the Germany-born wide man could have ended up at the position, regardless. Drawn into a group where the likes of Ronaldo and German Marco Reus posed game-deciding threats, Klinsmann may have prioritized his previously ailing right back position, and while Reus's injury means Johnson will face a slightly less dynamic foe on Thursday, the move should still pay off against Ronaldo.
Scour the U.S.'s player pool, and there's no better player to lineup opposite the Real Madrid star than the 26-year-old Johnson. To the extent that anybody can challenge a player like Ronaldo, the Germany-born Johnson has the profile to do so, combining speed, strength, size, athleticism and experience. While that hasn't produced perfect performances in his last four starts, it does provide the U.S. a surprisingly viable option against the Portuguese star. Not many squads have a player like Johnson.
Team defense will be more important. Denying Ronaldo the ball in dangerous spots and preventing him from having chances cutting in on his right foot will be key. And when Portugal build down their right, Ronaldo's often going to be isolated one-on-one at the far post against Johnson. Denying good service will be crucial.
Still, the U.S. will be lucky to have a player like Fabian Johnson at right back, and while that doesn't mean Ronaldo will be kept off the scoresheet, it does increase the chance that one of the team's best athletes will lineup against Portugal's biggest star. Five weeks after installing him at the position, Klinsmann may see his move pay off.
[ MORE: Germany's formation sheds light on Klinsmann's roots ]
[ RELATED: World Cup news, analysis from Soccerly ]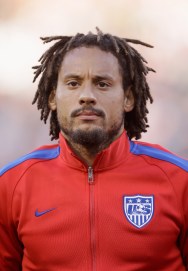 2. Prioritizing what to prevent in the middle – It's not that Portugal's midfield's particularly dangerous. In fact, if you go player-for-player, there are some encouraging similarities, from the U.S.'s point of view. Michael Bradley is the U.S.'s João Moutinho, Jermaine Jones (right) provides the same versatile, volatile presence that Raul Meireles brings to his side, while Kyle Beckerman and Miguel Veloso each provide protection for their defenses.
The obvious difference: The U.S. has one, sometimes two extra men in the middle, and while that means they're sacrificing something up top, it also means Alejandro Bedoya (should his hip pointer allow him to start over Graham Zusi) and Clint Dempsey will help clog things up for Portugal. To the extent this game becomes a battle in the middle, the U.S. should control it.
Portugal, however, will likely play around that battle. With Ronaldo on one flank, Manchester United's Nani on the other, the Seleccao won't need to control the middle of the park to get the ball to its biggest threats. If the U.S. plays the narrow midfield we saw against Ghana, the space that allowed the Black Stars to attempt 35 crosses could translate into chances for Ronaldo and Nani to decide Sunday's match.
That not necessarily the worst thing. Often you have to decide before the match how you're willing to let your opponent beat you. Perhaps Jurgen Klinsmann will see Portugal's wide play as the lesser of evils, knowing players like Jermaine Jones and Alejandro Bedoya will be able to provide help when Portugal's danger men cut to the middle of the park.
If, however, the U.S. wants to provide more resistance on the flanks, its approach will have to change.
[ MORE: Conditions in Manaus won't be new for the U.S. ]
3. How will 'not-Jozy' do? – Jozy Altidore is the most scrutinized player in the U.S. squad, but if Klinsmann can't figure out how to replace him, he may prove one of the team's most indispensable, too. Ruled out with a left hamstring injury, the Sunderland striker will watch as Aron Johannsson, Chris Wondolowski (right) or Dempsey try to replace him.
Unfortunately, none of those understudies will provide the same outlet at the top of the team's formation. Even though he plays in the middle of an attacking three in the Netherlands, Johannsson's lack of physicality leaves him ill-equipped to consistently win battles against defenders at this level. Physically, Wondolowski is a better option, but rarely utilized in that matter at club (or, to this point, international) level, it's unclear how he'll perform. Put Dempsey up top and you make your best attacker your focal point, but the team's captain could also end up disappearing when an attacking midfield lacking his skills can't connect with its forward.
Perhaps wondering how the U.S. can replace Altidore is too presumptuous. Maybe Klinsmann will have to embrace his squad's new limitations. Instead of deploying a system that relies on a ball-winning striker, the U.S. may need offer support to whomever they start up top.