WORLD CUP TODAY: SATURDAY, JUNE 21
Yesterday, Costa Rica qualified for the next round with a 1-0 victory over Italy, knocking England out of the tournament in the process. Then came an absolute goalfest between France and Switzerland, with France scoring five before deciding to be generous, and allowing Switzerland a less-embarrassing 5-2 defeat. Any match after that was bound to a a let-down, but Ecuador still did their best to entertain with a 2-1 comeback against Honduras.
Now, get comfy on your couch or find a decent table at the bar, because you're not going to want to miss any of Saturday's matches.
***
MATCH 27: ARGENTINA VS. IRAN
Location: Estádio Mineirão, Belo Horizonte
Time: Noon ET
SOCCERLY PREVIEW | SOCCERLY MATCHCENTER
Cheater's Guide
Argentina showed they aren't invincible in the first game, with coach Alejandro Sabella electing to roll out five defenders against Bosnia and Herzegovina. Despite taking a 1-0 lead into the break, the albiceleste looked rather impotent, and were only ahead thanks to Bosnia's own goal in the third minute. But Sabella switched to a 4-3-3 for the second half, highlighting Argentina's impressive attack and culminating in a 2-1 victory.
Iran's first match, on the other hand, went as expected. Both they and Nigeria played defensively, giving us the tournament's first goalless draw.
What they're saying
Lionel Messi on Alejandro Sabella's decision to switch tactics mid-match: "As strikers we prefer that system as it gives us more attacking opportunities and if we don't use that system we suffer a bit. We as strikers favour that line-up. In the first half I was often on my own and so was Kun (Aguero) and it was very difficult, so there are things to be improved on."
History
Argentina and Iran have faced off just once, resulting in a 1-1 draw. Most think there will be a rather different result this time around.
Premier League Players
Argentina: Manchester City loves Argentina, with Pablo Zabaleta, Martín Demichelis and Sergio Agüero all part of the squad
MLS Players
Iran: Steve Beitashour plies his trade with the Vancouver Whitecaps
RELATED: World Cup news, analysis from Soccerly
***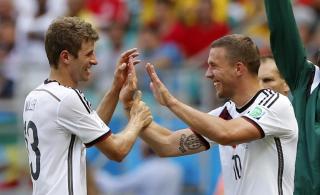 MATCH 28: GERMANY VS. GHANA
Location: Estádio Castelão, Fortaleza
Time: 3pm ET
SOCCERLY PREVIEW | SOCCERLY MATCHCENTER
Cheater's guide
It was all too easy for Germany the first time around. Portugal were already down by two goals when Pepe decided to nuzzle Thomas Müller lovingly with his head, getting himself sent off and thus permitting his enemy to easily score two more. Germany ended the day with a 4-0 win.
As for Ghana, well, we all know that story, don't we? Clint Dempsey scored within seconds, but André Ayew pulled one back with less then ten minutes to go. John Brooks put in the winner minutes later, giving the USMNT the 2-1 win.
Oh, and two brothers face off today: Jerome Boateng for Germany, Kevin-Prince Boateng for Ghana. Granted, Jerome's not likely to see much time, but it's still pretty neat.
What they're saying
Kwesi Appiah insists Ghana's performance against the U.S. was not due to unpaid bonuses: "I'm surprised to hear this. I mean, fine. Some of the money hasn't been paid yet, but…if you look at the performance today, it's got nothing to do with money. We created a lot of chances but we didn't take them."
History
Germany have won both times the two teams have faced off, with a combined scoreline of 7-1. Will Ghana fare better this time?
Premier League players
Germany: Per Mertesacker, Mesut Özil, Lukas Podolski (Arsenal); André Schürrle (Germany)

***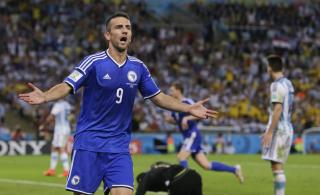 MATCH 29: NIGERIA VS. BOSNIA AND HERZEGOVINA
Location: Arena Pantanal, Cuiabá
Time: 6pm ET
SOCCERLY PREVIEW | SOCCERLY MATCHCENTER
Cheater's guide
Bosnia did a good job of keeping Leo Messi quiet in their first game, but still came away with a 2-1 loss to Argentina. Nigeria, meanwhile, kept quiet in general, notching a 0-0 draw with Iran.
What they're saying
Safet Sušić on how his Bosnia side aren't just "happy to be in Brazil": "But we haven't come here to learn, we have players in top class European clubs, players who have acquired a great deal of experience. We have self-imposed ambitions to make it out of the group, and so not come here for people to see us, we have ambitions to progress out of the group, it won't be easy, but I'm convinced we haven't said our last words."
History:
They're about to write it.
Premier League players
Nigeria: John Obi Mikel, Victor Moses (Chelsea); Peter Odemwingie (Stoke City)
Bosnia and Herzegovina: Asmir Begović (Stoke City); Edin Džeko (Manchester City)