Let's face it – what England fan doesn't want to consume Steven Gerrard's face right now? His assist to teammate Luis Suárez was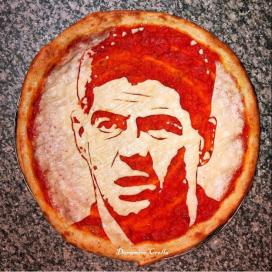 fantastic, but considering the header helped Uruguay rather than Liverpool, supporters are none too pleased. England are already on their way back across the Atlantic, in spirit if not in body, with their bodies still having to play one more, rather pointless, match.
If fans are feeling so inclined, they can head up to Glasgow, where Domenico Crolla and his team at Bella Napoli restaurant are busy creating pizzas featuring faces of World Cup stars. In addition to Gerrard, Bella Napoli have put Gianluigi Buffon, Andrea Pirlo, Wayne Rooney, Cristiano Ronaldo, Lionel Messi and others onto what look to be amazing pizzas.
It's not only Bella Napoli that's been busy paying tribute to the tournament via the medium of food and drink. There are cupcakes featuring the flag of Brazil, Coca-Cola has designed bottles reflecting the spirit of countries at the World Cup, and produce stands have been turned into dioramas of matches.
The best of these comestible works of art are the ones in which the tiniest details of players are incorporated, such as the watermelon showing individual strands of Ronaldo's perfectly arranged hair. You can see an entire collection of World Cup-themed food in this Yahoo Gallery.