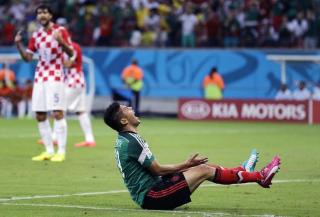 A first half brace from the hosts' biggest star has Brazil on track to win Group A, while the two teams that hope to join the Seleçao in the knockout round remain deadlocked in Recife. Here's how Group A's final games look after 45 minutes:
[ MORE Soccerly: Follow Cameroon-Brazil | Croatia-Mexico ]
Croatia 0-0 Mexico
Goals: None.
Other moments:
16′ – Croatia's had a couple of near-chances on Guillermo Ochoa, but just past the quarter-hour mark, Mexico nearly takes the lead. After a back-heel from Oribe Peralta have him an opening 24 yards out, Hector Herrera puts a left-footed shot off Stipe Pletikosa's upper-left hand corner
19′ – Oribe Peralta gets behind defender Dejan Lovren and runs onto a ball rolled into the right of the penalty area. As he turns to put his shot on goal, Peralta's foot gives way, and the scoring chance ends with the Mexican forward sliding toward the byline.
39′ – A break after a Mexico corner leaves Croatia with a two-on-two counter, but hesitation from Ivan Perisic allows Rafa Marquez to catch up. The veteran defender commits the foul, stopping the attack in exchange for a yellow card. He joins Ivan Rakitic in the book.
Question for the second half:
When does Croatia shift gears? – If this score holds, Mexico goes through. At some point, Niko Kovac will have to start pushing for a winner.
---
Cameroon 1-2 Brazil
Goals:
17′ – A surprisingly even start is rendered irrelevant when Luiz Gustavo generates a turnover at the edge of the Lions' defensive third. Moments later, a ball rolled toward the spot finds Neymar pulling away from center back Joel Matip. The right-footed, first-timed finish gives the favorites a 1-0 lead.
26′ – Cameroon nearly has their equalizer when a ball goes off Júlio César's woodwork, creating a heartbreak that lasts only a matter of seconds. After the ensuing corner, Nyom finds Matip in front of goal, giving the 22-year-old an easy finish for his team's first goal of the competition.
35′ – Neymar's done it again. Cutting across the penalty area onto his right foot, Neymar rolls his shot under Nicolas N'Koulou and into the left side of goal, restoring Brazil's lead.
Other moments:
20′ – Neymar nearly doubles Brazil's lead, volleying a popped up just beyond the penalty area toward Charles Itanjde's goal. The Cameroon keepers block keeps his team within one, while near-chance moments later ends as Fred's prevented from one-timing home Brazil's second goal.
Question for the second half:
Where are the tournament favorites? – Brazil responded quickly, but Cameroon's still looked better than they have all tournament. Where's the Seleçao team that won the Confederations Cup?