Four more places have booked in World Cup 2014's knockout round. Here's an early snapshot of the two match ups that were set with Tuesday's results:
Colombia vs. Uruguay
Group C winner vs. Group D runner-up
Where: Rio de Janeiro
When: Saturday, 4:00 p.m. Eastern
[ MORE: Rodríguez fuels Colombia | Uruguay eliminates Italy ]
Leading men: We've sang James Rodríguez's praises throughout the day, so rather continue fawning over one of the best players in the tournament, all me to point you to this post on him and Neymar as well as the recap from today's win over Japan. Coming in at halftime, Rodríguez turned the game on its ear.
For Uruguay, this is where I'd normally say something about Luis Suárez, how he's one of the four or five players on the planet that can win a game on his own, and tactics could go out the window if he's on his game. But our friend Luis has a little impulse control problem. You may have heard about it.
As a result, Uruguay needs a new leading man. Perhaps it will be Paris Saint-Germain's Edinson Cavani. Maybe Diego Forlán, the best player at the last World Cup, will give Father Time the slip for two weeks. Regardless, somebody needs to step up.
Supporting stars: For Uruguay, it's Diego Godín. The veteran defender has carried over his play from a Spanish title-winning season at Atlético Madrid, helping La Celeste limit England and Italy to one goal over the last 180 minutes. He also shouldered home the game-winner in his team's 1-0 victory over the Azzurri.
With the Cafeteros, there's a small army of talented attackers who'll vie to benefit from Rodríguez's playmaking. Teofilo Gutíerrez started the team's first two games at striker, but Jackson Martínez, Adrián Ramos, Victor Ibarbo, and Juan Cuadrado could all play significant roles. Though Colombia has a headlining star, the cast is an ensemble.
Strengths: Uruguay is able to slow a game down, stay strong at the back, and allow games to be defined by its talented attack, even though it's often unclear how exactly they're making the connections. For Colombia, as you can tell by the cast of attackers, the team will score goals. José Péckerman's side averaged three goals per game in the opening round.
Weaknesses: If you pack that Uruguayan midfield back, they have to rely on the likes of Forlán and/or Nicolas Lodeiro to get the team out of its own half. If that doesn't work on Saturday, Suárez's absence will loom especially large. For Colombia, there've been no weaknesses through three games, but quality in defense and the ability to control play in midfield were questions coming into the tournament.
Early expectations: Particularly with Suárez out, the Colombians will be favored. They finished above La Celeste in qualifying. They're stronger going into the knockout round.
Three narratives you will hear in the buildup:
Uruguay is nothing without Suárez. Just don't worry about that Cavani guy over there.
This is Colombia's best team since the ill-fated side the went to USA 1994.
South America's depth has been on display at this World Cup … though CONMEBOL also put five teams into 2010's knockout round.
To the winner: It will be an all-South America quarterfinal. Brazil and Chile face-off in the adjacent pod.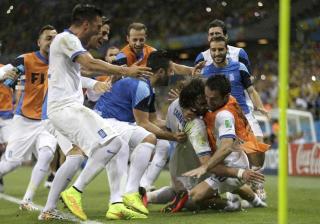 Costa Rica vs. Greece
Group D winner vs. Group C runner-up
Where: Recife
When: Saturday, 4:00 p.m. Eastern
[ MORE: Draw leaves Ticos top of Group | Samaras wins it late ]
Leading men: Thanks to strong play in front of him, Keylor Navas hasn't been too stressed in Costa Rica's goal, but as we saw against England, that may be changing. If it does, the Levante goalkeeper will be up to the challenge. Navas was one of the top goalkeepers in Spain last season.
Greece is a side devoid of stars, but because of his ever-present nature, attacker Georgios Samaras has become the face of the team. Though he only has nine goals in 77 international appearances, he'll be the danger man on his team's counterattacks. With a goal and an assist on Tuesday, he's had a part in both of his team's World Cup goals.
Supporting stars: At 35 years old, Kostas Katsouranis is one of two players in the team (along with Giorgos Karagounis) who were part of Greece's 2004 European Championship squad. While he's in the twilight of his career, he's still a vital part of Fernando Santos's midfield. Set to return from a one-game, red card suspension, Katsouranis will slot back into the heart of his team's formation.
For Costa Rica, Joel Campbell will be familiar with his Greek counterparts, having spent last season on loan from Arsenal with Olympiacos. Joining him in attack, Bryan Ruiz's versatility should help los Ticos break down a notoriously stalwart defense.
Strengths: Greece is defense and little else. Even the damage they do going forward almost always starts in the back. The team's built its reputation on its ability to hold out.
Likewise, Costa Rica's strength is in defense, with the Ticos' five-man back line leaving the team amongst among the worst in the tournament in terms of shots per game (9.3) and possession (42.5). Those numbers, heavily influenced by the quality of Costa Rica's opposition, don't reflect the team's willingness to be more confrontational than their Round of 16 opponents. They'll defend, but they won't be as quick to recede into their shell.
Regardless, one of these teams will have to move out of its comfort zone.
Weaknesses: For Costa Rica, between a solid defense and capable scorers is a midfield that's lackluster but this tournament's standards. Celso Borges and Yeltsin Tejada have been as solid as their teammates thus far, but against that renown Greek defense, Borges may struggle to create chances for Campbell and Ruiz.
For Greece, there's no reliable scorer in a team which, short on creativity, is reliant on set pieces and counter attacks for goals.
Early expectations: Nobody anticipated this matchup, so there are no expectations. These are two teams that were expected to finish last in their groups.
Three narratives you will hear in the buildup:
Greece's spots in the knockout rounds at Euro 2012 and Brazil 2014 aren't about soft groups. No, no, no. It's about team ethic and sums that are bigger than their parts, and … well, really easy groups, too. (You won't hear that last part.)
Costa Rica's quality debunks the notion of a thin CONCACAF (just don't look too hard at Honduras).
Defense, not the combination of defense and offense, wins championships.
To the winner: Either the Netherlands or Mexico. Does CONCACAF dare to dream a place in the semifinals?