With less than 24 hours to go until the U.S. national team face Germany in Recife in their crucial Group G finale, how are you feeling?
Nervous? Excited? Fearful? If the answer is yes to any of those, it's okay. We are all in this together.
A monumental day awaits Jurgen Klinsmann and his U.S. squad on Thursday. A draw or win against Germany will seal qualification to the Round of 16 from the so-called "Group of Death." That would be some feat.
[PREVIEW: U.S. vs. Germany – Revenge for 2002 on the line ]
The USA are on the cusp of one of their greatest-ever achievements in the World Cup. Alongside reaching the quarterfinals in 2002, qualifying for 1990 and the success of 1930, getting out of this group would be right up there.
Only one problem… World number two and European powerhouse Germany stand in their way.
[RELATED: How will the USA line up vs. Germany? ]
Yes, the USA beat them 4-3 in a friendly at RFK Stadium last year, but this is different. That was a second-string German side. This is the World Cup and a chance to advance on the line. Germany's ready to roll the U.S. over, (despite the fact that the head coaches are close friends and half of the U.S. team is German) so here's a primer on what they're all about.
A German lesson…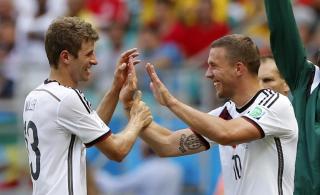 Joachim Low's side tore Portugal apart 4-0 in their opening group game, then faltered slightly against Ghana but still managed to bag a 2-2 draw. With the Germans only needing a point to secure top spot in Group G and avoid the distinct possibility of playing Belgium in the last 16, you'd think they would be quite cautious. Nope. Despite their hefty advantage when it comes to goal difference, this German side are primed and ready to attack the core of the U.S. and keep on trucking deep into the tournament.
Mesut Ozil. Thomas Muller. Toni Kroos. Mario Gotze. Miroslav Klose. Lukas Podolski. Bastian Schweinsteiger.
Any of those players could rip the USA apart. Their depth in every position across the midfield and forward positions is frightening and the USA's defense will have to play a near flawless game to keep their World Cup dream alive. Of course, the USA could lose to Germany and still go through (depending on if Portugal and Ghana tie or neither win by a large margin) however they simply can't afford to get hammered.
Germany are set to line up in a classic 4-3-3 formation with many interchanging pieces in the final third. Ozil and Gotze will likely start out wide, but they drift inside while Kroos and Schweinsteiger always seem to find pockets of space. The predatory duo of Klose and Muller bury any chance they get and at the back, four man-mountains stand in Clint Dempsey and the USA's way of scoring.
Die Mannschaft will likely lineup like this on Thursday in Recife: 
——–Neur——–
Boateng—Mertesacker—Hummels—Howedes
Kroos—Lahm—Khedira
Ozil—Muller—Gotze
How can the USA grab the point they need?
Attack the flanks. Big time. Ghana exposed Germany's lack of pace in the full back positions, as both Boateng and Howedes came undone against Ghanaian speedsters. Germany's defense are great in the air but suspect on the deck, so if the USA can release Fabian Johnson and DaMarcus Beasley down the flanks, they should have plenty of joy as Per Mertesacker and Mats Hummels are still trying to untangle their feet in the center of defense.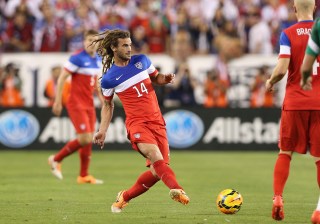 That being said, Germany possess one of the youngest, meanest attacks in world soccer. Yes, Ozil hasn't lit up this World Cup like he did at South Africa 2010 as a 21-year-old, but his supreme talent mustn't be underestimated. This is where Kyle Beckerman's role of clogging up space in front of the USA's backline becomes so crucial. With Ozil and Gotze apt at ghosting into spots where they can flick and trick their way into the box in dangerous central areas, Beckerman must sit in and deny the German youngsters the chance to get on the ball and turn the U.S. defenders. If I was Klinsmann, I'd drop Jermaine Jones or Michael Bradley into the holding role alongside Beckerman to quell the threat of Germany's ultra-potent offense that has scored six times in their opening two games.
Remember, the USA don't need to win this match. They only need a point.
An agonizing and painstaking 90 minutes awaits for fans across the nation but if the U.S. are patient, they have a huge chance of pulling off one of the shocks of the tournament by advancing to the last 16.