How'd you like to win your first two matches of World Cup and not be guaranteed a place in the knockout round? It's extremely unlikely, but that's the predicament facing France on Wednesday despite outclassing Switzerland and Honduras to open its tournament and boasting a plus-6 goal differential.
Still, the French should be through barring a three-goal stomping from Ecuador coupled with Switzerland running roughshod over Honduras. And with four matches on tap today, we'll have to shift our focus from Tuesday's action and controversy, which saw:
– Luis Suarez's third bite take the focus away from Uruguay's advancement over Italy.
– England's snoozer of a draw against Costa Rica.
– Greece playing the snake-in-the-grass to near-perfection in ouster of Ivory Coast
– Colombia reinforcing its status as title threats with a 4-1 thumping of Japan
[ MORE: How will U.S. lineup vs. Germany ]
[ MORE: Soccerly covers the World Cup ]
Two more group finales are in store on Wednesday. Let's take a look at what's in store:
***
MATCH 43: Nigeria vs. Argentina
Location: Estádio Beira-Rio, Porto Alegre
Time: Noon ET
SOCCERLY PREVIEW | SOCCERLY MATCHCENTER
Cheater's Guide
The Soccerly headline says that Argentina is out to prove they are more than just Lionel Messi, who turned 27 on Tuesday, but they haven't needed anything additional than Leo so far. Argentina is through and will win the group with a tie or better. Nigeria is also through with a draw.
What they're saying
Argentina coach Alejandro Sabella on Messi: "Whenever there is a player like Messi, there's a dependence. We are trying to improve but dependence always exists. We have to try to take the pressure off him between all of us because we are a team. But for a great player there is always pressure at a World Cup."
History
Argentina holds a 4-1-1 advantage, including a 3-for-3 mark at World Cups 2010, 2002 and 1994.
Premier League Players
Nigeria: John Obi Mikel, Victor Moses (Chelsea); Peter Odemwingie (Stoke City)
Argentina: Manchester City has three representatives: Pablo Zabaleta, Martín Demichelis and Sergio Agüero.
RELATED: World Cup news, analysis from Soccerly
***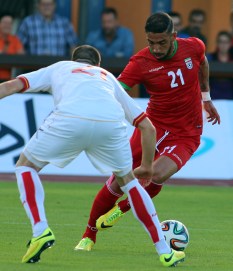 MATCH 44: Bosnia and Herzegovina vs. Iran
Location: Arena Fonte Nova, Salvador
Time: Noon ET
SOCCERLY PREVIEW | SOCCERLY MATCHCENTER
Cheater's guide
BNH is out, while Iran still advance with a win, a Nigeria loss and a better goal differential (Iran's is currently -1, Nigeria's +1). With the two teams having drawn 0-0, there's also the chance of lots being drawn if the matches both finish 1-0.
What they're saying
Iran coach Carlos Queiroz on the match's importance: "This is our World Cup final, it's as simple as that. We didn't come here to win the trophy. Nobody expected that from Iran, but we raised our expectations and we raised our dreams. We want to play the match with one goal in mind: to fulfil our dream of reaching the last 16."
History
BNH has not won in five attempts against Iran with at least three goals scored in each match (Iran outscoring them 16-7).
Premier League players
Bosnia and Herzegovina: Asmir Begović (Stoke City); Edin Džeko (Manchester City)
MLS players
Iran: Steven Beitashour (Vancouver Whitecaps)
***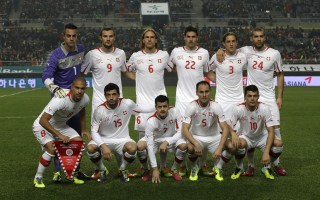 MATCH 41: Honduras vs. Switzerland
Location: Arena da Amazônia, Manaus
Time: 4pm ET
SOCCERLY PREVIEW | SOCCERLY MATCHCENTER
Cheater's guide
Believe it or not, Honduras is not out of this thing yet. It would take a crazy dose of CONCACAF magic, as the Central Americans will need to win and see Ecuador lose to France by margins that erase a goal differential of four. Switzerland needs to win and see Ecuador lose as well, though the erasing of goal differential is easier than Honduras' task.
What they're saying
Swiss midfielder Granit Xhaka: "We have a better team and more quality than Honduras. And I think we deserve to go through to the Round of 16. We're utterly determined to make it, and we'll show it against Honduras."
History
Met once at the 2010 World Cup in South Africa, where they drew 0-0.
Premier League players
Honduras – Maynor Figueroa (Hull City), Wilson Palacios (Stoke City)
Switzerland – Philippe Senderos (Aston Villa)
MLS players:
Honduras – Victor Bernardez (San Jose), Boneik Garcia (Houston), Marvin Chavez (Chivas USA), Jerry Bengtson (New England).
***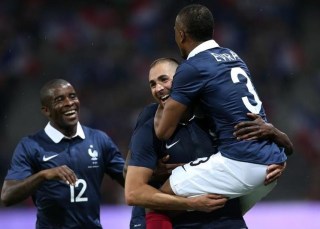 MATCH 42: Ecuador vs. France
Location: Estadio Mineirao, Belo Horizonte
Time: 4pmn ET
SOCCERLY PREVIEW | SOCCERLY MATCHCENTER
Cheater's guide
Ecuador needs to win and hope Switzerland doesn't absolutely destroy Honduras in Manaus. France wins the group with a draw, and it would take a grievous and historical loss to eliminate them as well (And what if they had Ribery?!?)
What they're saying
Ecuador's Christian Noboa on the match: ""It's like a final for us and we're hoping to win it and make our people happy. We can beat France. That's why we're here at the World Cup, because every team is capable of beating anyone else. We've seen that in the other games, and there isn't much difference between sides now.
History
The two nations have never met.
Premier League players
Ecuador – Antonio Valencia (Manchester United)
France – Hugo Lloris (Tottenham Hotspur), Mathieu Debuchy (Newcastle), Bacary Sagna (Manchester City), Mamadou Sakho (Liverpool), Patrice Evra (Manchester United), Laurent Koscielny (Arsenal), Moussa Sissokho (Newcastle), Morgan Schneiderlin (Southampton), Olivier Giroud (Arsenal), Loic Remy (QPR).
MLS players
Ecuador – Oswaldo Minda (Chivas USA)
***