Between his howler against South Korea and misjudging a cross against Algeria, Russia goalkeeper Igor Akinfeev appeared to cost his team four points at the 2014 World Cup. Instead of going home with two draws and a third place finish, Russia could have been through Group H in second place if the CSKA veteran performed to his standards. When the Russian federation looks for reasons why its team disappointed in Brazil, Akinfeev and head coach Fabio Capello will come into focus.
After Russia's Thursday draw with Algeria, however, Capello put another factor into focus. According to the former Milan, Juventus, and Real Madrid boss, Russia's goalkeeper was distracted by a laser pointed at his face while trying to defend the 60th minute ball Islam Slimani headed home – the goal that cost Russia a spot in the tournament's knockout round.
"The goalkeeper was unable to do his job. The laser beam was in his face," said ex-England manager Capello.

"He was blinded by the laser beam. It is not an excuse. There are pictures and you can see that in the footage."
Capello's right on one count. There are pictures. Here's one from the Associated Press that shows the laser's green dot on Afinkeev's left shoulder: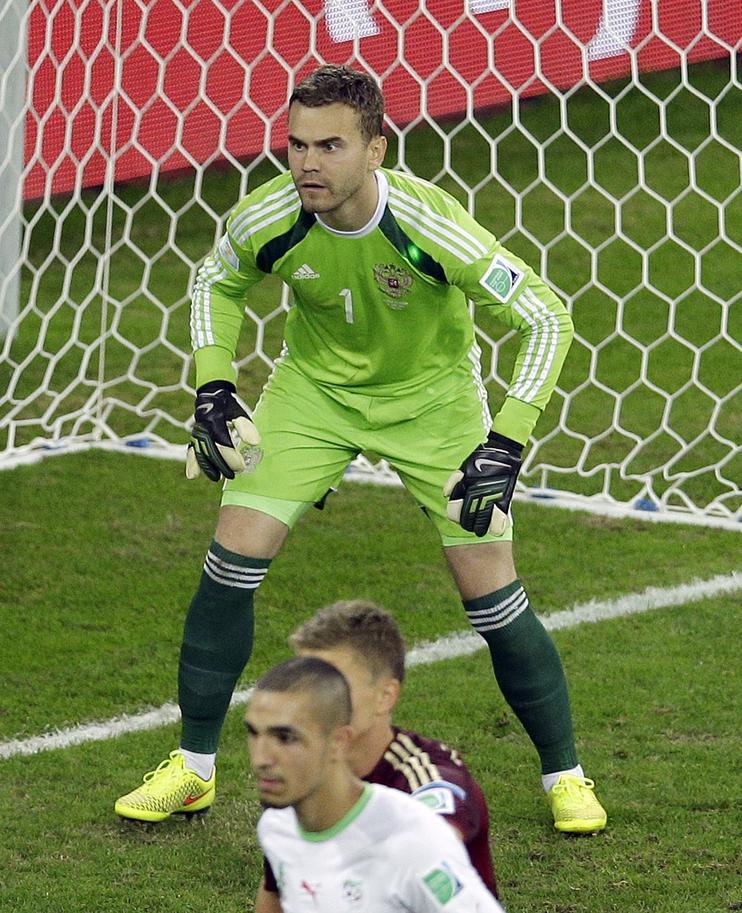 As for the other part of Capello's story, here's a gif of the goal, from Twitter user @FlyByKnite:
To the extent that Akinfeev is distracted by the laser, we can't tell from the footage. In fact, if you watch Akinfeev's feet when the ball is played, it appears that he's reacting (though not deciding what to do) immediately. It doesn't appear as if there's a point where he's blinded, distracted or dealing with an obstruction. He just takes the wrong route to the ball, comes up short, and leaves his goal open.
But it's only a gif. It's far from conclusive. It's certainly not enough to get Capello to chance his story. Though he says it's not an excuse, Capello wants the world to know: Russia went out because of a laser.