The only number that truly matters is 16, which is the number of teams left that can win the World Cup. The United States is one of those teams, but who is most responsible for the team's success during a second-place finish in Group G?
5. Fabian Johnson – Dazzling at times during the stage, Johnson is at his best moving forward. His defensive responsibilities and how he lives up to them keep him from placing higher on the list. Against Belgium, he could be a menace and a real key to if and how the game opens up for the States.
4. Matt Besler – The 27-year-old has seen his international star rise during this tournament, and European clubs will take note of the job he did against Thomas Muller against Germany. Besler had precious few errors and recalled former USMNT captain Carlos Bocanegra's prime at times. The US needed a rock in the middle, and Besler has answered the call fairly well.
[ RELATED: Three things we learned from USA-Germany ]
[ RELATED: U.S. player ratings vs. Germany ]
[ RELATED: Convinced? Klinsmann's personnel moves keyed US advance ]
3. Clint Dempsey – Playing two matches with a broken nose, Deuce was a versatile, dangerous workhorse. All the worries after his struggles at Tottenham and during the early days in Seattle seem like ages ago, as the Texan even filled in admirably as the man up-top against Portugal.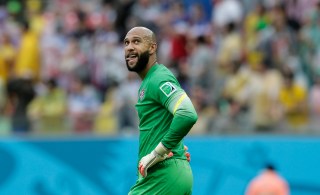 2. Tim Howard – Perhaps you'd like him to be better on both of Portugal's goals, but that '2' figure would've been much higher without his middle-match heroics. Howard also made a number of beautiful saves in the Germany match, and perhaps American fans won't truly know how much they love Howard until they've seen a full-time USMNT keeper just a notch below.
1. Jermaine Jones – The World Cup has raised the 32-year-old's game to another level, one we've rarely seen from the German-American since he made the one-time switch the the USMNT a few years back. He's shown dogged determination, mostly avoided the fouls and cards that plagued him in qualification and even scored a stunning goal that will live in American soccer history.
Jones has arguably been the best American player in each match of the tournament, and I'll admit shock at writing those words. He's been the go-to orchestrater for his coach, and is rewarding Jurgen Klinsmann for his faith, and making his boss look smarter. For that alone, we're sure JK would also put him at No. 1.